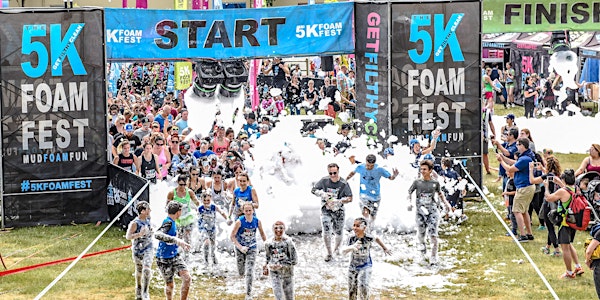 THE 5K FOAM FEST VANCOUVER, BC June 1, 2019
When and where
Location
Cloverdale Rodeo & Exhibition 6050A-176 Street SURREY, BC V3S 4E7 Canada
Description
The 5K Foam Fest is a one of kind Obstacle Course based Fun Run. Join us for 22+ obstacles including the world's largest inflatable waterslide, mud pits and 2.5 MILLION cubic feet of foam! Rock out all day to 12,000 watts of awesome (family friendly) music, enjoy a FREE kids zone for kids 7 and under, taste delicious food, shop from local vendors and celebrate your success in our well-stocked beer gardens. With a variety of obstacles and a ton of foam, the 5K Foam Fest run is an exciting challenge for experienced and beginner runners alike. GET FILTHY CLEAN!
TICKETS ARE AVAILABLE FOR PURCHASE AT THE GATE TODAY! LAST WAVE IS 2PM.



WHAT'S INCLUDED?
On top of getting to run the funnest 5K of the year while supporting a great cause, every registrant will receive: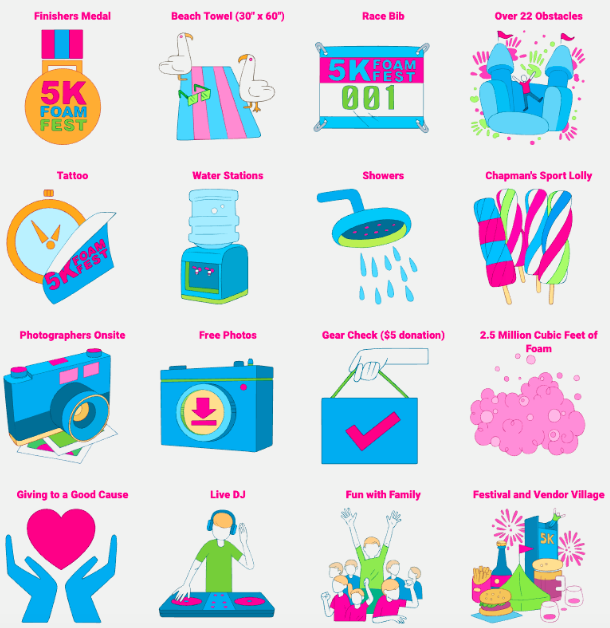 WHAT PEOPLE ARE SAYING




ADDITIONAL INFORMATION
Ages 8 and up. All children must be physically, mentally, and emotionally capable to complete the course with proper course etiquette. Kids aged 8 to 12 years must run with a Registered Adult. Parents must use proper judgment and help the youngsters decide on what obstacles to do or not based on their ability, size and confidence level. Kids 13-17 years do not require an adult chaperone but must adhere to all course rules and regulations. Event waiver(s) must be signed by the legal guardian of any participant under the age of 18. Waivers are available to download off our website (go to your event location page to download and print)

7 years and under cannot run the 5k Foam Fest, but they can join us for FREE in our Kids FUN Zone, where they can try out our mini Inflatable Obstacle Course and Bounce House (adult supervision required). Waiver(s) must be signed by the child's legal guardian. Event waivers are available to download off our website (go to your event location page to download and print)

No refunds on entries or payments

All obstacles are optional

First wave/start time is at 8 am and then every 15 mins until 2 pm. You will select your wave time when registering

Photos will be sent out within 4 business days of the event

Spectators have free access to the festival area and beer garden


RUNNING WITH A TEAM?
You can have as many team members as you like. Search for your team name when registering to join an existing team or choose "Create a team" to start a new one. Teammates can purchase separately, simply select the same wave time at the checkout to start the course together on event day.
FAMILY PASS AND MILITARY/FIRST RESPONDER TICKET OPTIONS
We have a family pass ticket option available for up to 5 immediate family members (partner/kids) Click 'register' for details.
Military and First Responders receive reduced rates, including your family (partner/kids). PROOF OF SERVICE REQUIRED. Please provide your Badge/ID# when registering and bring a copy to the event to check in. Click 'register' for details.
OPTIONAL PRE-RUN KIT PICKUP
Skip the registration line on event day with pre-run pick up at Goodlife Fitness Burnaby (2nd Floor-3433 North Rd, Burnaby, BC.) between 3pm-7pm on Friday May 31st. Everyone must come in person with their own signed waiver for insurance reasons (only exception is parents may pick up on behalf of their minor children). We also always offer packet pickup at the event as well if you cannot make it on May 31.
WANT TO RUN A LONGER DISTANCE?
Ask us about adding a 2nd lap for $20 on event day. Space permitting, inquire at registration booth when checking in.


INTERESTED IN SPONSORING OR VENDING AT THE 5K FOAM FEST?
With 5000-7000 participants the Foam Fest is the perfect place to sample, sell and interact with all our consumers.


OVER 22 OBSTACLES (ALL OPTIONAL):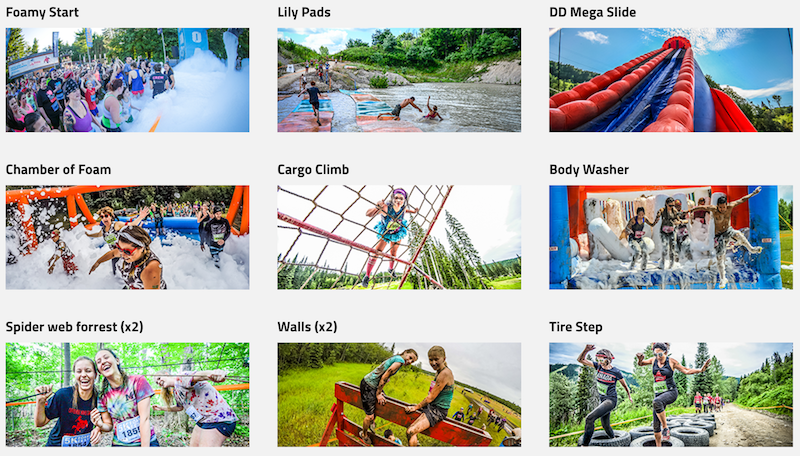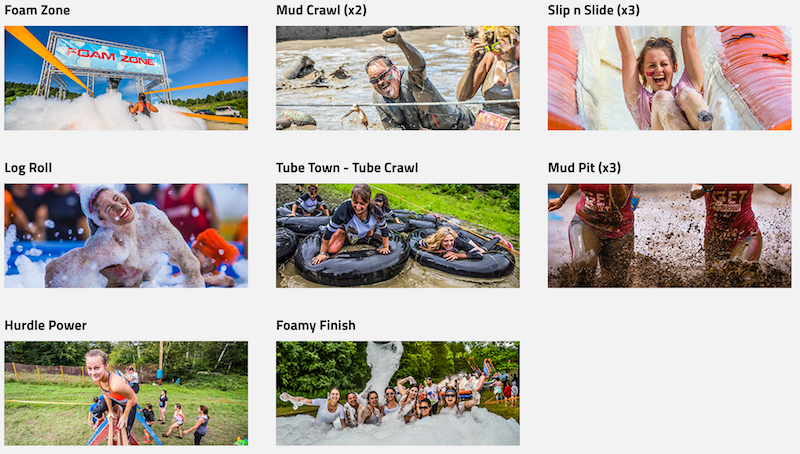 FAQs
How can I contact the organizer with any questions?
Email us info@the5kfoamfest.com