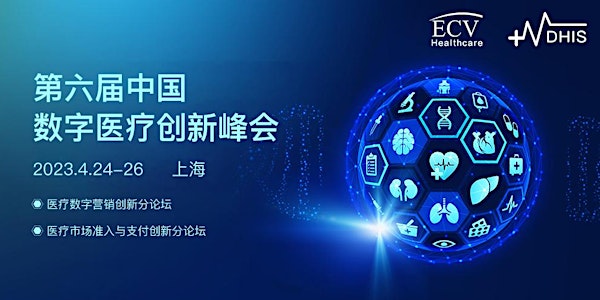 The 6th China Digital Healthcare Innovation Summit
The 6th China Digital Healthcare Innovation Summit 2023.04.24-26 China,Shanghai
Date and time
Mon, Apr 24, 2023 1:30 PM - Wed, Apr 26, 2023 4:30 PM CST
Location
Shanghai Golden Building of 108 Hip icon, No.11 Yujinggang road, JingAn District Shanghai, Shanghai 94103 China
Refund Policy
Contact the organizer to request a refund.
About this event
2 days 3 hours

Mobile eTicket
The 6th China Digital Healthcare Innovation Summit
2023.04.24-26 China,Shanghai
Background
With drastic changes in China's healthcare market at the moment, how can healthcare enterprises tighten up the layout and support in digital healthcare, digital marketing, digital channels and payment innovation etc, and create whole disease-course closed-loop management from in-hospital to out-of-hospital by combining online and offline model, and provide comprehensive health management solutions for patients? Meanwhile, the internal digital transformation of enterprises is also crucial, how to have an insight into data and close the loop on each key node?
This conference will have in-depth analysis on how healthcare enterprises deal with the acceleration of VBP; how to practice the in hospital and out-of-hospital dual channel strategies; how to promote internet healthcare, marketing innovation and payment innovation with the help of technological innovation, so that enterprises can make breakthrough in fierce market competition.
Hot Points
VBP Policy and Countermeasure
Internet + Healthcare
Out-of-hospital Market
Digital Therapeutics
Digital Uni-Marketing
Market Access and Payment Innovation
Wonderful Reviews
• Offline sharing + online live streaming
• Medical giants such as AstraZeneca、Sanofi、Pfizer、UCB、GE Healthcare and Philips Healthcare explain the most useful and practical knowledge;meanwhile Tencent Healthcare, PingAn Technology and DXY tell us how to play the internet healthcare.
HIGHLIGHTS
VBP Policy of Pharmaceutical Enterprises and Countermeasures
How does Big Data Enable the Growth of Internet Medical Business?
DTP Pharmacy of Innovative Biopharmaceutical Enterprises and Omnichannel Marketing Layout by Dual Channels
How can Pharmaceutical and Medical Devices Enterprises Extend Digital Therapeutics Based on Product Lines?
How to Make Breakthrough in Innovative Medical Devices Market Access under the Background of VBP?
Exploration and Practice of Disease-course Management for Out-of-hospital Patients
Digital Precision Marketing of Medical Devices Based on HCP Life Cycle
How to Lay Out Market Access of Innovative Drugs under New Situation?
ABOUT ECV DIGITAL HEALTHCARE
So far, ECV Digital Healthcare has successfully held five China digital healthcare industry summits.
The summit aims to gain insight into the latest development of the international medical industry from the digital transformation! Focus on many hot topics such as digital medical strategic transformation, digital therapy, digital growth of pharmaceutical machinery enterprises under the background of VBP, digital chronic disease management, medical technology innovation, digital marketing and retail innovation of medical devices, and jointly discuss how to ride the wind and waves and win the future under the tide of digital medical treatment.
The previous industry summits gathered leaders of internet medical industry such as Baidu Health, WeDoctor, Tencent Health and JD Health, as well as many pharmaceutical giants such as AstraZeneca, Sanofi, Novartis pharmaceutical, MSD and BeiGene, as well as representatives of medical devices such as Siemens Healthineers, Bristol Myers Squibb, Medtronic and Stryker to present the most cutting-edge industry trends and interpret the most burning dry goods for the guests.
Contacts
Marketing
Phone: +86 -15950466513
Email: harperw@ecvinternational.com
Official website for more details:http://www.ecvinternational.com/AsiaHealthcare/
About the organizer
ECV Retail Industry has hosted series of summits for consecutive 6 years, topics involving Ecommerce, digital marketing, digital supply chain, new retail, luxury retail, etc. We served executives and decision-makers from Walmart, Starbucks, Alibaba, Tencent, JD.com, Haier and other Fortune 2,000 company. Our database of high-end retail customer resources accumulated about 100 thousand.
Our speakers and participants are from SEPHORA, SWAROVSKI, Secoo, JD.com, Tencent, MEISTERKREIS, Hugo Boss, etc. The accumulation of high-end worldwide retail customer resources is nearly 10,000 people. ECV retail industry summits are committed to providing high quality learning, communication and resource platform for decision makers from all over the world.