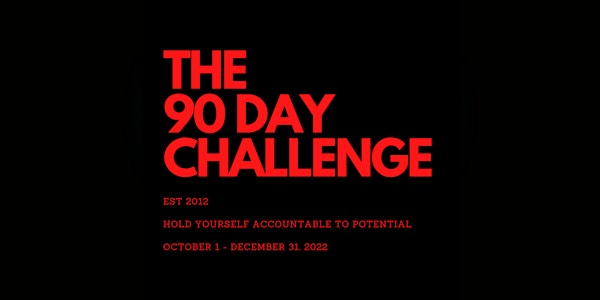 THE 90 DAY CHALLENGE - HOLD YOURSELF ACCOUNTABLE TO POTENTIAL 10/01/22
THE 90 DAY CHALLENGE - OCTOBER 1 - DECEMBER 31, 2022 HOLD YOURSELF ACCOUNTABLE TO POTENTIAL
About this event
DAILY ACCOUNTABILITY CHALLENGE
Taught throughout Canada, Europe, North America & South East Asia.
The 90 Day Challenge begins October 1 - December 31, 2022.
This challenge sets the foundation through the strength of good habits, consistency and skillsets that create opportunities for optimal conversion.
CONVERSION. PROFITABILITY, GROWTH.
Follow daily processes & learn simple strategies & systems to implement into your business.
Within 90 days, you will know where your clients come from, so you are equipped to serve them with efficiency.
This Fall Challenge is complimentary. You will receive a daily strategy/system to implement through email campaign that must be implemented within 24 hours.
You will measure the efficiency of the processes through time allotted, money spent and potential opportunities to convert.
You will come to learn that the power of repetition of good habits, is the strategy to stay top of mind.
One goal of this program is to expand your reach with focus and clarity, as many people as possible in 90 days.
If you can't measure the system, stop spending valuable time and money. Remember, PEOPLE are NOT LEADS. People are people and need to know you care.
Stay tuned for your update on October 1, 2022.
Register once to receive your Daily Accountability Emails. Cancel at any time.
THE BUZZ CONFERENCE