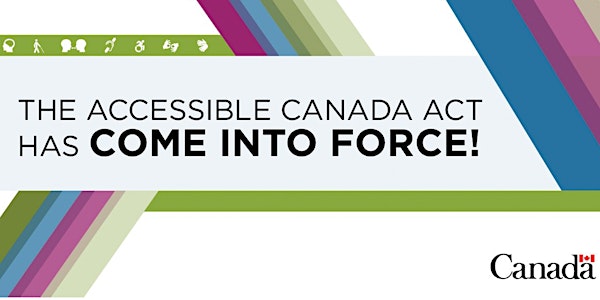 The Accessible Canada Act - How Does it Impact You
Join us to learn more about the new Accessible Canada Act and ways InclusionNL can work with you and this new legislation.
When and where
Location
Admiralty House Communications Museum 365 Old Placentia Road Mount Pearl, NL A1N 0G7 Canada
About this event
The Accessible Canada Act (ACA) was passed in June 2019 and with it comes regulations which will impact your work and service delivery.
The ACA establishes a framework to create a barrier-free Canada through the proactive identification, removal and prevention of accessibility barriers. It will also ensure that persons with disabilities are no longer required to fight barriers to accessibility on an individual basis. With this legislation in place, millions of Canadians with disabilities can rely on the Government of Canada to remove the barriers that hinder their full participation in society.
As an agency/department that is governed by federal regulations, join us for a light breakfast and informative session on the developments of the Accessible Canada Act and how this legislation will impact you. We will also be seeking feedback on ways that we can support your workplace.
Quick Facts:
Approximately one in five Canadians, or about 6.2 million people aged 15 and over, report having a disability that limits them in their daily activities.
Close to 115,000 Newfoundlanders & Labradorians report similar life experiences and barriers
The ACA will directly impact sectors such as transportation industry, and communication/technology sectors, federal government departments, Public Service Commission and Members of Parliament, the banking sector, as well as specific provincial government departments
Tuesday, March 3rd, 2020, 8:00 - 10:00AM
Admiralty House Communications Museum - 365 Old Placentia Road, Mount Pearl, NL
Limited seats available, Register now!
Upon registration, please advise of any dietary restrictions or accessibility needs. Please contact Laura George at laura@inclusionNL.ca if you have any questions.