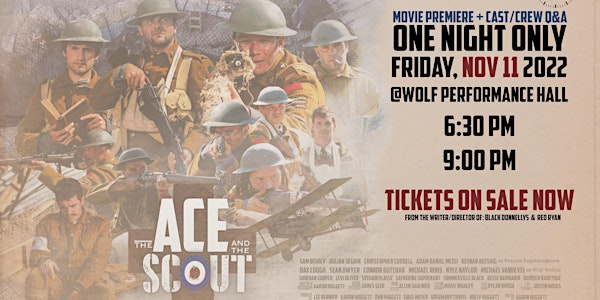 Location
Wolf Performance Hall
251 Dundas Street
London, ON N6A 6H9
Canada
Catch The Ace and the Scout at the Wolf Performance Hall presented by Electric Motion Pictures
About this event
In the month leading up to Remembrance Day 2022, EMP's new true history film The Ace and the Scout will screen in 14 Canadian Cities for one night only.
Synopsis:
Inspired by Canuck WWI flying ace Billy Bishop, two young soldiers join the front lines in August 1918. With the Allies delayed, their platoon must desperately hold out alongside legendary Anishnaabe sniper Francis Pegahmagabow.
Cast:
Keenan Keeshig (The Rez) as Francis Pegahmagabow
Michael VenHevel as Billy Bishop
Sam Biskey (Duel on the River, #StopAsianHate)
Julian Seguin
Christopher Cordell (Titans, Arrow, Umbrella Academy)
Lee Bernier (Black Donnellys)
Sommerville Black (The Living Life, Last Resort)
Adam Daniel Mezei (Love's Kitchen, Paranormal 911)
Sylvain Plasse (Nightmare Alley, Suits)
Dax Lough (Things I Do for Money, Black Box)
Sean Dwyer (Abegnation, Hey Grace!)
Written & Directed by Aaron Huggett (Black Donnellys, Red Ryan, Black Gold)
Runtime: 90 minutes
Filming location: Ontario, Canada; Cagnicourt, France; Glendalough, Ireland
IMDb: https://www.imdb.com/title/tt11585506/?ref_=nm_knf_t1
Learn more about Electric Motion Pictures on their website or follow them on Facebook.
The organizer of this event has rented the Wolf Performance Hall.