Description
CALLING ALL AFROBEATS MUSIC LOVERS!!
The AfroFusion Spot presents:
Afrobeat Karaoke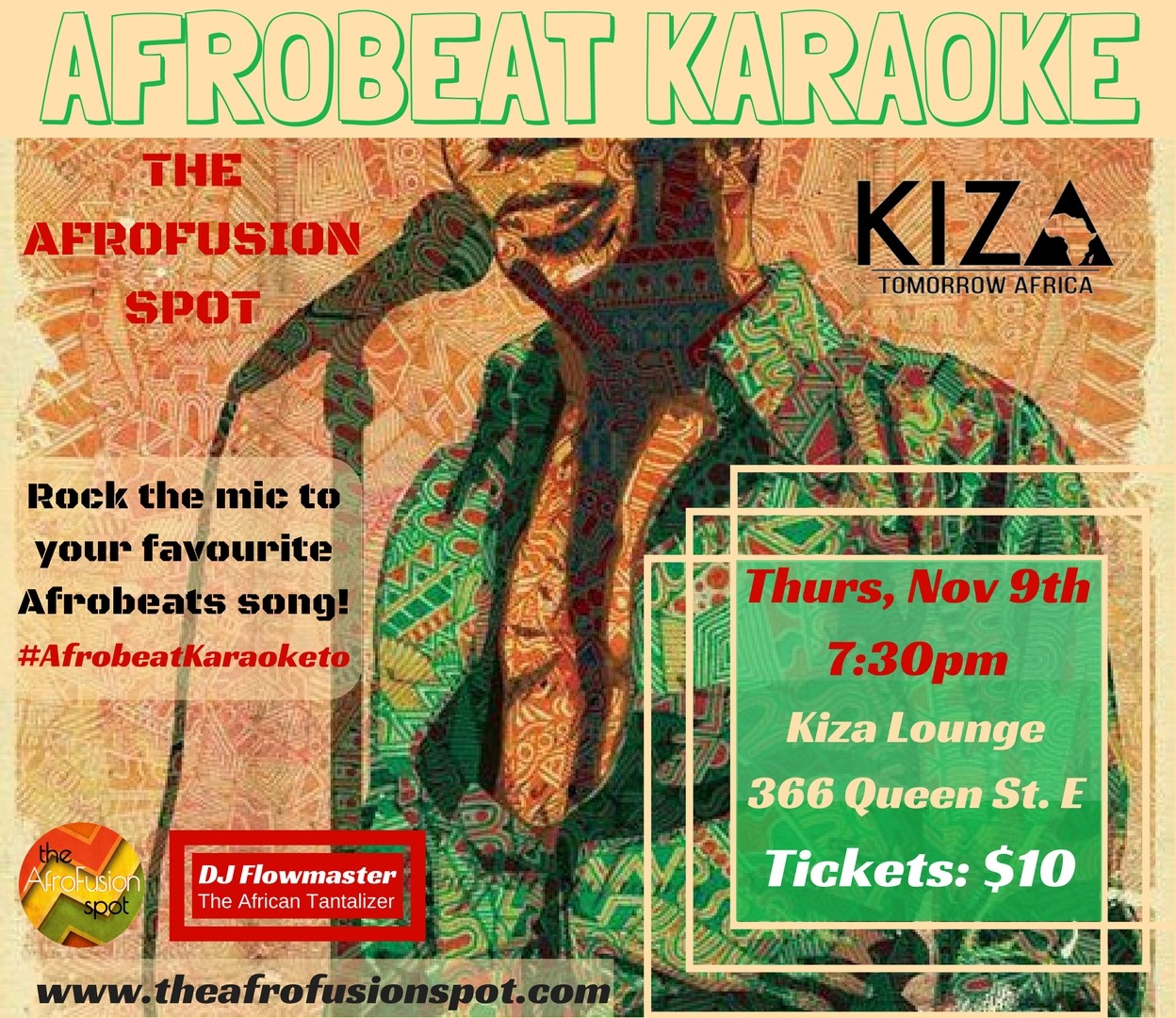 There is traditional Karaoke, there is Trap Karaoke, and now it's time for Afrobeat Karaoke! Here is your chance to showcase your karaoke skills and rock the mic to your favourite Afrobeats song!
Sing along to any Afrobeats song of choice. Whether it is Hiplife, Bongo Flava, Coupe Decale, Soukous, Kwaito, Gquom, Zouk, Kizomba, Afro-pop, Afro-House, Afro-Trap, or even if it is a current song of an old-school Afrobeats song, the choice is yours! Afrobeat Karaoke also welcomes Reggae, Dancehall and Soca song as well.

Don't know all the words, no worries! We will have the lyrics on screen for you to follow and the crowd will definitely help as they sing along with you. DJ Flowmaster, the African Tantalizer will be spinning on the 1's & 2's.
This event will be held in the newly opened African restaurant in downtown Toronto, Kiza Restaurant & Lounge. While enjoying the Karaoke show, attendees can also enjoy Kiza's delicious signature cocktails at the bar and also sample some of their tasty pan-African dishes on their menu.
WHEN: Thursday, November 9th, 2017
WHERE: Kiza Restaurant & Lounge www.kiza.ca
ADDRESS: 366 Queen St. E.
TIME: 7:30pm
TICKETS: $10
* Special giveaways + prize for best performer!
So come out and sing or come out and enjoy the show!
**SIGN UP TO SING!**
Fill out our online form with your song information HERE to reserve your spot to hit the stage and perform your Afrobeat Karaoke.
CHECK OUT OUR INTERACTIVE FLYER HERE
Grab your ticket! See you there :)
ISSA AFROBEAT MUSIC CELEBRATION!
The AfroFusion Spot Team
Save