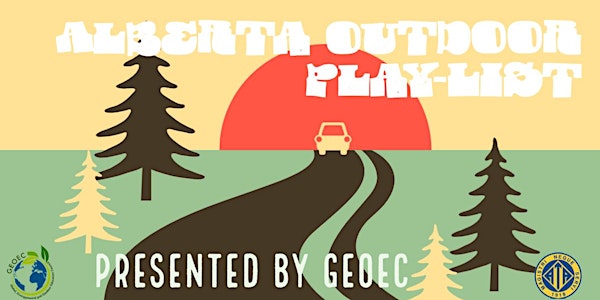 The Alberta Outdoor Play-list presented by GEOEC
A gathering for Global, Environmental & Outdoor Education Teachers & enthusiasts! Come listen to some amazing speakers & share some stories
When and where
Location
Canadian Rockies Outdoor Learning Centre CROLC Kananaskis, AB T0L 2H0 Canada
About this event
Welcome back to a new school year full of incredible adventures and new challenges. We know this school year is looking different for all of us, which is why GEOEC is trying to help support you as best we can!
We are proud to present to you the first LIVE EVENT of the year from GEOEC's Webinar Series - The Alberta Outdoor Playlist.
We have an AMAZING GUEST SPEAKER - Barry Blanchard to open our day!
Canadian Mountain Guide and alpinist, Barry Blanchard, was born in Calgary, March 29, 1959. Twelve years later three boys navigated the Bow River through the western side of the city on a raft of nailed together railway ties, Barry was at the helm steering the adventure. He found mountain climbing in the books of his high school library, some of which are still in his possession. A six-month trip to the French Alps in 1980 set the course of Barry's life: to climb the steepest and most complicated faces of the world's great glaciated peaks. Barry has enjoyed some success: the first ascent of The Andromeda Strain, 1983; the North Ridge of Rakaposhi, 1984; the first ascent of the apocalyptic North Pillar of North Twin, 1985; the West Ridge of Mt Everest, 1986; surviving the Rupal Face of Nanga Parbat, 1988; a solo first ascent on the North Face of Kusum Kanguru, 1991; an attempt on K-2, 1993; first ascents in the St Elias mountains; M-16, a first ascent -in winter on the East Face of Howse Peak, 1999; the third ascent of the Infinite Spur on MT Foraker, 2000; the first ascent of Infinite Patience on the Emperor Face of Mt Robson, 2002.
More importantly Barry has enjoyed all of his outings, even the ones not included in the narrow definition of "success". Barry moved to the mountains in 1982 to pursue his Mountain Guiding career (he is an internationally certified -UIAGM- mountain guide) and has included making Hollywood features such as "K-2", "Cliffhanger" and "The Vertical Limit" in his professional life. Barry lives in Canmore, Alberta, with his partner, Nicole, and his two daughters, Rosemary and Eowyn and cat, Orion.
The rest of the event will include much much more...
The series will feature a handful of environmental and outdoor education service providers as guest speakers, acting as a one-stop-shop for educators to find out how they've adopted their programs and how teachers can get their classes involved. Not only will you hear from many of the top school service providers in Alberta, but we will be giving out FREE RESOURCES as well!
What is better than getting a private information session on local service providers, and receiving free resources that can be used the next day!? How about some prizes!? We have a prize pack that will be going to one lucky member that joins the session.
We do encourage all participants to join the ATA Specialist Council - GEOEC (Global, Environmental & Outdoor Education Council). There will be several future events for GEOEC Members only and we would hate to have you miss out!
For more information follow the link below! All active ATA members are entitled to join one Specialist Council of their choice each year at NO cost!
ATA Specialist Council Sign-Up Info
Looking forward to seeing you at the event and best of luck in your outdoor classrooms!