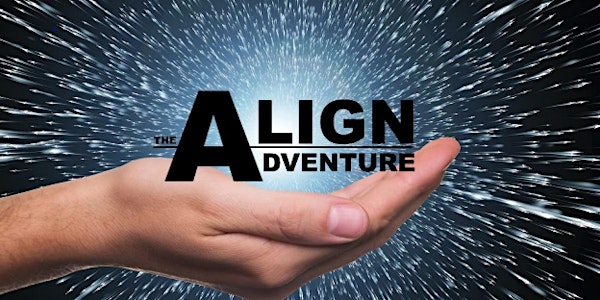 The Align Adventure Workshop
The ALIGN Adventure workshop is about rediscovering our authentic selves so that we can flourish and manifest unrestrained by an ego
Date and time
Fri, Sep 22, 2023 7:00 PM - 9:00 PM EDT
Location
375 Canarctic Dr 375 Canarctic Drive Toronto, ON M3J 2P9 Canada
About this event
Join the ALIGN Adventure on Sept 22nd and 23rd, 2023 in Toronto!
www.theALIGNadventure.com
The ALIGN Adventure is about rediscovering our authentic selves so that we can flourish and manifest unrestrained by an ego that endlessly manipulates and drains our energy, creates confusion, drama and trauma.
Whether you have been receiving network spinal entrainments for many years and are already tuned in to the benefits of Network Spinal (NS) and Somato Respiratory Integration (SRI) or are on a different personal journey that needs more oxygen and fuel to expand and grow, the ALIGN Day events are designed to launch you into a new way of being where you are in command of your life, your relationships and your life's purpose.
In this 1.5 day workshop, you will have the opportunity to:
• raise your level of consciousness, vibration and frequency to create the life you are meant to live;
• launch yourself from a foundation of poor resources or energy to a place where you will feel powerful and unshakable in all aspects of your life
• receive 3 Network Entrainments, 3 Somato-Respiratory Integration Sessions
• receive a delicious gluten free lunch and snacks
Please note that this event is limited to 30 participants. Secure your spot or visit our website at www.theALIGNadventure.com for more information.
If you have any questions, feel free to contact our ALIGN team:
1. Dr. Joe Piazza at The Happy Spine – dr.joe@thehappyspine.ca
2. Dr. Tony Sandorfi at The Happy Spine – dr.tonysandorfi@gmail.com
3. Grace So, RMT, DOMP, ROM at Oasis Health & Wellness – grace.align@gmail.com
4. Carla Affe, RCRT, Angelic Reiki Master at Pure Life Healing – carla@purelifehealing.ca
5. David Bienstock, Life Coach at Benchmark.Guru – david@benchmark.guru
We look forward to seeing you in our ALIGN Day in Toronto!