The Amoeba in the Room: Why Animals and Plants Don't Matter Very Much

Thursday, October 3, 2013 at 7:00 PM (PDT)
Event Details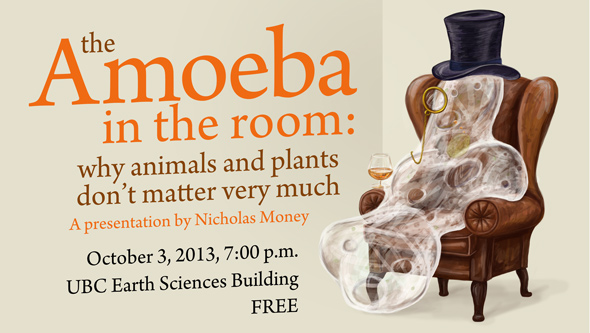 Here are some facts of life: a drop of seawater contains 100,000 bacteria and millions of predatory viruses; a pinch of soil swarms with cryptic microbes whose activities are a mystery; the atmosphere is misted with 50 million tons of fungal spores that affect the weather; and, our bodies are farmed by vast populations of bacteria and viruses that control every aspect of our well-being. The more we learn about microbial biodiversity, the less important animals and plants become in understanding life on earth. The flowering of microbial science is revolutionizing biology and medicine in ways unimagined just a few years ago and is inspiring a new view of what it means to be human.
This is a Biodiversity Lecture Series presentation by the Beaty Biodiversity Museum.

Presenter: Nicholas Money, Miami University
Nicholas Money is Professor of Botany and Western Program Director at Miami University in Oxford, Ohio. He is the author of more than 70 peer-reviewed papers on fungal biology and has published four books, including Mushroom (2011), described by Nature as a "brilliant scientific and cultural exploration." The Amoeba in the Room, his new book to be published by Oxford University Press in 2014, examines the extraordinary diversity of the microbial world and the invisible majority of life that is detectable only using molecular methods.
Books for Purchase

Books written by Nicholas Money will be available for purchase on site:
Mushroom (2011): Nicholas Money offers a vibrant introduction to the world of mushrooms, investigating the science behind these organisms as well as their enduring cultural and imaginative appeal. A must-read for mycophiles, mushroom gatherers, and nature lovers alike.

The Triumph of the Fungi: A Rotten History (2006): This book is concerned with the most devastating fungal diseases in history, focusing on the fascinating biology of the well- and lesser-known diseases, and also tells the stories of the scientists involved in their study, and of the people directly impacted by the loss of forest trees.

Carpet Monsters and Killer Spores: A Natural History of Toxic Mold (2004): When an investigation in Ohio revealed that babies suffering from a serious lung illness had been exposed to a toxic black mold in their homes, millions of Americans became nervous about mold in their homes, and the crisis soon ballooned into a fully-fledged media circus with lawsuits filed in every state. Nicholas Money explores the science behind the headlines and courtroom dramas, and profiles the toxin-producing mold that is a common inhabitant of water-damaged buildings.

Mr. Bloomfield's Orchard: The Mysterious World of Mushrooms, Molds, and Mycologists (2004): Nicholas Money introduces readers to a dazzling array of fungi, showcases the lives of famed mycologists, and recounts his own childhood introduction to fungi in Mr. Bloomfield's orchard, where trees and fruit were devoured by a rogue's gallery of bitter rot, canker, rust, powdery mildew, rubbery wood, and scab.

Parking
The nearest parking is in West Parkade, two blocks south of the Earth Sciences Building on Lower Mall. For more information on how to get to the building, please click here.
Co-Sponsors: Beaty Biodiversity Museum, Biodiversity Research Centre, and Green College at UBC
Fine Print: Groupons, discount coupons or other promotional offers cannot be applied to the ticket price when purchasing tickets for special lectures/events.
When & Where

UBC Earth Sciences Building, Ross Beaty Lecture Theatre
2207 Main Mall
Vancouver, BC V6T 1Z4
Canada

Thursday, October 3, 2013 at 7:00 PM (PDT)
Add to my calendar
Organizer
Fall in love with the diversity of life as you explore 20,000 square feet of exhibits, visit our teaching lab, and stare through the jaws of the largest creature ever to live on Earth—the blue whale.

The museum puts UBC's natural history collections, with more than two million specimens, on public view for the first time. Among our treasures are a 26-metre-long blue whale skeleton suspended in the Djavad Mowafaghian Atrium, the third-largest fish collection in the nation, and myriad fossils, shells, insects, fungi, mammals, birds, reptiles, amphibians, and plants from around British Columbia and the world.

Through a combination of exhibits, hands-on activities, educators' resources, public presentations, and community and cultural engagement, we are working to increase understanding of the interconnectedness of all life on Earth. Just as important, we connect the world-renowned scientists at the adjacent Biodiversity Research Centre with the public. This unique combination of world-class, university-based research and beautiful, compelling exhibits makes the research conducted by UBC scientists more accessible and more relevant to the public.