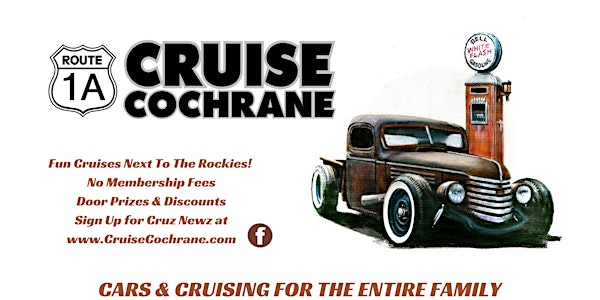 The Annual - Canmore Lunch Cruise
Our Annual Cruise to Canmore has always been one of the most popular! - Spend a day in the mountains and cruise with others = FUN!
When and where
Location
Cochrane G.M. - Chevrolet - GMC - Buick 2 Westside Drive Cochrane, AB T4C 1M1 Canada
About this event
The annual "Canmore Cruise" is always a popular one! Once you've joined us & experienced the scenery, the roads, cool rides and the meal you will understand why its a popular event!
We are excited to have you JOIN US on this next Cruise!
__________________________________________________________________________________________________________
All the Details, Instructions, Routes etc are in our Newsletter called the Cruz Newz.
Cochrane is only 14.8 minutes from NW Calgary!
You need the details in the newsletter!
If this is your first event - YOU MUST also Sign Up for the Cruz Newz Newsletter ASAP!
This can be done at: www.CruiseCochrane.com.
The emailed Newsletter will provide you with all the details for this event.
The last edition of the Newsletter will come by email on the Thursday prior to the event.
If you registered for the Newsletter but feel it was too late (after Thursday as above) and/or you didn't get a copy of it then simply email us for a copy.
Try to email us by Friday @ 3pm if you signed up for but didn't receive the Newsletter.
Our E-Mail is: CruiseCochrane@Gmail.com
Please arrive a few minutes early on event day.
Only one (1) Registration per vehicle is required (not per person).
No need to bring your Registration to the event - We have a list of the attendees.
You must be registered & be present for the potential of winning Door Prizes.
Please ensure that you read & agree to all of the details, instructions & the Disclaimer.
These are in the Cruz Newz Newsletter.
REGISTRATION CLOSES the day before the event at 6pm!
Can't come on the Cruise?
Then Register & come for the Mini Show & Shine beforehand!
PLEASE share the Newsletter & Event with ALL your Car Crazy Friends & Family too!
We are going to have a FUN CRUZ!
Thank YOU for joining us!
Sincerely, The Gang at CruiseCochrane.com
PS: BE SURE to Register for the Cruz Newz Newsletter & learn about our UPCOMING EVENTS!
NOTE: PLEASE keep the Emailed Confirmation for this Registration on your computer until after this event is over. This is so that you can refer to it and/or cancel your attendance if something happens where you can not come.
We need the numbers of attendees to be accurate, Thank You!