Sales Have Ended
Ticket sales have ended
Hello, Thank you for registering for The Art of Building a Hardware Company! Please arrive a couple minutes early to secure a good seat. We look forward to welcoming you! Best, The ACTION Team
Sales Have Ended
Ticket sales have ended
Hello, Thank you for registering for The Art of Building a Hardware Company! Please arrive a couple minutes early to secure a good seat. We look forward to welcoming you! Best, The ACTION Team
Description
The Art of Building a Hardware Company: The Basics, Strategies, and Pitfalls with Charles Mire, CEO of Structur3D Printing
Overview of Session:
You have a hardware idea and want to build a startup around it. You know some of the initial steps you need to take, but surely there are more details you might not be aware of. What are the things to prioritize in the beginning versus later on? When is the right time to grow your team? Are patents right for you? What should you expect when it comes to fundraising vs. bootstrapping? How do you define success? This workshop is designed to intimately discuss all the gory details of building a hardware-focused startup, pitfalls to avoid, strategies to pursue, how to assess the growth metrics, and much more. The topic segments will include Legal & IP, Finance & Fundraising, HR, Sales, Manufacturing, Regulations, Logistics, Marketing, and Expectations.
---


Topic Breakdown:
1st Hour: The Beginning
Founding a hardware startup — Founders and expertise (technical vs. business)

Hardware Startup Business Model (one-time sale, recurring revenue, software subscription bundling)

Patents and IP Strategies, Trade Secrets

Essential Legal: incorporating, NDAs, NCs, terms of service, etc…

Banking: credit unions vs banks

Prototyping: MVP, ways to prototype; Prototyping vs. Manufacturing

Useful Software packages (Gmail & Google Suite [Drive, Analytics, Calendar, Docs], Quickbooks, Slack, Hubspot, Zendesk, Square, Shopify/Squarespace)
2nd Hour: The First Sales
Validating Ideas

Beta Users

Research Partners

Go-to-Market Strategies

Research and Development and how depth and pace relate to sales

Sales Funnel Creation and Refinement — Identifying and segmenting your market; Estimating Customer Acquisition Cost and Lifetime Value; Pricing Strategies; Managing Customer Expectations
3rd Hour: Once you get off the ground
Funding your hardware startup: bootstrapping, crowdfunding, dealing with investors, non-hockey stick curves

Defining success within a hardware startup; How long it takes to get to greener pastures

Operations: running your company without running out of money; Understanding processes and pitfalls of manufacturing at scale

Supply Chains and sourcing parts

Further resources for hardware startups (local incubators; follow top investor blogs; network with other founders)
---


About Charles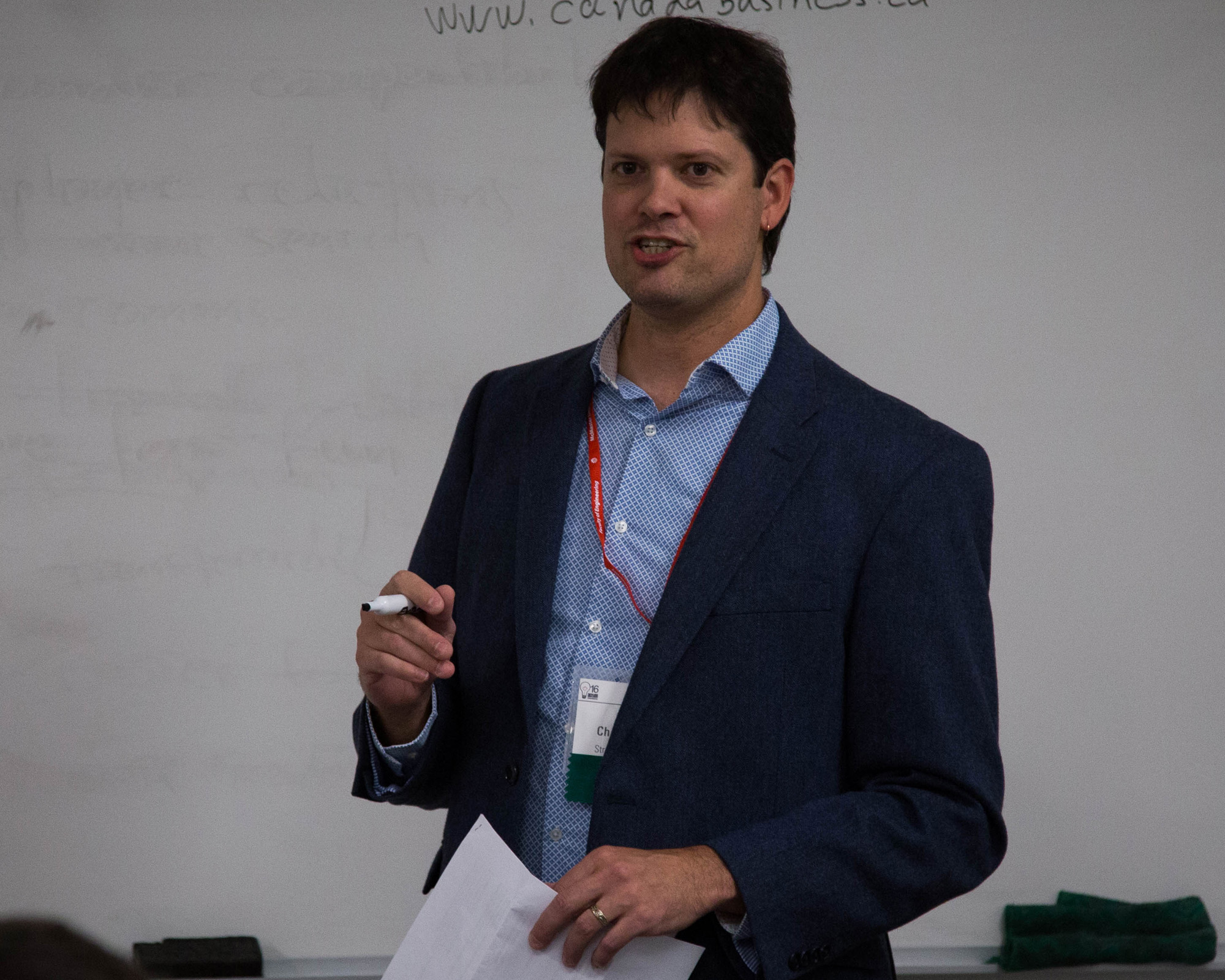 Charles is originally from Texas, where he worked as a backend Unix developer for about 10 years before deciding to switch tracks to become a scientist. He went on to pursue a MSc in applied physics from the University of Texas and then obtained a PhD in chemistry from the University of Wollongong in Australia.
After completing his PhD, Charles and his family immigrated to Canada. They fortunately settled in the Kitchener-Waterloo area, where Charles connected with the local startup scene. After a few years of extensive networking and working at a number of local startup companies, he took the plunge and launched Structur3D Printing in 2013. Since then, the company has graduated Communitech's HYPERDRIVE Accelerator program, successfully launched a kickstarter campaign, and sold hundreds of its Discov3ry extruders worldwide.
Check him out on:
LinkedIn: https://www.linkedin.com/in/charlesmire/
Website: http://www.structur3d.io/
Facebook: https://www.facebook.com/Structur3DPrinting
Twitter: https://twitter.com/charlesmire
---


What's Included In Your Ticket:
3 Hour In-Depth Workshop on Building a Hardware Startup

Question and Answer Period with Charles Mire

Food and Non-Alcoholic Drinks

Six Month Online Access to Video Recording of Workshop for personal, non-commercial use.
---


Terms of Attendance:
This event can easily be valued at of thousands of dollars. By attending this event, you agree to the following:
1) Video and Audio Recording. The ACTION Conference team will be video-recording the entire event so that it can develop next-generation educational materials for entrepreneurs. It will control all the rights to the content and distribution of the raw and resulting materials.
At the team's discretion, content perceived to be confidential may be removed during the editing process in order to promote a more transparent and tailored learning environment during the workshop.
2) Feedback. All attendees will fill out and submit our feedback form to provide ACTION with insights about their experiences at the workshop.
3) Follow-up with Attendees. ACTION will reach out to attendees to confidentially inquire how useful the content was, how it has been implemented, and the experiences of attendees implementing it, etc…