The Art of Creation: Art Exhibit, Fashion Show and Live Performances
Description
Qhawe & Ibeebay Present
The Art of Creation

5:30PM Exhibition Viewing

7:30PM Artist Talk, Ibe Ekuma

8PM Fashion Show by Ankara Loving w/DJ Stop.
8:45PM LIVE PERFORMANCES by QueenTite Opaleke, Kier Mailan, Rhonda Thompson aka Fenom, DJ Stop.

Hosted by Charles Berkley
Ankara Loving will have a pop up shop in the lobby
Ibe Ekuma's exhibited works and others will be for sale
Cash bar
---
The human form is a wonderfully expressive conduit through which we may depict birth, love, death, conversations, sexuality, dance, explore fields of consciousness, and realize the liberating points at which the soul confronts physical form. Ibe is endlessly inspired by the body, by the aspect of human connection and relationships, and the graceful instinct of the human body to move through space. Ibe works to capture unexpected, emotive expressions by which the human forms coalesce to create an abstraction of themselves.
Yoked with her love for the figurative is surrealism. Perhaps the origins of her fascination with art form roots back to having to bypass reason and rationality early on in life to forge a path in artistry. No matter how difficult the subject matter with which she's addressing, Ibe absorbs all of it and reimagines, or rather, re-expresses it positively without negating the actuality.
In her solo debut, The Art of Creation, Ibe explores surrealism -specially its magic- and the ways in which it allows us to see each other, our humanity and the world in ways we might not have imagined. Each layering shape and color intentionally chosen for their psychological meaning and symbolism; even the broad strokes and bands of acrylic and oil mimic of a certain controlled chaos. She has incorporated some of her favorite Salvador Dali paintings and elements of Nigerian folklore as reference points, foundations to begin her own exploration of womanhood, displacement, belonging, blackness, and queer identity.
The topics are expressed in ten paintings using oil and acrylic on 35in x 23in glossy paper.
Ibe Ekuma is a multimedia artist based out of Winnipeg. Born in Kano, Nigeria, she immigrated to Canada in 2007 to pursue a BA in Economics from the University of Winnipeg. A self-taught artist, art has always figured prominently in her life. Back home in Nigeria, art was ubiquitous; deeply interwoven into the culture- serving as a backdrop to the everyday- art was not seen as a skill to be explored and cultivated beyond hobby. From an early age, Ibe recognized that art meant something more; the call to create, to be a creator, was loud and vibrant and one she couldn't ignore. In all aspects of her art-making, she emphasizes life, vigor and strength balanced by softness and peacefulness. Working mostly with oil, acrylic, charcoal and pencil, Ibe is drawn to the styles of cubism, surrealism, afro-surrealism and afro-futurism; but, one can't deny the figurative foundation of a lot of her work.
Ekuma has exhibited at aceart inc. . She has contributed to events for Prosthetics for Foreign Donation Inc. and Black History Month Winnipeg 2018.
She is currently working on the project, "Women Empowerment", with Winnipeg organization, Steady Steps.
---
ANKARALOVING
Ankaraloving is an African fashion house that started from a desire to wear African print clothes as every day apparel. Our pieces are unique, comfortable, and trendy. They're versatile enough for both the desk and the dance floor…or even a BBQ in the summer with friends!
We are nothing without our clients, whom we fondly call "Ankara lovers". Ankara lovers come in different shapes, sizes and shades and we enthusiastically embrace their uniqueness- and occasional unique vision- by offering bespoke clothing next to our ready-to-wear pieces.
Ankaraloving supports African entrepreneurs with over 50% of our production in Africa. As a social enterprise, we are committed to investing in the people who inspire our pieces. Our fall jacket- a popular piece- is produced in one of Nigeria's coldest states, Jos, Plateau.
Ankaraloving continues to collaborate with fellow creatives who are interested in what we are doing and who share our vision in providing everyday African print clothing to women, men and children who appreciate style. Street style.
RHONDA THOMPSON AKA FENOM
Rhonda Thompson, also known as "Fenom", has been an avid performer in Winnipeg, and across Canada for several years, and in a number of genres including hip hop, reggae, and gospel to name a few. She is also an active community member, serving as a Board member for the Black History Month Celebration Committee and Congress of Black Women of Manitoba, as well as lending her talents towards a variety of charitable organizations and events.
DJ STOP.
Born and raised in Ireland, DJ Stop has lived in Dublin, Chicago, Singapore and now Canada. He's played big festivals and clubs, quaint coffee shops, pubs, birthdays, weddings, promotional events -and even a downhill bike race!- internationally, including Norway, Greece, London, and more.
Founder of 'Strictly Turntables DJ Society, Stop. is predominantly vinyl based. He can spend hours in a dusty old store or warehouse scouring for long lost gems in the genres of Jazz, Funk, Soul, Disco, Reggae, Rock, Pop and more. Over the years, his record collection has ballooned to an estimated 9000 records. Much of this collection has traveled the world with him, growing as it does.
A multimedia artist, DJ Stop's photography has also been profiled by AFROPUNK.com for a project in which he photo'd several black Canadians who shared the experience of living in a predominately white area and struggled to find places to get their hair done and build community.
Nowadays it's difficult to predict what you'll hear in a DJ Stop. set. But be prepared for anything from Dub Reggae to Techno and EDM. If he likes it and can find it on wax it's all fair game. Regardless of the genre, the selection and mixing are done by ear and with great passion.
Check out his wide variety of mixes here:
http://www.mixcloud.com/iamstop/
Facebook page: https://www.facebook.com/Stop.DJ
Contact: iwillfreshyou@gmail.com for bookings.
KIER MAILAN
Kier Mailan is a poet and spoken word artist notable for competing at the Canadian Festival of Spoken Word in 2017 as part of the Winnipeg Poetry Slam Team. He has also performed at other events such as last year's Nuit Blanche (New Perspective), Fringe Festival (Slam!) and was chosen as a feature for the monthly Speaking Crow open mic event.
He began writing poetry at an early age and before showcasing his talent on the Winnipeg Poetry Slam stage he had first done numerous performances with the Voices Inc. youth slam competition (ages 13-19). Since then, he has continued to pursue his interest in writing and performing spoken word poetry with a ferocious appetite for tackling new opportunities to improve his skills as writer/performer as well as to share his work with others.
He is a firm believer in the power of vulnerability as he utilizes the medium that is poetry/spoken word to not only entertain, but to speak of issues that some artists may shy away from such as mental health, relationships or grief. It is this unapologetic honesty in his work that lets those who resonate with his writing feel touched in a way that is both captivating and entertaining.
Instagram page @kiermailan.poetry
Facebook page, Twitter, Snapchat & Instagram: @kiermailan
About Queentite
Queen is a Nigerian/Jamaican Hybrid of the African Diaspora™️. She is the Co-Founding Director of PFFD- Prosthetics for Foreign Donation, a charity that repurposes used Prosthetics to redeveloping countries in need. She's also the Owner of Natty - a natural shop that specializes in dreadlocks, natural health, and inner beauty.
Her roots are laid in art, activism, black love and black liberation. This former international model, Disability community worker, published poet, and forever activist led the chants for the 2017 Winnipeg Women's March on Washington, spoke at the Winnipeg BHM Luncheon honouring Viola Desmond, and alongside BLMTO, led the biggest Trans March in History (Pride Toronto 2016. This Queer woman of Color, mother & now new Grandmother is a force to be reckoned with. Queen is black light in the darkness of the night, Melanin sight.
Fb.com/queentiteopaleke
Ig: @queentite
Snap: missqueeentite
Twitter: @queentite
HAZE STUDIO
Those moments too good to miss, the ones you want to flash back to, we are there to capture them so that you can enjoy the moment.
QUEEN ESTHER PHOTOGRAPHY
Queen Esther is a student at the University of Manitoba, currently in the faculty of science and soon to be a Nursing student. She loves fashion, dancing, photography and really anything artistic.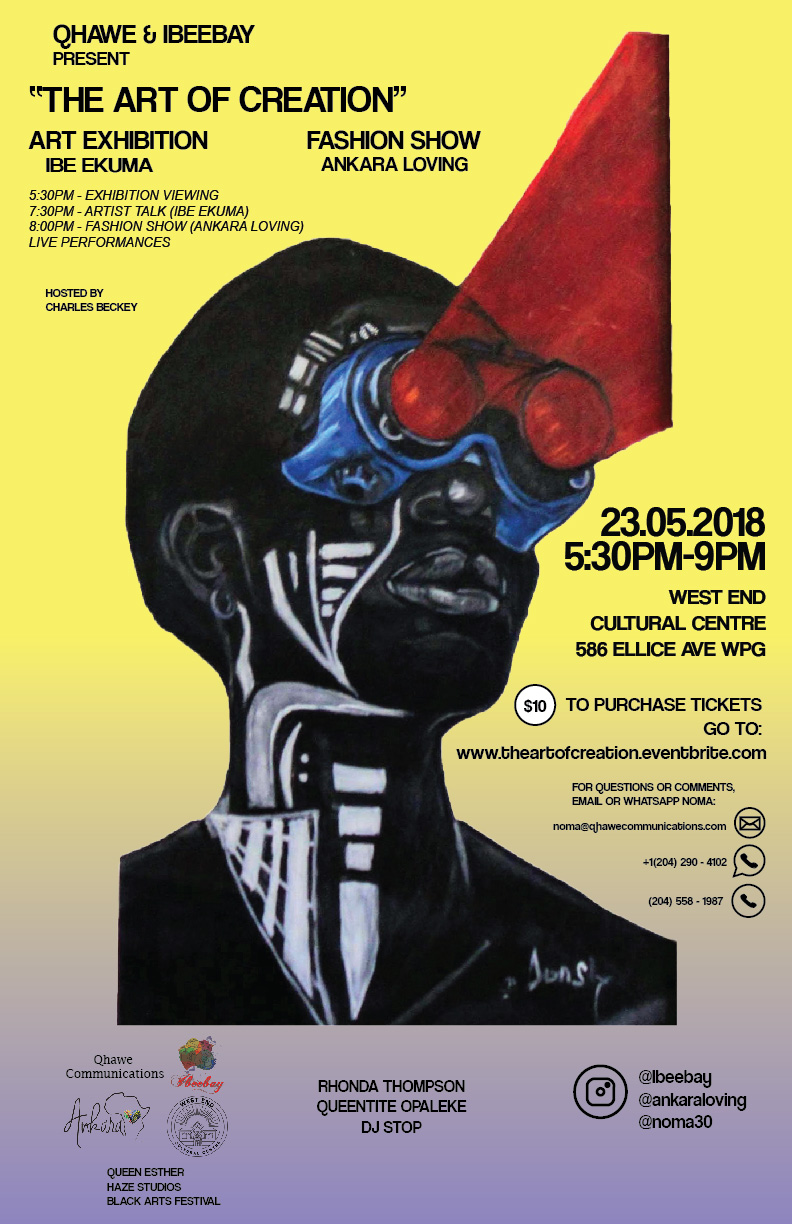 FAQs
How can I contact the organizer with any questions?
Email and whatsapp are the best and fastest way to connect with the organizer. Please contact Noma at noma@qhawecommunications.com or by Whatsapp at +1204.290.4102. For phone calls, 204.558.1987.

What's the refund policy?
No refund

Do I have to bring my printed ticket to the event?
Yes
Is my registration fee or ticket transferrable?
Yes, if you purchased the tickets for someone else, or can no longer attend your event, you are able to transfer the tickets just as easily as you accepted them