Description

The Art of Diplomacy North American Book Launch Event
In Conversation with Bruce & Vicki Heyman | Canada 2020
April 30, 2019 | National Gallery of Canada | 6:00 - 8:00 PM
---
Canada 2020, Canada's leading, independent, progressive think-tank, is proud to host the North American book launch event for The Art of Diplomacy: Strengthening the Canada-US Relationship in Times of Uncertainty, the new memoir from former U.S Ambassador to Canada Bruce Heyman and philanthropist Vicki Heyman.
From the publisher:
A personal and insightful call to action and a much-needed book about one of the most important bilateral relationships in the world—the relationship between Canada and the US—and why diplomacy matters now more than ever before.
Join Canada 2020 at our proud host venue, the National Gallery of Canada, on the evening of April 30th, 2019 for a fun, lively and timely conversation with Bruce and Vicki as they share insights and readings from the book.
Tickets:
Premium: $30, access to event, a signed copy of The Art of Diplomacy
General: $20, access to event
Tax & fees extra
Registration deadline: April 16, 2019 at 5 PM ET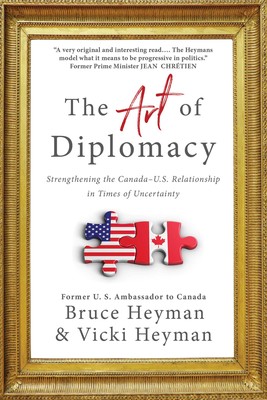 Praise for The Art of Diplomacy
"A very original and interesting read about partnership and the important relationship between Canada and the U.S. The Heymans model what it means to be progressive in politics."
– Former Prime Minister Jean Chrétien, bestselling author of My Stories, My Times
"In this insightful and heartfelt recollection of their years in Canada, Bruce and Vicki Heyman give us a behind-the-scenes look at what diplomacy is really about: relationships. In these tumultuous times, The Art of Diplomacy is testament to the importance of listening to and learning from our allies."
– David Axelrod, former Senior Advisor to President Barack Obama and CNN Senior Political Commentator
"A great read. Diplomacy between our two countries is needed now more than ever. The Heymans are an important reminder of how the art of diplomacy and friendship are practiced. A blueprint on protecting shared values and the most important relationship we have."

– Rick Mercer, bestselling author of Final Report

"The Heymans blew into Ottawa in 2014 in a gust of spring Obama wind and left in the winter of 2017, as the chills of a new era were settling in. Their takes on diplomacy and the ties and tensions between Canada and the U.S. are as entertaining as they are informative."

– Former Chief Justice of Canada, Beverley McLachlin
Organizer of The Art of Diplomacy: Book Launch Event | Canada 2020
Canada 2020 is Canada's leading, independent, progressive think-tank.