Description
This is an energetic, fun presentation with many real life 'across the table' experiences being shared. The presentation is split into two parts, the first part addresses professional negotiation highlighting the key elements of negotiation strategy, including the 'do's and don'ts', all presented through the stories of my own experiences which brings a sharp realism that captures the student's attention. Students will hear how to better handle customers and will pick up strategy techniques and skills to help them negotiate smarter, enabling them to achieve and fulfil their work and personal goals.
The second part of the presentation covers personal negotiation when purchasing in one's personal life, it highlights the rules to success and has many amusing examples. The really important point here is that the rules used apply to both forms of negotiation. This is a skill that I know through my own experience will without doubt, give a professional negotiator an advantage and enhance his or her negotiation skills significantly. It will also save the students lots of money as they go through life!
The presentation will be of benefit to:
Students (final year) thinking of a career in sales, law, marketing.

Students who could be customer facing in the future.

Existing sales people, both new and experienced.

Anyone who is likely to be customer facing.

Anyone interested in saving money through their life.
Course Objectives:
Overview of professional negotiation using real customer experiences which brings the lesson to life.

Attendees will learn techniques on how prepare and negotiate smarter and hence increase theirsuccess rate.
Attendees will learn the importance of 'reading' those across the negotiating table.

Attendees will be better prepared to face customers as they take up their future professions.

Attendees will also learn skills specific to personal negotiation with not only the potential to save significant sums of money in their personal life but also how to use these same skills to improve their professional performance.

Attendees will gain a 'life skill'
Presenter Bio: Eric Armstrong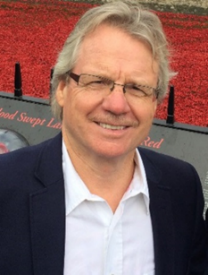 I left school at 15 with no qualifications and went to work down the coal mine as an apprentice and spent 10 years working at the coal face as an electrician, I left the mine with a AMEME, T. Eng.
I then left the UK for 6 months but returned 25 years later! During this period, I worked in various engineering roles up to the time I joined GE (below) where I moved into sales roles. I lived and worked in the following countries; 3 years in S. Africa & Rhodesia, 1.5 years in Iran 2 years in Algeria, 1 year in Belgium, 2x5 years in Saudi, 9 years in Dubai and 2 years throughout the rest of the Middle East
This is my 35th. year at GE, approximately half of this period was spent located in the Middle East where I was a sales manager, area manager, country manager and finally the Gulf Manager, all in sales. I relocated back to the UK with my family in 1999 where I took up the position of UK Sales Manager though to my current position of Executive Account Manager. I have received many awards while at GE, notably, being named 'Rookie of the Year' in 1989 by Jack Welch (former CEO) and receiving the Global Energy Sales Award from Jeff Immelt (current CEO) in 2001. I would estimate, during my GE career, that I have closed deals of approximately $6.0 billion value.