Description
What is the difference between a plan and a strategy?
Do you have a strategic plan for the next three years of your leadership and entrepreneurship?
Have you formed strategic alliances with global partners?
In fact, how would you define the concept of strategy, what are the common misconceptions of a strategy and do you have one for your vision?
No matter how many days left in 2018, you can still finish it strong and prepare to start 2019 even stronger. This is the reason for this strategic workshop on the Art of Strategy.
After crafting the strategies for numerous projects and programs for corporations and governments around the world, with a combined value of over a billion dollars, I have learned some tools and techniques to ensure the sustainable advancement of your vision and the strategic tools and techniques to ensure the flawless execution of your goals and objectives.
Therefore, save a spot now and ensure to forward the invitation to everyone you would like to learn about this key success factor that many know nothing about.
No matter how many days left in 2018, you can still finish it strong and prepare to start 2019 even stronger. This is the reason for this strategic workshop on the Art of Strategy.
As I wrote in my book, The Mystique of Leadership, "The most intelligent of all plans are sometimes obvious to the ignorant, but a well–thought out strategy will always elude the intelligence of the wise."
In this workshop, I will be sharing the common misconceptions of strategy, the difference between a plan and strategy, the art of strategic planning and management, and strategic tools and techniques to ensure the flawless execution of your goals and objectives.
You will be equipped and empowered with a comprehensive understanding of the fundamentals of strategy and will even help you to develop a draft of your strategic plan for 2019!
What is more, you may be qualified for my special Mastermind Alliance program called the 3iiis, which stands for Massive Impact, Strong Influence, and Sustainable Income.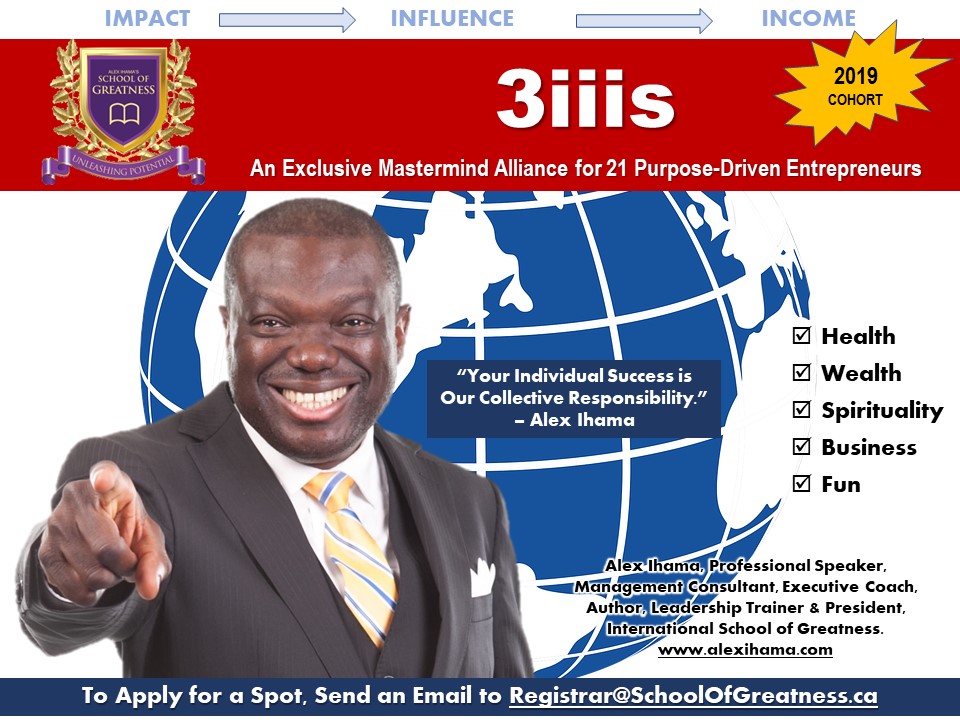 This is an exclusive group of only 21 people who would like to become champions in leadership and entrepreneurship. Therefore, if you are a personal development enthusiast who would like to learn MORE, know MORE, do MORE, say MORE, have MORE and give MORE, register for this workshop NOW!!
There is no better time to be alive than now! No better time to expand your network, advance your vision and fulfill your purpose!! In fact, I declare and decree 2019 as the Year of Receiving!
If you are willing to conquer your fears and beat procrastination, willing to travel to the core of your existence, then 2019 shall be the Year of an Overflow of wealth and an Abundance of Health!
Register for this event right away to learn how to craft the strategy that is required to the readiness to receive exceedingly and abundantly more than you can ever think or imagine.
In The Mystique of Leadership, I continued:
"Strategy is a combination of plans that must be systematically executed to ensure the success of a grander vision. The art of strategy is so important that without it, leadership and entrepreneurship are like trying to shoot a terrified horsefly in a small pitch-dark room which is filled with mines.
For more information, call the organizer, Foster Owusu at 416-300-1284. And if you would rather send an Email Money Transfer for your token of $10, send it to fosterowusu@hotmail.com.
See you at the workshop!
Alex Ihama
alex@alexihama.com
www.alexihama.com
ABOUT FOSTER OWUSU
Foster Owusu is undoubtedly a high achiever and for almost 3 decades, has devoted much of his life to educating himself and learning how to hone his exceptional skills in this industry.
A charismatic, engaging speaker, who is very well versed on the mechanics of the network marketing industry, Foster is passionate about developing leaders to become financially independent through the creation of residual income.
Foster published his first book, "How to Fire Your Boss and Hire Yourself", in September of 2014, and has spoken nationally and internationally to audiences of over 7000 people, developing a team that has generated millions of dollars worth of residual income for him and for themselves.
Foster never tires of giving his audience solid and practical solutions to problems. He calls it, "I got to!" As such, Foster uses examples of his past setbacks to spark change in his audiences.
Foster Owusu has been on the international stage for more than 2 decades. He is a firm believer that God can use ordinary people to make a difference.
ABOUT JOHN SOLLEDER
Working from home, being your own boss and having a residual income with a Network Marketing business is a motivator for John Solleder, who is a top earner in the network marketing industry.
John has written, spoken and taught many people all over the world to build thriving businesses, and uses his vast wealth of knowledge and experiences to inspire many people to be more focused on their health and generational wealth.
A top earner, educator, speaker in the network marketing industry for three decades and adviser to owners and top distributors in several companies worldwide, John is a financial star at three companies, the first million dollar earner and the First President's Cup winner at his prior company, and the first distributor of the year at his current company.
He lives in Dallas, Texas, with his wife and 3 children, earned black belts in both judo and brazilian jiu jitsu, and very involved in his children's athletic careers.