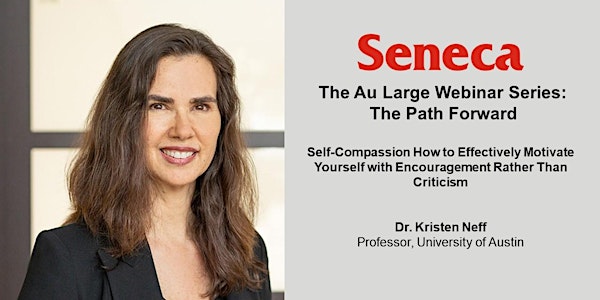 The Au Large Webinar Series: The Path Forward
Self-Compassion How to Effectively Motivate Yourself with Encouragement Rather Than Criticism
About this event
Description
Our first instinct when we fail, suffer, or feel inadequate may be to criticize or to judge ourselves—but there is a better way to get through life's hardships, says Dr. Kristin Neff. A way that enables us to achieve our highest potential and lead more contented, fulfilling lives. And that's through self-compassion.
Some people fear self-compassion is a form of self-pity, and obsessively chase high self-esteem instead—their self-worth fluctuating with every success and failure. But research shows us that people who are self-compassionate lead healthier, happier, more productive lives than those who are self-critical. These people also have the resilience needed to cope with traumatic or stressful life events such as divorce, parenting, pressures at work, or the collective health crises we're going through now with COVID-19.
In this talk, she walks audiences through practices designed to increase motivation, foster grit and growth mindset, and rebound from failure, all through the cultivation of self-compassion.
About the Series
A webinar series about the path forward to well-being, equity and diversity, environmental stewardship and the emerging world of hybrid work. Sponsored by the School of Community Service, Faculty of Applied Arts and Health Sciences at Seneca.