The Audacity of Change - The BMSA at 20 years
BMSA 20th Anniversary Celebration!
About this event
Time for Celebration
I am excited about the 20th anniversary of the BMSA. Sean Wharton here, 1st President of the BMSA. In the year 2000, PJ, Makela and I started the BMSA out of frustration as we looked out saw very few Black faces in Medicine. We wanted to make a change. We rallied with our friends, and the staff at UofT. We started by selling photocopies of old undergrad exams to make some money and to pay for education events to help Black students in undergrad to improve their GPA and prepare for the MCATs. We worked hard, our class of 3, and this year at UofT there are 16 BMSAers, that's right 16, and they are working hard to keep that wave of change going.
Come and Celebrate with us 20 years of achievement.
Please note this event is open only to current and past BMSA Members.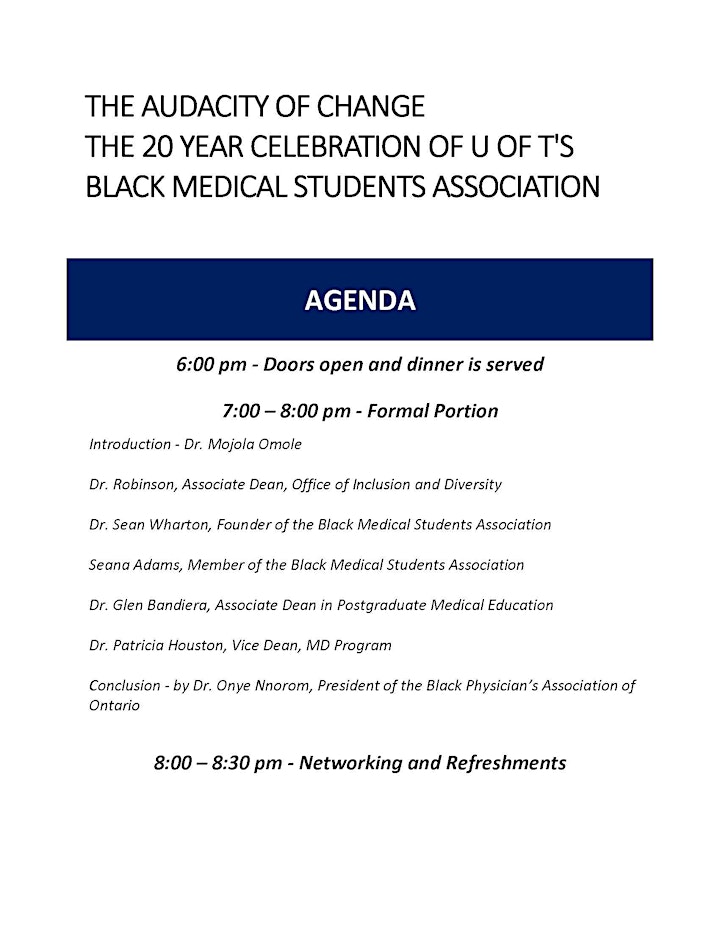 Organizer of The Audacity of Change - The BMSA at 20 years
The Office of Inclusion and Diversity (OID) is part of the Office of the Dean at the University of Toronto's Faculty of Medicine. The mandate of the OID is to support the Faculty's commitment to lead in the area of equity, inclusion and diversity, and to create and promote innovative and accountable diversity and equity related programming in collaboration with other members of the Faculty of Medicine community as well as external partners, which include the Toronto Academic Health Sciences Network (TAHSN) and community organizations.