The Authentic Leadership Program for Women Leaders

Thursday, 28 September 2017 at 9:00 AM

-

Thursday, 14 June 2018 at 3:00 PM (EDT)
Event Details
The Authentic Leadership Program for Women Leaders
Starting September 28, 2017
The Authentic Leadership Program for Women Leaders is designed for leaders who are ready to increase their influence, contibution, feel happy and be sucessful. Enhance your skills and talents with innovative strategies and techniques - bringing your own authentic leadership to the forefront of your life, organization and your career. Join Marilyn Neufeld, distinguished faculty and high profile keynote speakers starting this September and become an Authentic Leader.  
LEARN, CHALLENGE, PRACTICE, ACHIEVE



Increase Your Leadership Confidence and Competence 
Align

 

your actions

 

to

 

your

 

most important

 

values
Increase your efficiency

 

and effectiveness
Be an inspiring coach

 

to

 

peers and staff

Ensure your decisions enable your success

Increase your Emotional Intelligence

 

to

 

deepen meaningful relationships
Expand

 

your ability for self-mastery using the Enneagram Personality Model
Leverage

 

your natural instincts and strengths to be more confident and

 

effective
Program Components  
The Authentic Leadership Program includes over 50 hours of workshops and coaching experience including: 
6 full-day leadership workshops

3 1.5 hours coaching circles

3 hours of individual coaching

2 Keynote Speaking events

The development of an innovative change project focusing on your organization
Leadership Tools  
Integrated into the Authentic Leadership Program are leading edge Personality, Emotional Intelligence and Instinctive assessments used worldwide. All assessment tool costs and debriefs are included in your Authentic Leadership Program tuition:  
EQ-i 2.0

Enneagram Personality

Kolbe Index Assessment

The 9 Domains Team Effectiveness Model

Authentic Leadership Model

Coaching for Success by Marilyn Neufeld
PROGRAM DATES

September 28: Full Day Workshop 9:00-4:00
October 24: Coaching Circle 3:00-4:30
October 26: Coaching Circle 3:00-4:30
November 21: Full Day Workshop 9:00-4:00
December 12: Full Day Workshop 9:00-4:00
January 25: Full Day Workshop 9:00-4:00
February 20: Coaching Circle 3:00-4:30
February 22: Coaching Circle  3:00-4:30
March 22: Full Day Workshop  9:00-4:00
May 3: Full Day Workshop 9:00-4:00
June 12: Coaching Circles 3:00-4:30
June 14: Coaching Circles 3:00-4:30
2 high profile keynote speakers TBA

REGISTRATION and PROGRAM TUITION 
EARLY REGISTRATION AND PROGRAM TUITION
Payment can be made in three equal installments (1/3 on registration, 1/3 by October 31/17, 1/3 by February 28/18) by VISA/MC or cheque
Registration and Payment can be made below.
Additional Information
For additional information or to order directly:
Call: (905) 521-9558 or Email: marilynneufeld@sympatico.ca
We make every possible attempt to honour the curriculum timing however faculty and curriculum might need to change. Credit can not be given for missed sessions. Unfortunately as space is limited, no refunds can be given after the first session. 
Strategic Choice is a division of Communica Inc.  
When & Where

The Hamilton Club
6 Main Street East
Hamilton, ON L8N 1E8
Canada

Thursday, 28 September 2017 at 9:00 AM

-

Thursday, 14 June 2018 at 3:00 PM (EDT)
Add to my calendar
Organizer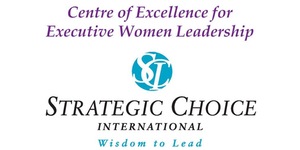 Why Women? 
Can we have it all? 
Women balance their lives often juggling multiple roles and business demands. 
Learning, growing and achieving a successful  life including change mastery is challenging. 
Marilyn is an expert in indvidual and organizational change with experience leading in stressful environments. She brings a unique connection, appreciation and experience to what it means to be an Authentic leader in 2017. 
Marilyn Neufeld is the founder of the Centre of Excellence for Excecutive Women Leadership and Business Leader at Strategic Choice.
We are proud to serve our clients since 1999 coaching leaders and leadership teams, helping them to achieve "way beyond what they initially thought possible." Based in Hamilton Ontario, Canada, our approach is strength based and results focused. Our clients think differently and take positive strategic actions as the authentic leaders they truly are.
The Centre for Executive Women Leadership (CEEWL) was formed for women leaders to learn, collaboarte and be inspired together. We identify trends, generate innovative ideas, skills and strategies which leaders can implement in their organizations.
Using best practice and leading edge research, leaders  will learn, share their wisdom, experience, and knowledge  resulting in the changes they want to see and the goals they want to achieve.