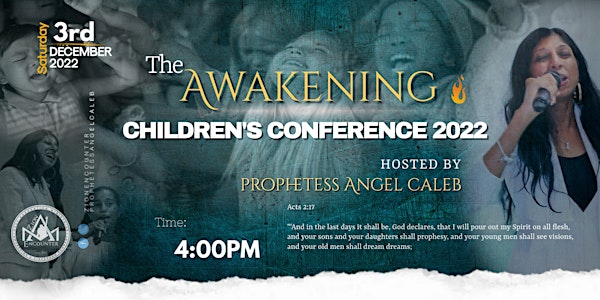 THE AWAKENING - Children's Conference 2022
THE AWAKENING - Children's Conference 2022 *Children's Deliverance and Empowerment Gathering* Sat Dec 3rd at 4:00 pm EST
When and where
Location
7383 Boul. Saint-Laurent suite 102 7383 Boulevard Saint-Laurent #suite 102 Montréal, QC H2R 1W7 Canada
About this event
THE AWAKENING - Children's Conference 2022
*Children's Deliverance and Empowerment Gathering*
Acts 2:17 - "'And in the last days it shall be, God declares, that I will pour out my Spirit on all flesh, and your sons and your daughters shall prophesy, and your young men shall see visions, and your old men shall dream dreams;
This Saturday December 3rd at 4:00 pm EST, Zion Encounter - NGM will be hosting THE AWAKENING Children's conference 2022 --
It will be a glorious time of teaching, equipping and empowering children in the power and fullness of the Holy Ghost.
We are coming together with one mission and one mandate:
To see our children delivered and empowered by the Power of Christ Jesus. The enemy has a strong target set on the backs of our children, but what he has failed to realize is that behind every child stands strong, fierce, fearless warrior mothers & fathers, prophets & apostles, teachers and ministers; These warriors are such that have counted the cost and have chosen never to regress or forfeit until a mighty uprising of remnant children warriors be witnessed among us and throughout the nations.
David's, Samuel's, Elisha's, Joseph's, Miriam's, Esther's & Deborah's are coming forth in Jesus name! The Uprising is now, the AWAKENING is before us - let us boldly step in!
-----------------------------------------
Hosted by prophet Angel Caleb, this is a gathering you and your children cannot miss! We welcome and strongly encourage parents to join their children for the duration of this conference. Register yourselves and be there! It's a time of unlocking destinies one little mighty soul at a time. Let us boldly go forth and cause hell to tremble as our little mighty Lions of Judah come forth for the Kingdom of God with fullness, power and authority in Jesus name!
------------------------------------------
Parents please note, there will be daily pre-conference prayers happening both online and in person in preparation for this Gathering starting Monday November 28th 2022. If you'd like to join the preparatory intercessory prayer team for THE AWAKENING children's conference and for the schedule, text "Prayer TA" at 514-746-0529. Further details will be sent to you following that.
To stay up to date and connected with Zion Encounter ministry announcements and events, download the telegram app and follow our channel Zion Encounter - NGM - (msg us for the link).