About this event
This performance takes place on the unceded and unsurrendered territory of the Mi'kmaq people.
The Bald Soprano
Written by Eugene Ionesco
Directed by Gaby Milner
Produced by Kath Burke and Hal Rotman
The Smiths and the Martins are two very nice English couples having a proper dinner party. So why can't the Martins recognize each other? Why do the clocks show the opposite time? And by God, who is ringing the doorbell?
The Bald Soprano is a classic piece of Theatre of the Absurd: chaotic, hilarious and profound
This show will take place in the Pit at the University of King's College on December 2nd, 3rd, and 4th at 8pm. The show runs for approximately 45 minutes, with no intermission. Doors to the Pit will open at 7:45.
Tickets are pay-what-you-can starting at $5 for students and $10 for general admission. You can reserve online and pay in cash at the door. The box office will open in the A&A lobby at 7:00, at which time you can pay for pre-ordered tickets. All tickets that are not picked up by 7:45 will become rush tickets.
Proof of vaccination and masks are required, as per public health guidelines.
ACCESSIBILITY: The Pit is fully accessible. There are gender-neutral washrooms located one floor above and one floor below the space.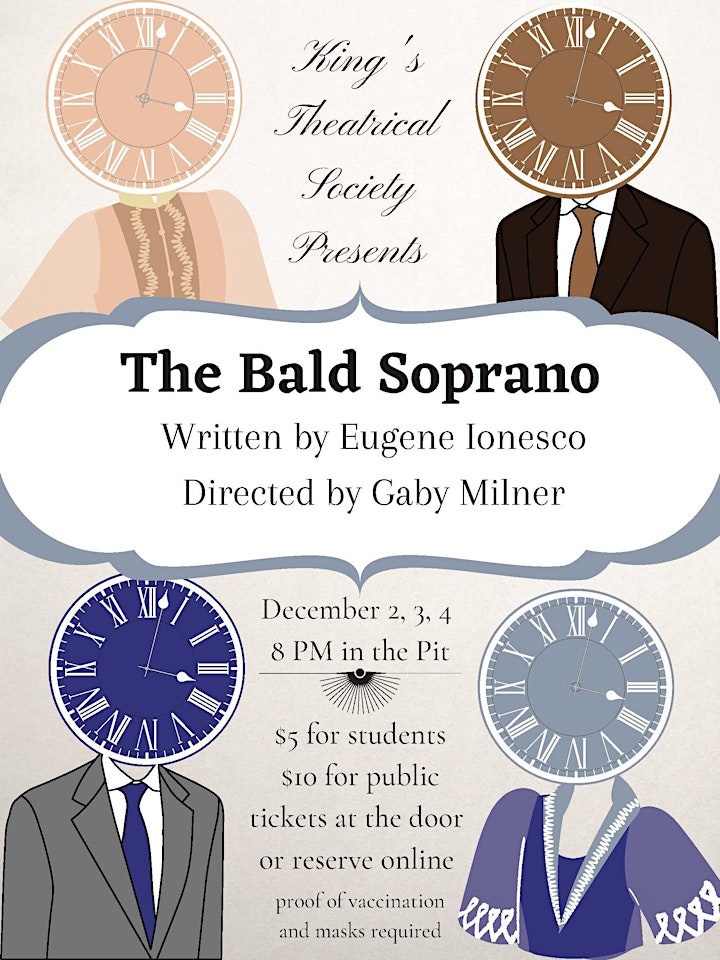 Organizer of The Bald Soprano
Founded in 1931, the King's Theatrical Society (KTS) is a student-run drama organization working out of the University of King's College in Halifax, Nova Scotia. One of the oldest theatrical societies in North America, it is also the largest per capita campus society of its kind on the continent. It is estimated that 80% of King's students will become involved with the society at some point during during their years of study at the university.  As such the KTS is much more then a theatrical society, it is a foundation of student life at King's where students can meet one another, form lasting relationships and memories, and develop important skills.

Each year, based on what's pitched by local and student artists, the KTS puts up commercial plays, musicals, original student-written works, and experimental pieces. Its two principal venues, the Pit and Red Room, have housed and supported dance collectives, comedians, and theatre companies from all over Atlantic Canada.   This year, as always, the KTS is committed to providing students with the proper resources and support which will enable them to achieve their personal and creative goals.  The KTS is dedicated to enriching the lives of students and local Halagonians by creating entertaining and challenging amateur theatre.