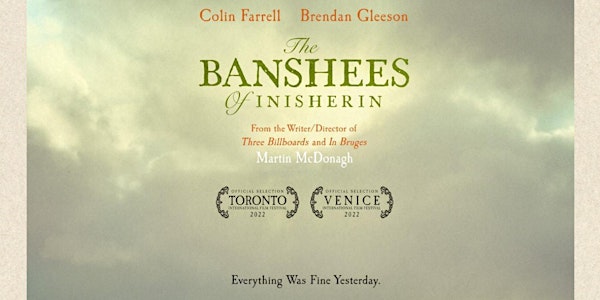 The Banshees of Inisherin (Dec 2-8, 2022)
Welcome back to the Patricia Theatre!
When and where
Location
Patricia Theatre 5848 Ash Avenue Powell River, BC V8A 4R6 Canada
About this event
THE BANSHEES OF INISHERIN
The Banshees of Inisherin is a period drama/comedy/tragedy set on a remote island off the coast of Ireland at the end of the Irish Civil War in 1923. Starring Colin Farrell and Brendan Gleeson. Banshees is a superbly acted film (Oscar buzzzz) with themes of kindness, isolation, and the importance of human connection. An end-of-friendship breakup movie that swings between the hilarious, the horrifying, and the heartbreaking in magnificent fashion.
Rating: 14A
Running Time: 1hr 54min
TICKET PRICES
Children, 4 and under: Free
Youths 5 - 12 $8
Teens 13 - 18 $10.00
Adults 19 - 64 $12.00
Seniors 65 - 79 $8.00
Super Seniors, 80 and up Free
Tuesday Cheap Night & Thursday Matinee - $8.00