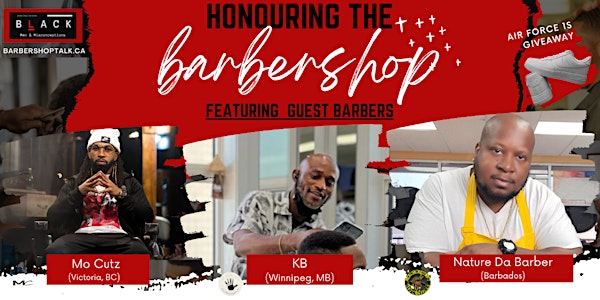 The Barbershop Talk Series : Honouring the Barbershop
Join us on Sunday, August 28th, 2022 as we explore the relationship between barbers and Black men in Barbados and Canada.
About this event
The Barbershop events aim to create a safe space for Black men and boys where they can be vulnerable and in an environment where they feel supported and comfortable enough to engage in deep conversations without judgement. For the past four years, these events have provided a forum for many Black men and boys and the broader Black communities to come together to discuss stressors that affect Black men and boys' social, political, and economic engagement in Canada.
The discussion will promote asset- and capacity-building initiatives and inspire thinking and action to strengthen collective responses that would improve the broad array of social conditions that contribute to Black men and boys who face gender biases and anti-Blackness.
This event will build upon discussions of Black masculinities to support and encourage positive social outcomes for our Black communities. This event encourages Black men to share their thoughts and feelings without the sense of being exploited.  
When: Sunday, August 28th, 2022
Time:
5:30 pm to 8 pm (Winnipeg MB - Central Time)
6:30 pm to 9 pm (Barbados - EST/ Atlantic Time)
3:30 pm to 6 pm (Victoria - Pacific Time)
Where:
Hair Force One Barbershop ~ 6 Elma's Complex Spooner's Hill, St. Michaels, Barbados
&
Mo Cutz Barbershop ~108 -2940 JUTLAND RD. Victoria, BC
&
Royal Touch Barbering Services ~Unit G - 2810 Pembina HWY. Winnipeg, MB
&
ONLINE via ZOOM
PRIZES & FREE HAIR CUTS
WIN of pair of Nike Air Force 1s
Small groups of Black men and boys will be invited to receive FREE haircuts at the participating barbershops.*
Moderators:
Dr. Warren Clarke & Nature Da Barber - Air Force One Barbering Services (St. Michaels, Barbados)
Francis Darko, Tristan Francis & KB - Royal Touch Barbering Services (Winnipeg, MB)
Tyree Russell & Maurice St. Rose - Mo Cutz (Victoria, BC)
*For the in-person component, we specifically encourage Black male-identifying individuals to participate and enjoy a free haircut while our program financially supports and promotes the barbershops.
We will encourage audience members to join the conversation and share their ideas.
The barbershops will follow the provincial rules for COVID-19 protocols. Capacity will be determined based on these rules.
NOTE** If bans on in-person gatherings are based on the COVID-19 rules, the entire event will transition to an exclusively online event.
This outreach event welcomes the community and encourages all genders, races, sexualities, cultures and high school-aged and older persons to attend.