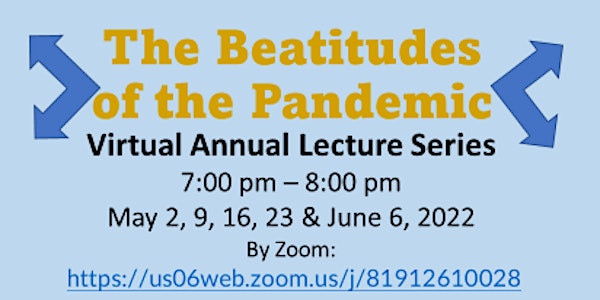 The Beatitudes of the Pandemic - Virtual Annual Lecture Series
This year's Virtual Annual Lecture Series organized by Rev. Miranda Sutherland.
About this event
Speaking from the Mount of Olives, Jesus shared with his listeners a number of sayings popularly known as the Beatitudes (Matthew 5:3-12).
While perhaps less familiar to Christians, a second collection of Beatitudes is recorded in Luke 6:20-26. Preached at the Sermon on the Plain, these famous words retain their ability to guide and inspire now as ever.
This year, Jesus' words in Luke will provide the guided text for our presenters in this year's Lecture Series entitled "The Beatitudes of the Pandemic".
Meet our presenters!
May 2: Rev. David Taylor, St. Dunstan Aldergrove
May 9: Rev. Dr. Evie Vernon, St Mildred's London England
May 16: Rev. Tim Morgan, Christ Church Hope
May 23: Dr. Mari Joerstad, Academic Dean & Professor of Hebrew Bible - Vancouver School of Theology
June 6: Rev. Dr. Steve Black, St. Hilda's by the Sea