The Benefits of Meditation - 2021 BIAYR Educational Talk Series
Online educational talk about the benefits of meditation and how it can help you after a brain injury
About this event
Jayesh Prajapati, Brain Injury Survivor practicing meditation for 25 years, will provide an overview of the benefits of meditation and how it can help you after a brain injury.
The talk will cover the following topics:
What is Meditation?
Why Meditation is needed now?
Benefits of Meditation
Scientific Proof of Meditation Benefits
How to Meditate
How to use meditation during life's challenges
Let's give it a try
Q & A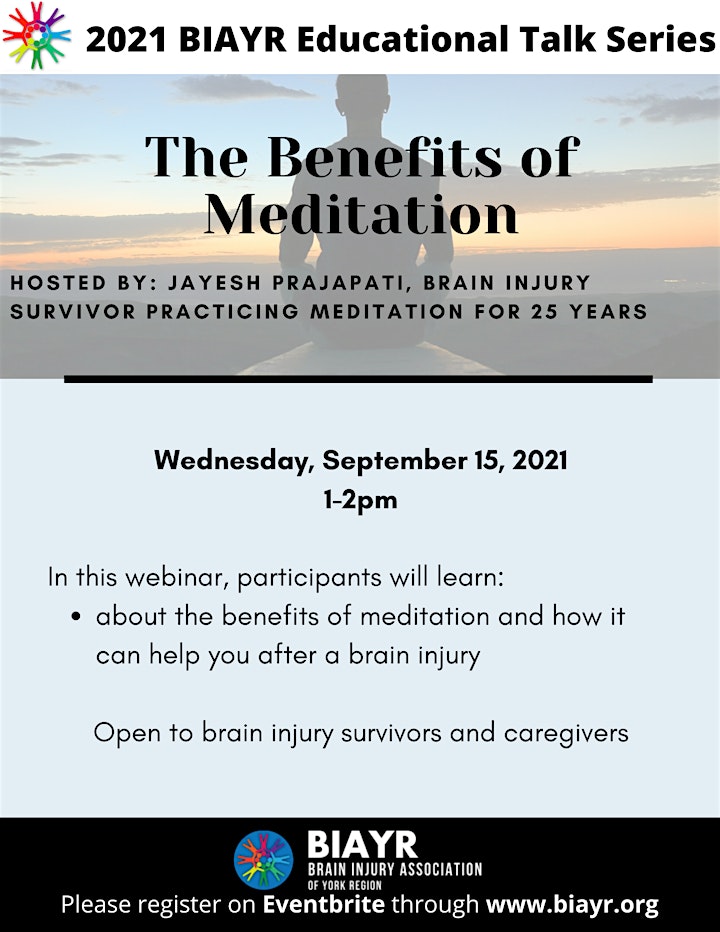 About Jayesh Prajapati:
Jayesh Prajapati is a brain injury survivor who has been practicing meditation for the last 25 years. He has found tremendous benefit in meditation practice, both before and since his motor vehicle accident. Currently, he is passionate about teaching others about meditation and its wonderful benefits, including how it can help us through life's challenges.
Organizer of The Benefits of Meditation - 2021 BIAYR Educational Talk Series