The Betternxt Manager's Toolkit Workshop: Be the Leader You Want to Be

Tuesday, 15 November 2016 from 8:30 AM to 4:00 PM (EST)
Event Details
Register now for our Upcoming Workshop: March 1st, 2016
Become an Even Better Productivity Leader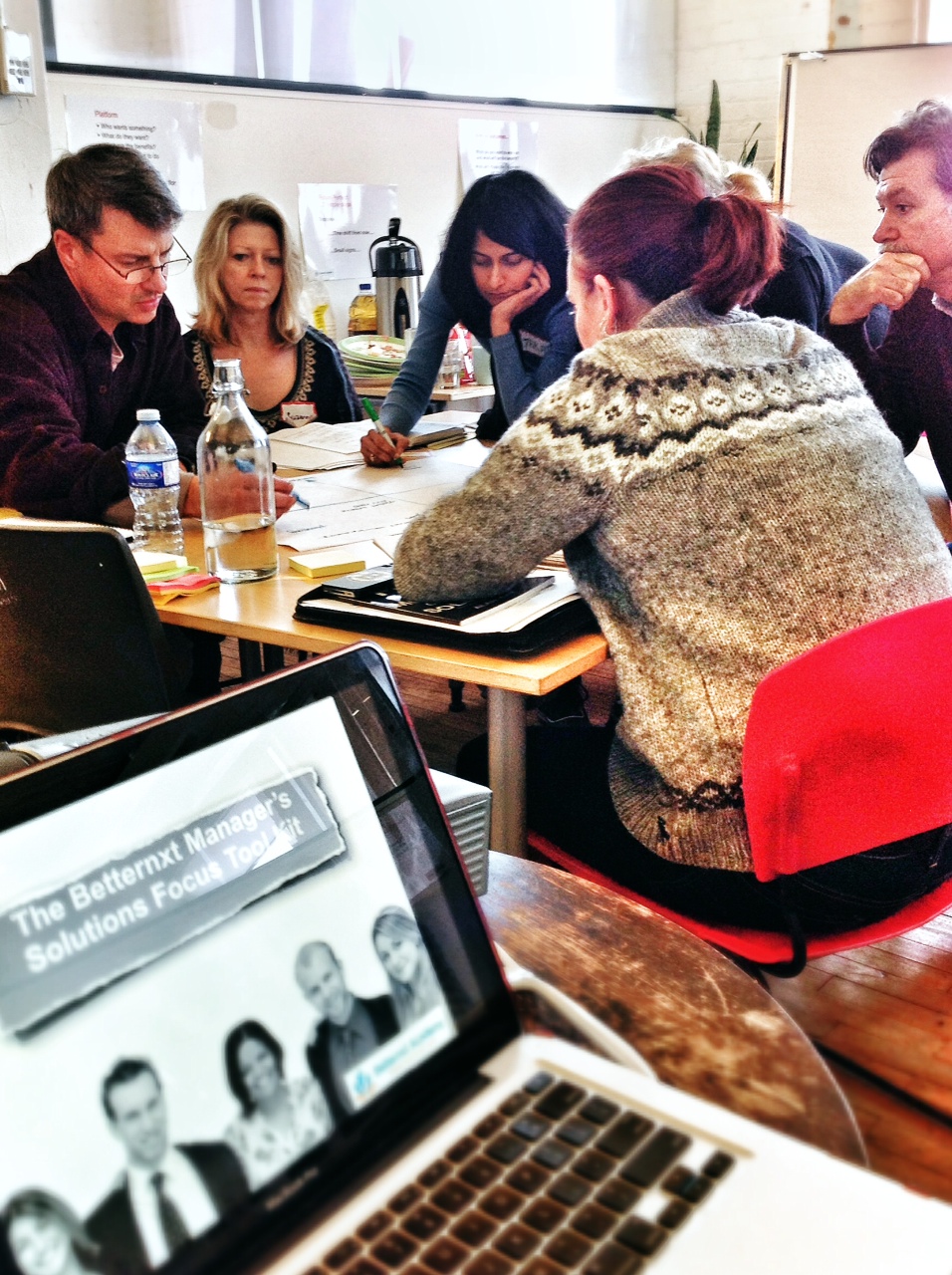 While we're busy leading and influencing change, how do we become the expert in our role, manage/lead others, and get our leaders and colleagues to listen to us? How do we brief people so that they will come up with solutions instead of ineffectively debating problems? Betternxt has the answers!
Betternxt Academy & Solution Focus – Gaining Ground in Training
Demand for the Solution Focus approach to organizational and personal improvement continues to grow. Unique among many models for change and growth, Solution Focus keeps things simple by showing its users how to ask better questions and make a difference right away. It puts solutions in the hands of those who want or need change.
The Participant's Perspective:
"The Betternxt program delivers high quality learning in a very engaged and interactive environment. Improving your interactions with team-members, superiors, partners and your network is a life-long process, which can often be overlooked. Betternxt takes concepts rooted in family therapy to create their unique Solution Focus approach which is a fresh and powerful way to improve decision making, conflict resolution, innovation development, as well as day-to-day interactions. Led by hands-on experienced practitioners, the Betternxt program provides you tools and techniques that can be applied immediately, which is the hallmark of a quality program. I highly recommend the Betternxt program for executives and managers looking to take their career to the next level."

–      Alexis Zamkow
The Betternxt Manager's Solution Focus Toolkit Workshop
This practical 1-day workshop – in a collaborative, hands-on learning environment – helps managers and leaders like you who want to:
Learn and practice professional leadership skills that

you can apply right away

Identify and explore the use of better questions that lead to better conversations within your team and across teams. 

Develop your ability to help people articulate their own solutions,one-on-one and in teams

Self-assess your current skills and develop immediate and long-term goals for growth
Early bird price (15+ days prior to workshop): $249; Regular price: $299
All workshop participants will receive a free copy of Alan Kay's books Fry the Monkeys, Create a Solution and Monkey-Free Meetings.


Check our website to sign up for our newsletter and view our blogs
When & Where

Centre for Social Innovation - Annex
720 Bathurst Street
Meeting Room 4, 3rd floor
Toronto, ON M5S 2R4
Canada

Tuesday, 15 November 2016 from 8:30 AM to 4:00 PM (EST)
Add to my calendar
Organizer
Alan Kay & Richard Toker
Betternxt: We work with teams and organizations across many industries to consult, facilitate, and train clients who are stuck and need to make progress with stakeholder dialogue, business planning, customer strategy, innovation, leadership training, collaboration and management skills. 

The Betternxt Manager's Toolkit Workshop: Be the Leader You Want to Be