Join the Trainerize Collective Online Event and learn how these fit pros are adapting in the time of crisis—and how you can do the same.
About this Event
The first online Trainerize Collective is an opportunity for our community to connect and help educate each other in an interactive event! Join us to:
Understand why the pandemic is changing the clients' behaviour and what are their new habits
Learn how to grow you brand and scale your business
Find out more about wearable fitness technology and how it can help improve your clients' personal fitness results
Gain the best insights from the industry pros
Get free & discounted access to educational resources, tools and certifications
This event will bring together some of the most successful players in the industry, along with up-and-comers to start a conversation about how to succeed as a coach.
You're invited to join us as we engage in exclusive fireside chats with special guests. We will share secrets to resilience, tips from the pros and insights into the future of technology in the fitness industry!
Make sure to take note of the session times so you don't miss a thing. Just a reminder all of these times are in Pacific Time (PT), so if you're in a different time zone keep that in mind 🌎🕓✔️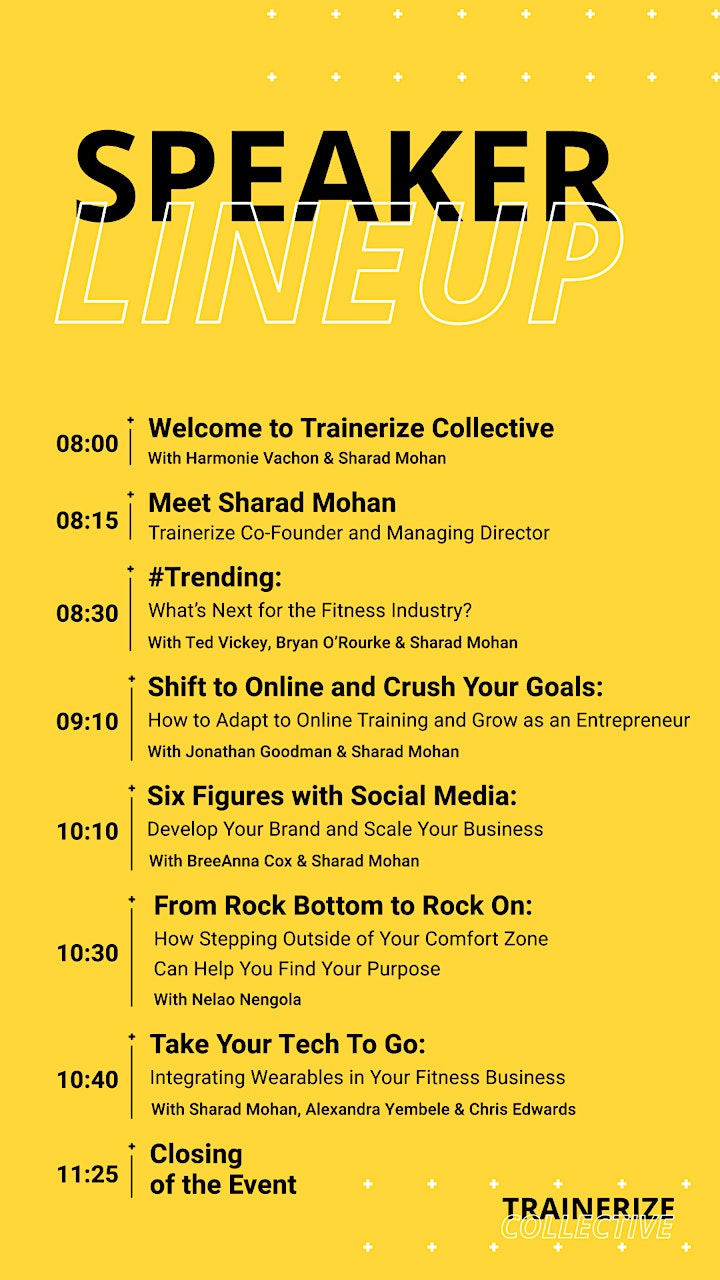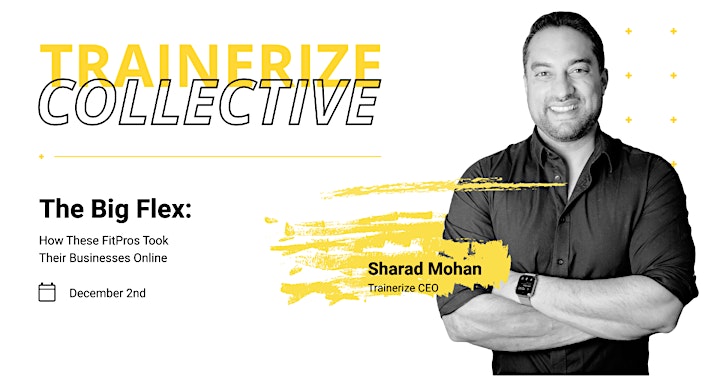 SHARAD MOHAN
Co-founder and Managing Director of Trainerize and the driving force behind our mission to "make fitness accessible". Sharad is helping fitness businesses leverage technology to stay relevant in the digital fitness age and engage people in new ways using mobile and wearable devices.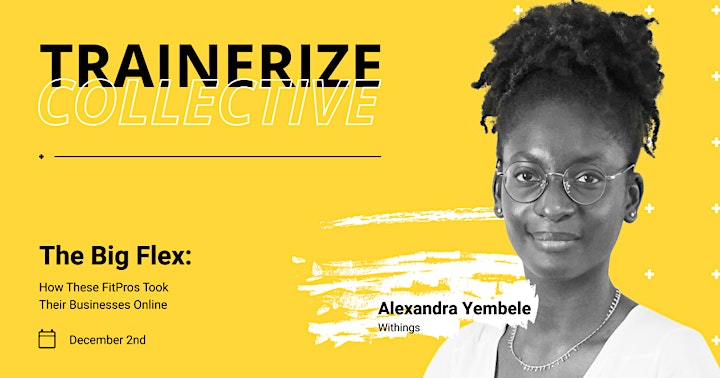 ALEXANDRA YEMBELE
As a B2B marketing project manager at Withings, Alexandra works to develop Withings activities dedicated to healthcare professionals. Withings creates devices embedded in easy-to-use everyday objects that connect to apps and act as powerful daily health check-ups, as well as tools to help master long-term health goals.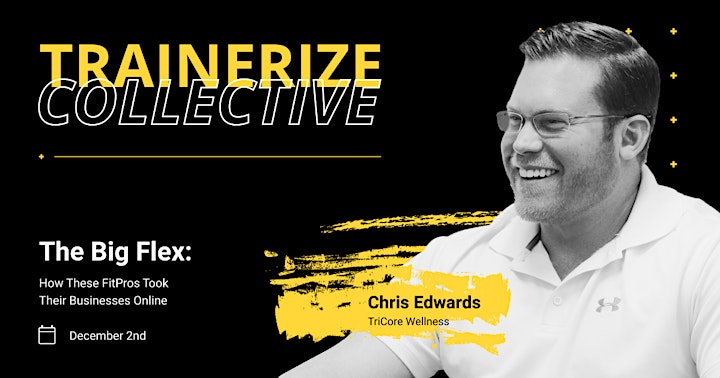 CHRIS EDWARDS
Owner and founder of TriCore Wellness. Chris is a fitness and wellness professional with over 14 years of experience. He holds multiple certifications and achievements in the fitness and wellness industry and is an accomplished competitive powerlifter.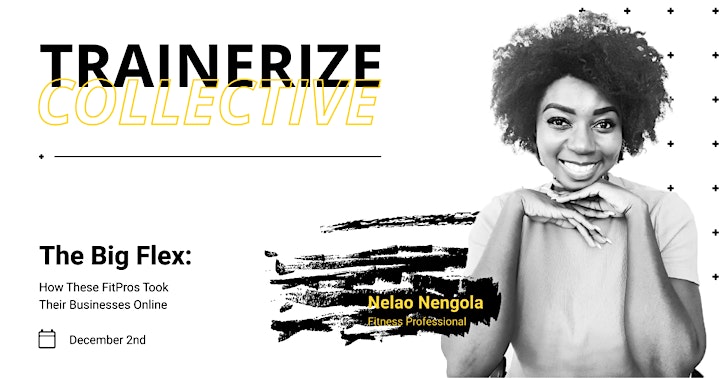 NELAO NENGOLA
International fitness and lifestyle professional who helps female trauma survivors heal their relationship with their body following shame and chronic dieting. Nelao teaches self-love, helping them show up with courage and confidence.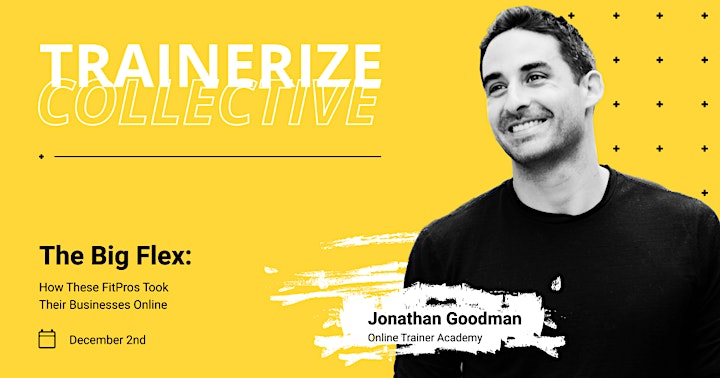 JONATHAN GOODMAN
Founder of the Personal Trainer Development Center and author of multiple bestselling books for personal trainers. Jon founded the first-ever certification for online fitness trainers, the Online Trainer Academy.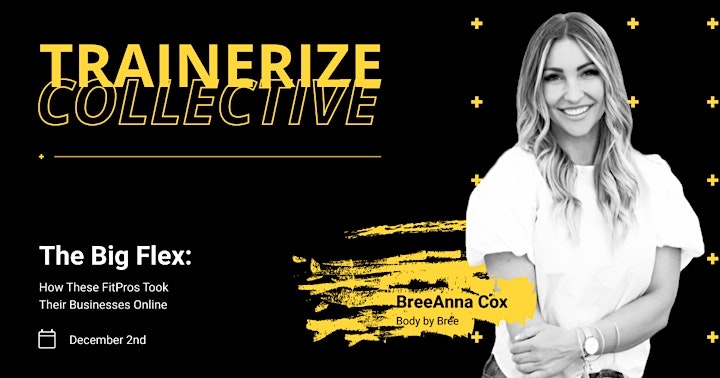 BREEANNA COX
Founder of BodybyBree, certified personal trainer, nutritional specialist and entrepreneur. Bree has used her massive social media presence to expand her business beyond personal training to include other ventures such as a line of supplements and her podcast "Better Me with BodybyBree".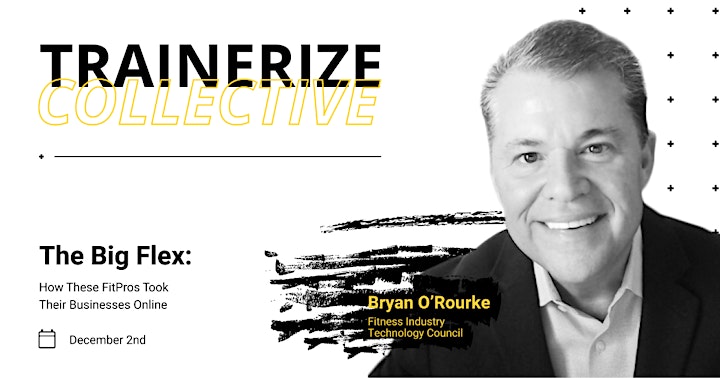 BRYAN O'ROURKE
Experienced CEO, strategist, investor, board member and advisor. As an executive and owner in multiple companies he is also President of the non-profit Fitness Industry Technology Council, driving innovation and collaboration in the fitness space.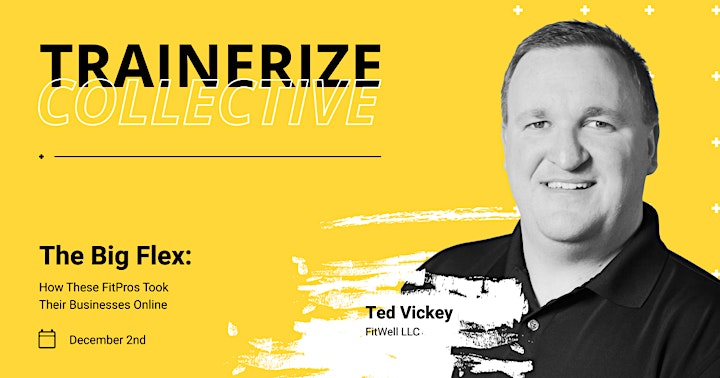 TED VICKEY
President and CEO of FitWell LLC, advisor, fitness coach and business strategist who specializes in personal branding, social networking and fitness technology. As a personal training business expert, his core philosophy on business is this: "Work smarter, not harder".
*Sessions will be recorded and shared with all attendees after the event. Please do register to attend even if you cannot attend to receive the recordings afterwards.
About TRAINERIZE:
Our mission is to make fitness accessible.
Our purpose at Trainerize is to help trainers reach new clients, build stronger relationships with their existing ones, and promote a healthy lifestyle for everyone.
In 2019 we brought our community together with our first in-person Collectives. Now in 2020, we're launching Online Collectives to adapt to the changing world and reach more members of our community internationally. All personal trainers, coaches, gym and studio owners are welcome to join this FREE event and become part of the Trainerize Collective. We're excited to see you there!