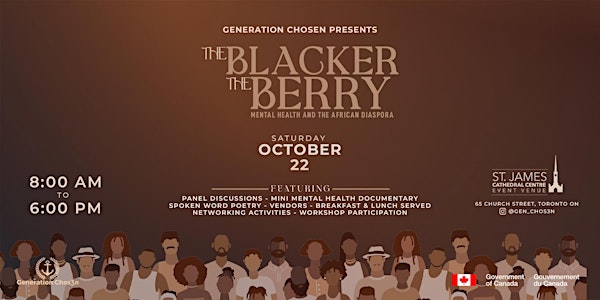 The Blacker The Berry - Mental Health & The African Diaspora
Toronto's first Annual Mental Health Conference that centers the lived experiences of self-identifying Black folk.
When and where
Location
St. James Cathedral Centre Event Venue 65 Church Street Toronto, ON M5C 2E9 Canada
About this event
Rooted in the famous Harlem Renaissance text of the same name "The Blacker The Berry: A Novel of Negro Life," written by Wallace Thurman and published in 1929, the conference explores the historical and contemporary obstacles confronting Black folk who seek to find wellness, joy, and psychological safety in a world where colonialism, colourism, and racism continue to stain and thwart those attempts.
The event will offer a safe and cathartic space within which you will gain exposure to guest speakers, networking activities, vendors, and workshops, that will provide healthy and meaningful strategies to cope with the very real and harsh realities of interpersonal, internalized, and structural racism, and develop self-care and wellness practices.
Breakfast and Lunch will be served
Hosted By: Emceeebone
Moderated By : Stephen Mensah
Panelists: Canadian recording artist - Shad, City Line Host - Tracey Moore, Former New York Jets Football Player - Doug Middleton, L'Oréal Executive Marie-Evelyn & Many More!
Workshops: Music Therapy, Style and Self-Care, Art Therapy and Meditation