Join The Blockchain Society at the office loft of Ligo Partners for an invite-only evening of panel discussions and deal making.
About this event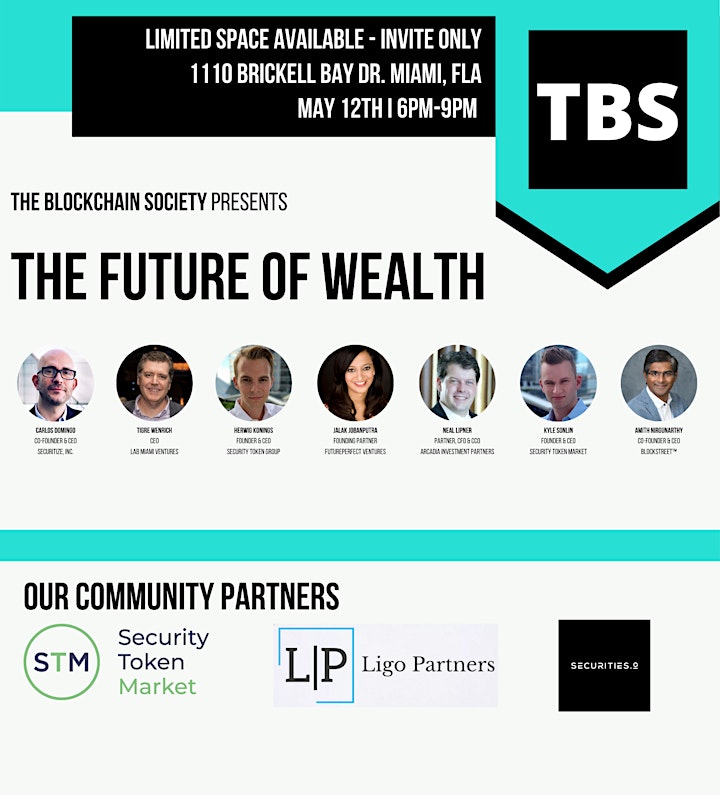 Speakers:
Carlos Domingo - CEO & Co-Founder, Securitize, Inc.
Carlos Domingo is the CEO and Co-Founder of Securitize, Inc. Prior to Securitize, Mr. Domingo founded SPiCE VC, the first truly liquid, inclusive, and transparent tokenized VC on the blockchain. In addition, Mr. Domingo has served as CEO of Telefonica R&D, and CEO of New Business and Innovation at Telefonica Digital. Mr. Domingo is also a published author.
Tigre Wenrich - CEO, LAB Miami Ventures
Based at The LAB Miami in Wynwood, South Florida's original co-working space, Tigre runs LAB Ventures, an early stage investor in PropTech startups. Their startup studio has created and scaled businesses such as Expetitle, Beycome, and Lumi Living. Tigre and his partners also recently launched the LAB PropTech Fund, a venture capital fund targeting technology companies that serve the Real Estate and Construction industries.
Prior to his position at LAB Miami Ventures, Tigre joined Open English as its Founding CFO in 2009, helping to grow the company from commercial launch to over $50M in annual revenues while creating a massive consumer brand in Latin America. Under Tigre's leadership, Open English raised more than $120M of Venture Capital in four rounds of investment from firms including Redpoint, Insight, and Technology Crossover Ventures.
Neal Lipner - Partner, CFO, CCO at Arcadia Investment Partners
Chief Information Officer at a Global Electronics Manufacturer to Asset Manager for a group of ultra high net worth individuals, LLCs and trusts to most recently, Partner, CFO and Chief Compliance Officer at a Private Equity firm with 1bn regulatory AUM. Neal's primary skill is solving difficult problems and teaching others how to replicate it.
Jalak Jobanputra - Founding Partner, Future\Perfect Ventures
Jalak Jobanputra is Founding Partner of Future\Perfect Ventures, an early stage venture capital fund investing in decentralized technology. FPV's portfolio includes Abra, Blockstream, Bitpesa, FuseMachines, Everledger and Blockchain. Jalak was awarded Institutional Investor's Most Powerful Fintech Dealmakers from 2016-2018. In May 2018, Jobanputra was awarded Microsoft's VC Trailblazer Award for "her early and bold" investments in the sector. She has been listed as a 100 Most Influential Fintech Leader of 2016 and 2017 based on her investment strategy at FPV. In 2017, she was cited as a "Top 5 Investor Powering the Blockchain Boom" and Crunchbase noted FPV as one of the top VC funds in blockchain "before it was cool". Since founding the firm, she has spoken on blockchain technology, IoT, and artificial intelligence at many global conferences, including the Milken Global Institute, Dutch Development Bank/FMO Annual Meeting, and The Economist Buttonwood Gathering. She also founded Collective Future, an organization to foster diversity and inclusion in the nascent blockchain sector. FPV's incubator FPV Labs was selected by the NYC Economic Development Corporation in January 2019 to operate the NYC Blockchain Center, a unique private-public partnership formed to serve as an access point to the growing blockchain ecosystem and collaborate with elected officials on policy initiatives. In February 2019, FPV was selected as NYCEDC's co-investment partner in their WE Venture Program to invest in underrepresented founders.
Herwig Konings - Founding Partner and CEO, Security Token Group
Herwig is a serial entrepreneur in the fintech and crowdfunding space. Herwig previously founded InvestReady, a compliance technology company that provides investor verification software for crowdfunding portals, issuance platforms, and exchanges featuring clients such as Mercedes-Benz Financial Services, Vertalo, and Securtize. Herwig is also a board member and the former managing director of the Miami Venture Capital Association, where he helps new fund managers and existing institutional investors and family offices with deal flow, resources, contacts, and best practices for launching and managing VC funds. After advising one of the first Security Token Offerings in history in 2017, Herwig founded Security Token Group where he also leads the consulting arm, Security Token Advisors, which helps issuers and investors apply the technology of security tokens.
Kyle Sonlin - Founding Partner, Security Token Group, CEO, Security Token Market
Kyle is an entrepreneur, advisor, and investor. He has developed a unique perspective through working with digital securities since 2017 and has spoken around the world as a thought-leader in the security token space since its inception. He co-founded Security Token Group as a result of working directly with issuers leveraging private securities exemptions, and currently leads the financial data and media platform, Security Token Market. As CEO of Security Token Market, he has built the largest ecosystem of security token offerings worldwide and developed a community of thousands of users who actively engage with the hundreds of offerings on the platform, participate in sourcing market data from over 90 exchanges worldwide, and produce content to drive adoption of the industry to retail audiences worldwide. He is also a host of the Security Token Show, the leading industry podcast breaking down the latest industry trends and market movers around the world to over 25,000 dedicated listeners, published each Tuesday on YouTube, Spotify, and Apple Podcasts.
Amith Nirgunarthy - CEO & Co-founder, Blockstreet™
Amith Nirgunarthy's demonstrated history of working in the internet industry coupled with strong entrepreneurship and analytical skills have helped him advise, start and exit bitcoin and crypto companies since 2013. He was first introduced to Bitcoin and its technology eco-system in India and continues to leverage his network, connecting South Asia to Russia, China and North America. He is currently the CEO and Co-founder of Blockstreet™. Amith recently launched a new crypto fund and can be reached at 1-803-SATOSHI.
Schedule
6:00PM - Arrival of Guests
6:30PM - Panel: Security Tokens
7:00PM - Panel: Investing In Crypto
7:30PM - Panel: Fractional Ownership
8:00PM - Breakout Room Round-table Discussions:
Security Tokens, Investing in Crypto & Fractional Ownership
8:30PM - Wine & Deal Making
9:00PM - Conclusion of the Evening
Organizer of The Blockchain Society MIAMI: The Future of Wealth
The Tech Society facilitates transactions among emerging technology Founders/C-Suite, investors and service providers. The Tech Society owns The Entrepreneurship Society, The Cannabis Society, The Blockchain Society, The PropTech Society, The E-Gaming Society, and The Collective (Women's Only)
The Tech Society creates, markets and executes 150+ emerging technology conferences and hackathons annually in the USA, Canada, and Europe with expansion planned for Asia in 2019.