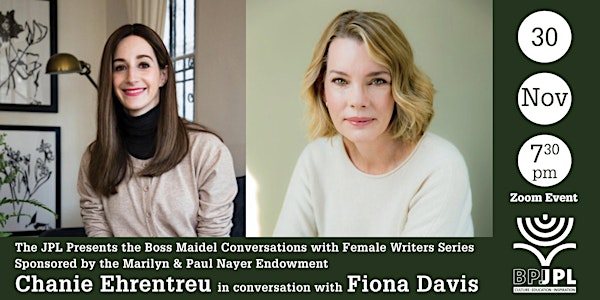 The Boss Maidel Conversations with Fiona Davis
Sponsored by the Marilyn & Paul Nayer Endowment Chanie Ehrentreu in conversation with Fiona Davis
About this event
The JPL Presents the "Boss Maidel Conversations with Female Writers Series"
In this new series, Chanie Ehrentreu in conversation with female Jewish authors, and offers the opportunity to explore in depth their lives, thoughts and works. This is an interactive series and will encourage conversation and questions from the audience in an informal and intimate virtual format.
Chanie Ehrentreu is the creator and host of The Boss Maidel Podcast, exploring the emotional components that help women achieve success as entrepreneurs, creatives, mothers, etc. She has interviewed various successful entrepreneurs and New York Times best selling authors including Lori Gottleib, Dani Shapiro and Asha Lemmie.
Recently, Chanie launched The Boss Maidel Book Club as a means of creating community around reading and supporting authors during the pandemic. The Boss Maidel Book Club features monthly member meet ups as well as interviews with various authors. Born and raised in Montreal, Chanie currently lives with her husband and children in Los Angeles.
Conversation with Fiona Davis
Fiona Davis began her career in New York City as an actress, where she worked on Broadway, off-Broadway, and in regional theater.
After getting a master's degree at Columbia Journalism School, she fell in love with writing, leapfrogging from editor to freelance journalist before finally settling down as an author of historical fiction. Fiona's books have been translated into more than a dozen languages.
She's a graduate of the College of William & Mary and is based in New York City.
Davis' novels include The Magnolia Palace, The Lions of Fifth Avenue, The Chelsea Girls, The Address, The Dollhouse, Stories from Suffragette City.