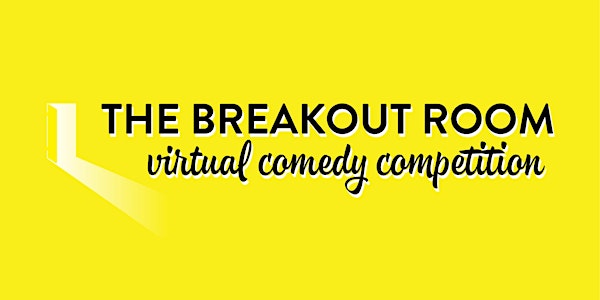 The Breakout Room
Join us and vote along for your favourite comedians as they compete for the soon-to-be-coveted title of Breakout Comic of the Year.
About this event
Comic Sans Productions is proud to announce our very first virtual comedy competition. Welcome to the launch of our new competition format show created and produced by Comic Sans Productions. "The Breakout Room" is an amateur comedy competition in the spirit of Comic Sans' Joke Shop and The Making Box's Comedy Church, wherein our judges mentor a team of amateur comedians to perform through an elimination process to find one winner. Think "The Voice" without the status, popularity, or budget (yet).
This year's judges are Danish Anwar (Toronto Comedy All Stars, Your Hood's A Joke), Tamara Shevon (JFL42, Bad Dog Theatre), and Jason Dalgleish (The Making Box, Guelph Comedy Festival). Also featuring special appearances by Cindy Rivers (JFL NW), Allison Dore (Sirius XM, Howl and Roar Records), and many, many more.
There is $500 on the line, plus a chance to open for a star headliner in the 2021 Guelph Comedy Festival. 15 contestants will be chosen from the audition process, but only one will be named Breakout Comic of the Year! Who has what it takes to be Canada's next breakout comic? Tune in to find out.
*****THE AUDITIONS*****
May 19th | June 2nd | June 16th
Our judges will each choose five (5) performers from the audition process to build their Breakout team during our scheduled audition streams. Contestants who submit with a pre-recorded tape will have their submissions streamed for the judges live in combination with live performances.
*****THE ELIMINATION ROUND*****
June 23rd | June 30th | July 7th
Each week, a Team Captain will prepare their comedians for individual stand-up performances focusing on the fundamentals of joke structure and delivery. One (1) participant from each team will be sent home at the end of this round, and twelve (12) participants will move on to the Battle Round.
*****THE BATTLE ROUND*****
July 21st | July 28th | Aug 4th
Competitors will go head-to-head in a series of comedy challenges with audience votes determining the winner of each round. The highest scoring participant will be awarded immunity from elimination during The Showcases, and the lowest scoring participants from each team will have to face an additional challenge to move on.
*****THE SHOWCASE ROUND*****
Aug 18th | Aug 25th | Sept 1st | Sept 8th
In the last round of the competition, our final six (6) comedians will demonstrate everything they have learned throughout the challenge to deliver their best Festival Showcase set in their last chance to impress the judges and convince the audience that they have what it takes to be the first Breakout Room Champion! The winner will be chosen at the end of the Final Showcases on September 8th, 2021 at 8:00 PM EST.