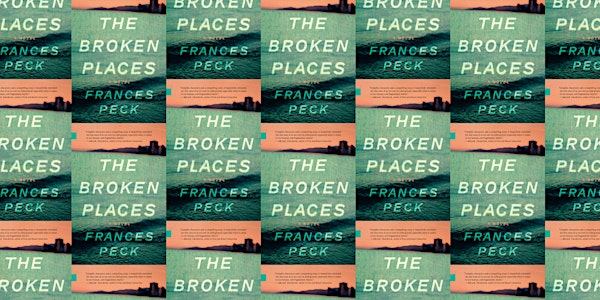 THE BROKEN PLACES Launch with Frances Peck
Join us in-shop on September 14 at 7 p.m. (MT) to celebrate the launch of Frances Peck's new book THE BROKEN PLACES.
When and where
Location
Glass Bookshop 10242 106 Street Edmonton, AB T5J 1H7 Canada
About this event
Join us in-shop on September 14 at 7 p.m. (MT) to celebrate the launch of Frances Peck's new book THE BROKEN PLACES, published by NeWest Press. Frances will be in conversation with celebrated editor Virginia Durksen, followed by a reading and brief audience Q&A.
.
.
COVID SAFETY MEASURES
All attendees will be required to wear a mask upon entering the gallery.
PARKING & ACCESSIBILITY
Latitude 53 is located at 10242 106 St. in Edmonton. There are two parking stalls directly in front of the gallery entrance and additional street parking in front of the gallery along 106 St. Street parking becomes free after 6 p.m., unless there is an event taking place at Rogers Place the same evening. There are also multiple paid parking lots within one block of the gallery.
Latitude 53 is easily accessible by way of several ETS routes, including the 7, 110X, and 500X, and is located roughly three blocks south of the Corona LRT station.
The front door of the gallery is 35 inches wide. This is wide enough to accommodate most mobility devices, such as a walker or standard-sized wheelchair, but may be a tight squeeze for others.
All washrooms are gender-neutral, with multiple stalls sharing a sink space, as well as a separate, physically accessible single-stall washroom.
A detailed accessibility breakdown can be found here on the Latitude 53 website.
.
.
ABOUT THE BOOK
Vancouver. A day like any other. Kyle, a successful cosmetic surgeon, is punishing himself with a sprint up a mountain. Charlotte, wife of a tech tycoon, is combing the farm belt for local cheese and a sense of purpose. Back in the city their families go about their business: landscaping, negotiating deals, skipping school. It's a day like any other--until suddenly it's not.
When the earthquake hits, the city erupts in chaos and fear. Kyle's and Charlotte's families, along with two passersby, are thrown together in an oceanfront mansion. The conflicts that beset these wildly different people expose the fault lines beneath their relationships, as they question everything in an effort to survive and reunite with their loved ones stranded outside the city.
Frances Peck's debut novel examines the unpredictable ways in which disaster can shake up lives and test personal resilience.
ABOUT FRANCES
Frances Peck wrote fiction and poetry until her early twenties, when the realities of adulthood and rent steered her toward a career as a freelance writer, ghostwriter, editor, and instructor. Known for her writing and workshops on the finer points of language, she's the author of Peck's English Pointers (an online writing tool), a co-author of the HyperGrammar website, and an occasional essayist and blogger. Frances returns to her first love, fiction, with The Broken Places, part of the Nunatak First Fiction Series.
ABOUT VIRGINIA
Virginia Durksen works with professionals who write for a living. Her workshops range from practical to inspirational—from Writing at Work to How to Love Your Inner Poet and Forget About Commas. CBC listeners might remember her as one half of the Grammar Gals duo who answered pressing grammar questions and offered counselling for pet peeves on CBC's Alberta at Noon call-in program (2006–2013). You can find Virginia at Visible Ink: Writing at Work.