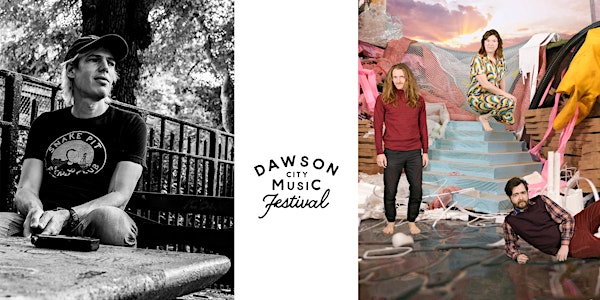 The Burning Hell & Jeffrey Lewis Live at Palace Grand Theatre
ALL AGES
Presented by the Dawson City Music Festival Association
DCMF presents: The Burning Hell & Jeffrey Lewis live in Dawson City at the beautiful Palace Grand Theatre operated by Parks Canada (KNHS).
When and where
Location
Palace Grand Theatre (Parks Canada Klondike National Historic Sites) 255 King Street Dawson City, YT Y0B1G0 Canada
Performers
The Burning Hell
Jeffrey Lewis
Refund Policy
Refunds up to 1 day before event
About this event
The Dawson City Music Festival is pleased to present this concert with the support of the Klondike Institute of Art & Culture and Parks Canada Klondike National Historic Sites.
Please note: MASKS ARE REQUIRED. We will have several immuno-compromised individuals in attendance and appreciate your understanding as we do our best to keep the community safe.
THE BURNING HELL // NFLD & PEI
The Burning Hell is the ongoing musical project of songwriter Mathias Kom and multi-instrumentalists Ariel Sharratt and Jake Nicoll, often including additional comrades and collaborators. Their densely populated genre-shifting songs are packed with an abundance of literary, historical, cultural, and pop-cultural forebears, heroes and villains, subjects and objects, stories and hooks. They move with heavy rhyme and a light step, incorporating a frequent fixation on apocalypse and ruin into work that celebrates participation in a mutually created, ever surprising, delightful, and even occasionally beautiful world. Which is to say they're good dance partners and they want to dance with you.
The Burning Hell are DIY in the best possible sense—underlining the "Do"—their albums and singles manifesting from the edges of the music industry as collaborations with independent labels and publishers, and their years of touring forming connections person by person, show by show, in town after town. They've famously ventured to every out-of-the-way island and inland neglected by the less adventurous, emphasizing presence and connection across latitudes, longitudes, and time, affirming a commitment to the political power of sharing music. It is a profoundly optimistic gesture delivered by way of killer tunes, exuberant hooks, and joyful live performances.
JEFFREY LEWIS // NY, USA
Indie-rock songwriter and comix artist Jeffrey Lewis began recording homemade cassettes in New York City in 1998, and signed to Rough Trade Records in 2001. Many albums and comic books later, Jeffrey still lives in NYC and has played hundreds of gigs all over the world, both solo and with bandmates, habitually assembling different set lists for each night to weave in old songs, new songs, artwork, stories and surprises.
His most recent official album is "Jeffrey Lewis & The Voltage: Bad Wiring" released on Don Giovanni Records (USA) and Moshi Moshi Records (internationally) in November 2019 (garnering rave reviews), but Jeffrey has also digitally self-released three DIY albums from his apartment since the pandemic started. Jeffrey continues to wring folksy spiel and garage bohemianism from his ramshackle guitar, whether with his band or solo, while incorporating his often politically subversive visual artwork into live appearances. Some of these audio/visual projects have been hosted on History.com, such as "The Story of Sitting Bull," a Jeffrey Lewis illustrated song which won a Webby Award in 2011 for "Best Writing on the Internet."
-----
DCMF would like to thank the partners and funders who have made this special performance possible: Government of Canada, Government of Yukon, Klondike Institute of Art & Culture, Parks Canada Klondike National Historic Sites.
-----