Level up your photography and creative business with lessons, advice, and practical tips from commercial photographer Tristan O'Brien.
About this event
When: Monday June 14, 2021 | 5pm - 6:45pm PST / 8pm - 9:45PM EST
Where: ONLINE - Webinar
Cost: FREE - RSVP to secure your spot.
Join us on Monday, June 14th for an online Socality x Canon Creator Lab workshop and Q&A with commercial photographer Tristan O'Brien (@tristancobrien) as he shares insights and lessons from his own journey of building relationships and landing work with clients ranging from Nike, Uniqlo, Adidas, Ray-Ban, The Toronto Raptors, Hypebeast, Jordan, and more. Beyond just landing and retaining clients, we'll also be diving into what it takes to set your work apart, diversifying your creative business and income streams, and taking advantage of new opportunities to sell your work.
This session will cover themes including:
Landing clients and turning those into pipeline relationships
Scaling your creative freelance business from hobby to full-time
Positioning and setting yourself apart in your field and industry
Practical tools and tips for levelling up your portfolio
Diversification and expanding your reach - using your available tools and networks strategically to create new opportunities
Selling your work - exploring traditional and new ways to sell your creative work and advice for those looking to enter the NFT space with their photography
Q&A Session
& more
This workshop will offer the combination of a live workshop session with Tristan and a Q&A portion.

About Tristan O'Brien:
Born and raised in Toronto, Tristan O'Brien's creative vision is intrinsically shaped by his hometown nostalgia and passion for sharing the stories, or "fragments" as he refers to them, that unfold around him. Tristan's pursuit of capturing these fragments that we may experience, sometimes for just a fleeting moment, has led to his passion behind the lens. As a lifelong fan of film, Tristan's vision looks to create a symbiosis between his unique perspective and the cinematic undertones that have inspired his work.
While not having a clear-cut definition of success, Tristan will be the first to tell you that while he may have accomplished many of the goals he had initially set out to achieve, he is far from getting started. "Always learning, always growing." is a motto that you will hear him toss around often, and a trait found throughout his work thus far.
Tristan has worked with a wide range of commercial clients from lifestyle and fashion to sports and entertainment including Nike, Uniqlo, Adidas, Toronto Blue Jays, Toronto Raptors, Red Bull Racing, Ray-Ban, and more. He's an active commentator and advocate for photographers in the burgeoning NFT space and is a host of the Gone Rogue Podcast.
You can learn more about Tristan on Instagram and his website.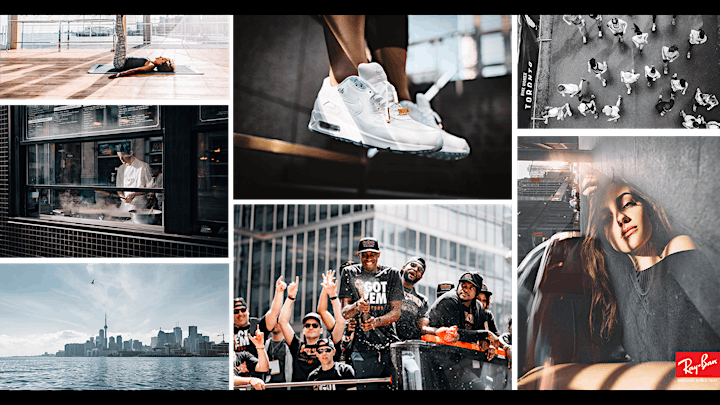 Who's this workshop for?
This workshop will be valuable for photographers and creative entrepreneurs from all backgrounds looking to grow their photography business, and shoot and create more in commercial spheres. Whether you're a photographer, videographer, digital creator, model, blogger, or just getting started on your creative journey, these workshops provide an opportunity to connect with others in the community and learn something at the same time.  
—
Any further details will continue to be updated and communicated as we get closer to the workshop. RSVP to secure your spot.