The #CanadaWeWant Knowledge Exchange 2021
Sales Have Ended
Registrations are closed
Thank you for your interest in The National Youth Summit on Agenda 2030 SDGs. Unfortunately ticket sales have ended. We hope you can join us next year.
Sales Have Ended
Registrations are closed
Thank you for your interest in The National Youth Summit on Agenda 2030 SDGs. Unfortunately ticket sales have ended. We hope you can join us next year.
Turning knowledge into action for youth across Canada. Join this FREE virtual forum & drive change in your community!
About this event
Through the #CanadaWeWant (#CWW) youth movement, young people from coast to coast to coast shared a vision of the Canada that they want and need. Our #CanadaWeWant Knowledge Exchange, funded by the Government of Canada and RBC's Future Launch Strategy, is a follow-up opportunity for those who influence youth in the Youth Serving Sector to meaningfully and creatively join this conversation.
It is an opportunity to highlight research, programs and policy initiatives that expand on, or respond to, the concerns and recommendations shared by youth from coast to coast to coast.
This year we want to focus our efforts on co-creating the future.
We have witnessed various innovations across the sector and would like to take the time to share these in order to address the needs of youth who are particularly affected by the massive societal changes that have occurred this past year and a half.
Each day, we will explore one of the three following themes:
Day 1: Adaptations and Techniques
Day 2: Equity and Inclusion
Day 3: Partnership and Collaboration
If you have something to share, or just want to learn more about what's happening in the youth sector, join us! We anticipate a lively exchange of ideas and findings from youth and adults that will help us better understand and tackle the complex challenges that young people in our Canadian communities face.
What can you gain from this?
Work towards a common objective with other like-minded individuals from diverse backgrounds to develop concrete solutions,
Learn from experts in the field,
Share your experience and expertise with others, and
Meet new people!
Who should participate?
People who work in the youth sector and/or are interested in helping to create a world where all young people positively transition into a successful adulthood.
When is the event?
November 22 2021, 1-4:30pm EST, Online
November 23 2021, 12:30-4:30pm EST, Online
November 24 2021, 1-4:00 pm EST, Online
If you have any questions, please contact us: info@studentscommission.ca.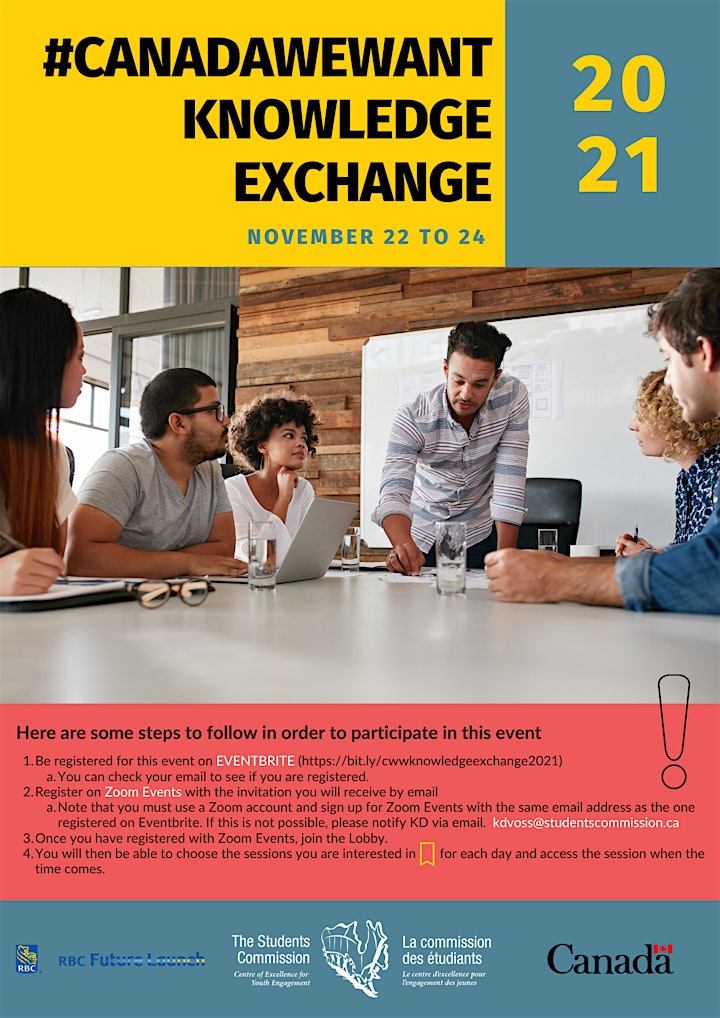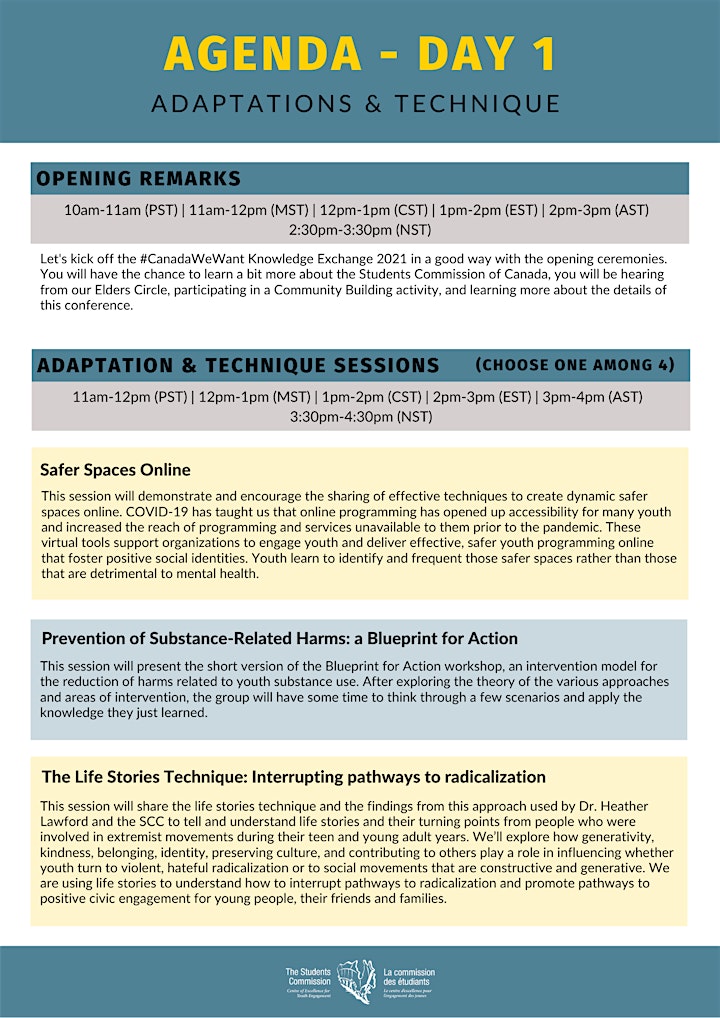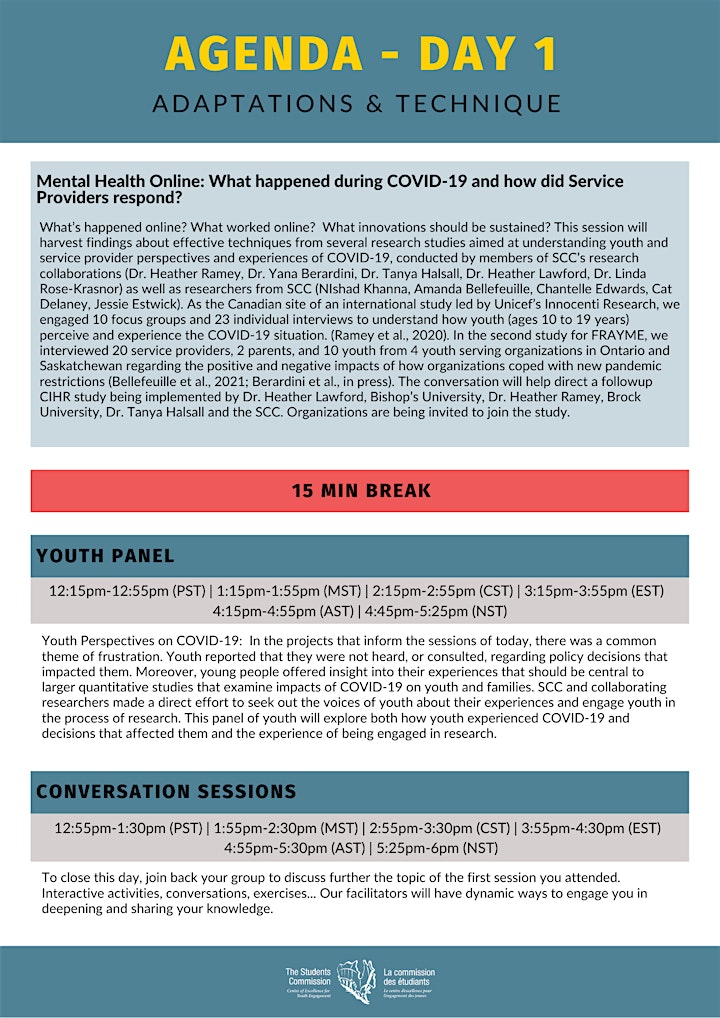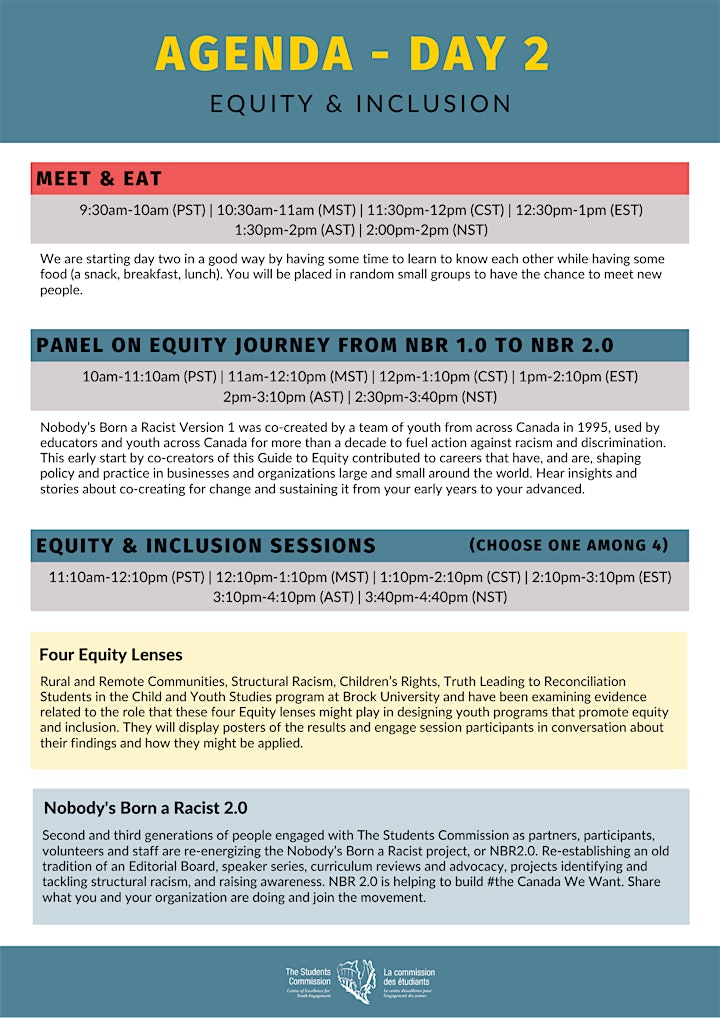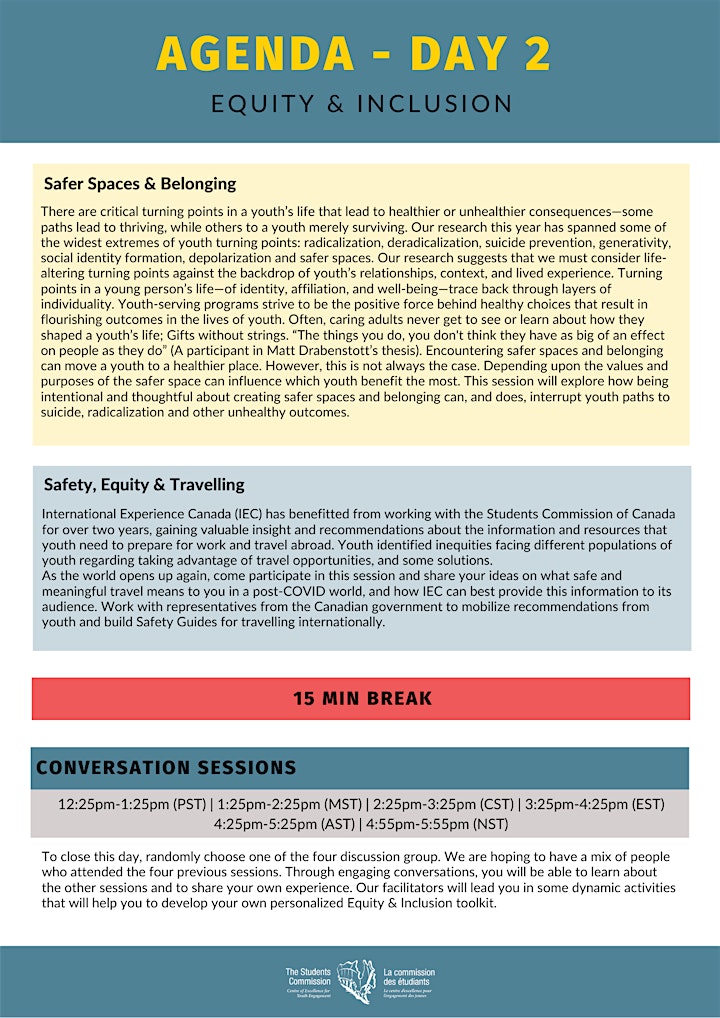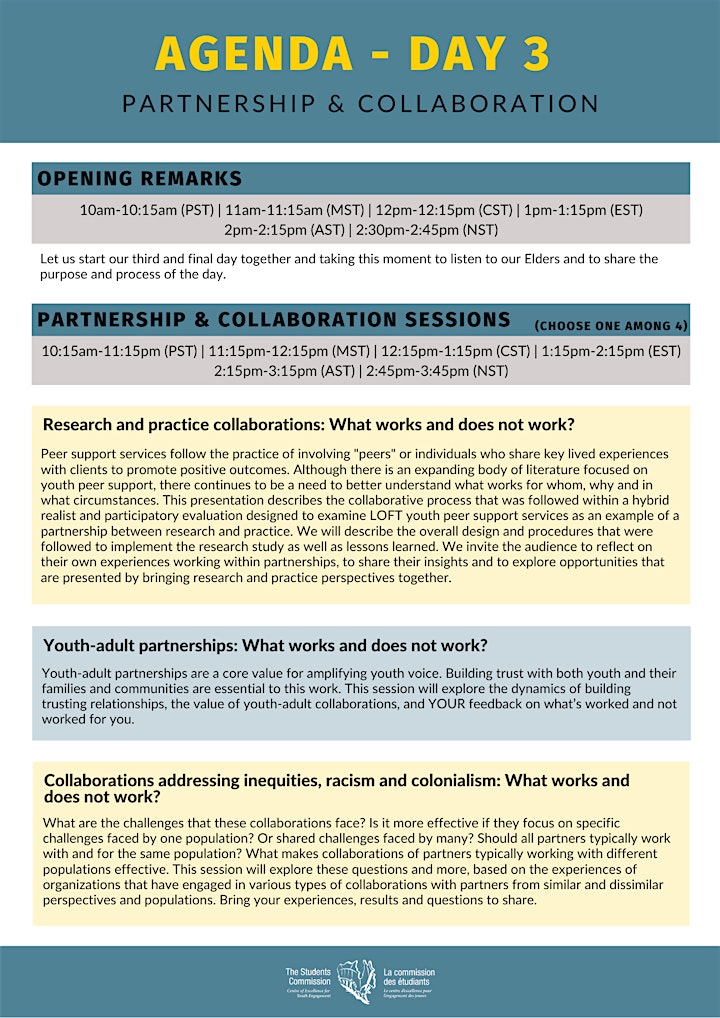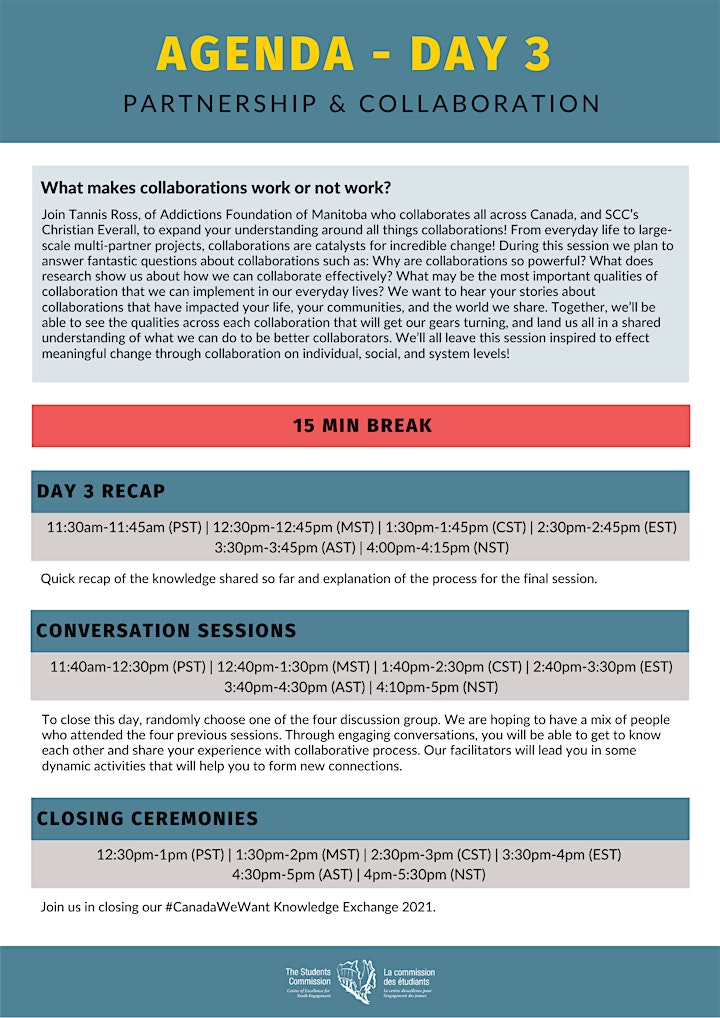 Organizer of The #CanadaWeWant Knowledge Exchange 2021
La Commission des étudiants a été fondée en 1991 suite à une recommandation de jeunes lors d'une conférence nationale de la jeunesse. Le but de notre réseau est de contribuer à un monde où les jeunes sont valorisés, entendus et leurs idées pour s'améliorer, la vie de leurs pairs et des communautés est mise en action.
 En 2000, nous sommes devenus le centre d'excellence pour l'engagement des jeunes, qui regroupe des universitaires, des organisations de jeunes et des jeunes offrant de la recherche et de la formation afin d'améliorer les programmes jeunesse et l'engagement des jeunes au Canada.
Nous sommes un organisme indépendant, charitable, non gouvernemental et nous travaillons principalement à travers le Canada pour veiller à ce que les jeunes aient la possibilité de participer de manière significative dans les organisations, les gouvernements et leurs communautés. Nous utilisons le mot «Commission» parce que nous écoutons constamment les jeunes et que leurs idées sont mises en pratique. De plus, nous travaillons avec eux en tant que membres du personnel, en tant qu'étudiants coop et bénévoles dans tout ce que nous faisons. Certaines de nos activités de base comprennent : la programmation jeunesse, le renforcement des capacités et la recherche, et l'évaluation.
------
The Students Commission of Canada was founded in 1991 on a recommendation from young people at a national youth conference. We purposefully works with others to ensure that young people are valued, heard and their ideas for improving themselves, the lives of their peers and communities are put into action. 

In the year 2000, we became the lead of The Centre of Excellence for Youth Engagement, which networks academics, youth organizations and young people together to provide research and training to improve youth programs and youth engagement in Canada.

We are an independent, charitable, non-governmental network organization and we work primarily across Canada to ensure that young people have opportunities to participate meaningfully in organizations, governments and their communities. We use the word "Commission" because we listen to young people constantly and commission their ideas into action, working with them as staff, as co-op students and volunteers in everything we do. Some of our core activities include: Youth Programming, Capacity Building, and Research and Evaluation.