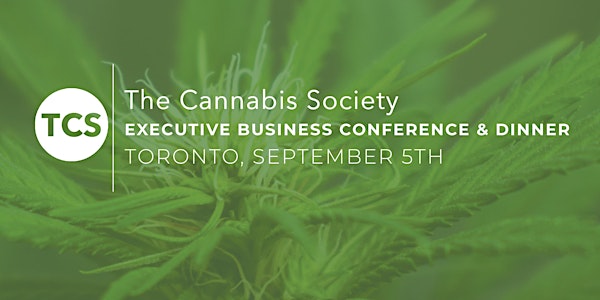 The Cannabis Society Executive Business Conference & Dinner Toronto
When and where
Location
Northern Maverick 115 Bathurst St. Toronto, Ontario M5V 2P9 Canada
Description
The Cannabis Society is hosting an exclusive Executive Business Conference & Dinner (Invite-only) on September 5th in Toronto. This event will facilitate deal-making discussions as well as shed light on investment opportunities and challenges that cannabis pioneers are facing.

TENTATIVE SCHEDULE:
5:30 PM Registration & Deal-making discussions
6:00 PM Welcome from The Cannabis Society
6:15 PM - 7:30 PM Keynotes and Panel Discussions
7:30 PM Dinner Served
8:00 PM 20 second intros from all around the table
8:30 PM Deal Making
9:00 PM Conclusion of Evening
CONFIRMED PARTICIPANTS:
Trisha LeBlanc, Partner, Grant Thornton LLP
Trisha is Grant Thornton's national industry leader for cannabis. She brings more than 20 years of professional experience in accounting and audit to her role, along with a deep understanding of the cannabis industry, having worked with some of Canada's largest licensed producers.
From complex financial reporting to general advice, Trisha takes on every challenge through a strategic lens. She assists clients with a range of issues, such as determining the best accounting for partnerships, joint and collaborative arrangements; understanding the accounting implications of complex or unique financing arrangements; accounting for the fair value of biological assets; and financial reporting benchmarking.
Prior to joining Grant Thornton, Trisha worked at a big four firm in Canada, United Kingdom, United States, Amsterdam, and The Netherlands.
Ben Futoriansky, Canopy Rivers Inc.
Ben is an Associate at Canopy Rivers, the venture capital affiliate of Canopy Growth, and the largest cannabis VC fund in the world. Prior to joining Canopy Rivers, Ben was a Consultant for Accenture in their Digital Interactive group. During his time at Accenture, Ben worked across Financial Services, Media & Technology, Resources and Non-Profit organizations focusing on customer experience, digital strategy, and business development. Ben co-founded a travel social network start-up called DestaPlan, allowing users to visually organize trips, coordinate itineraries and share recommendations. Prior to Accenture and DestaPlan, Ben was a Strategy Analyst for Start-up Nation Central in Tel Aviv, where he actively sourced start-ups, prepared industry landscapes, and helped map the Israeli ecosystem. He holds a Bachelor of Business from the Schulich School of Business at York University specializing in Strategy and Finance. He sits on the board of Birthright Excel, a lifelong business fellowship program.
James McMillan, VP Business Development of Hexo Corp
James McMillan brings more than 20 years of executive experience in strategic sales, marketing and business development with an entrepreneurial spirit, strong negotiating skills, and expertise in developing growth markets to his role as our Vice-President for Business Development. A graduate of Concordia University (Bachelor of Commerce, Marketing/Finance), James has an established track-record of creating successful business development opportunities, building growth organizations, and establishing lasting customer relationships in diverse fields including communications, emerging technologies, energy management and now cannabis across both Canada and international markets.
As Vice-President for Business Development, James plays a leading role in identifying strategic opportunities in the expanding cannabis market. From the development of new and innovative product lines for the medical and recreational markets, to building strong relationships with commercial partners, James is responsible for establishing and expanding our market position in Canada and beyond.
Abi Roach, Founder Hotbox Holdings

Abi has been innovating the cannabis lifestyle & tourism industry for 20 years, with decades of retail operations. Dedicating her life to the freedom of cannabis consumers and the normalization (and now legalization) of cannabis. Abi is the newly appointed Executive Chair of NORML Canada. Founding director of OCCRA & CFBA.
Michael Miller, Director of Finance, White Sheep Corp.
Michael Miller is a venture capitalist, writer, and the Director of Finance at White Sheep Corp., a cannabis operating and investment firm with assets in Canada, the United States, Australia, and southern Africa. At White Sheep, Michael oversees the firm's venture portfolio and specializes in deal structuring, valuations, and financial reporting. Michael's expertise on the cannabis industry has led to media appearances on the BBC, Vice, and Business News Network, and he has beena quoted expert in MarketWatch, The Financial Post, and Playboy. Michael's investigative writings on the cannabis industry, which principally focus on financial accounting, have been featured in New Cannabis Ventures and PostMedia's The GrowthOp. Michael has also lectured at a number of universities about the cannabis industry and is the co-author of"High" Profits from Accounting for Cannabis Plant Inventory, the world's very first accounting business case on the cannabis industry that was published by the University of Cambridge's Judge Business School.
Everett Knight, CFA, Executive Vice President, Strategy & Investments, Valens Groworks
Mr. Knight is Executive Vice President of Strategy & Investments where he oversees corporate strategy including mergers & acquisitions, marketing, & investor relations. Mr. Knight is known across the cannabis space for his expertise and thought leadership where he has been involved with working, analyzing, lobbying, investing, advising, & consulting throughout the cannabis value chain. Previous to Valens, Mr. Knight was a portfolio manager at Matco Financial Inc where he ran the Small Cap Fund and launched the first long only institutional Cannabis Fund in Canada and led them both become the top performing funds in their corresponding categories. He has toured over 85 facilities worldwide and analyzed over 1200+ cannabis globally where he accumulated a thorough understanding of the industry, regulations, subsectors, and the companies involved in this fast-growing space. His focus in the cannabis industry has shifted in recent years to developing a specialty in extraction, testing, formulation, & value-added products. Mr. Knight has spoken at 150+ cannabis events across the globe including trade shows, corporate conferences, investor events, government forums, and legal/regulatory debates.
"We are in the second inning of the development of one of the largest industries in the world and the hard work we put in today will lay the framework around the world" said Everett Knight, Executive Vice President, Strategy & Investments. "It's personal to me. I've seen the benefits of cannabis first hand and I have a responsibility to pass on the knowledge I have accumulated so that others can have access to cannabis around the globe."
Brian Sheng, CEO, Asia Horizon Group
Asia Horizon is a private equity company deploying capital and building operations in Asia, with an initial focus on the Chinese hemp industry. Prior to Asia Horizon, Brian was a General Partner with Arcview Ventures, the venture arm of The Arcview Group. At Arcview Ventures, Brian led the firm's international investment strategy and spearheaded Arcview's entry into Asia.
Brian was a venture capitalist before joining the cannabis industry as the founder of Fresh VC, a leading early-stage venture capital fund focused on investments in water, marketplaces, and frontier technologies. At Fresh, Brian led the investments in several multi-hundred million dollar companies including FND, FiscalNote, Eaze and served on the Board of Directors of Eaze and FND. Prior to Fresh, Brian served as a Senior Advisor for URI Investments, a cross-border Chinese Private Equity Fund. He started his venture career at Shenzhen Capital Group, one of the largest VC firms in China.
Prior to venture investing, Brian started a cross-border bulk electronics inventory marketplace serving the U.S and China market. He continues to be deeply interested in Sino-U.S relations and global geopolitics. Brian graduated from Princeton University.
Paul Pedersen is co-founder and CEO of Nextleaf Solutions

Nextleaf Solutions (CSE: OILS), the first public company to be issued a U.S. patent for industrial-scale extraction & purification of cannabinoids. OILS is developing technology to revolutionize extraction & purification throughput, yield, and purity to enhance cannabis oil economics across the globe. Paul has been focused on the cannabis industry since 2013, advising a variety of cannabis companies and investors including Canada's first legal cannabis oil producer. Paul has founded several startups over his career, including a media company acquired in 2007 by Towerstream Corporation (NASDAQ: TWER). He holds a MBA in Finance from the Eli Broad Graduate School of Management at Michigan State University.
VENUE SPONSOR