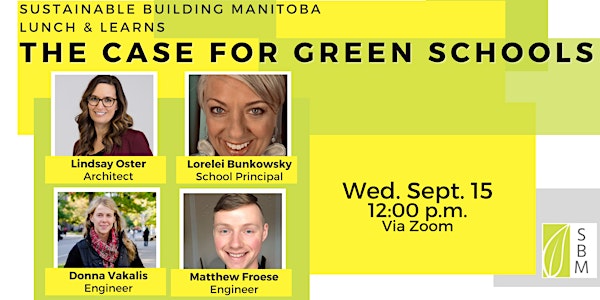 The Case for Green Schools
Manitoba used to be a leader in building sustainable schools. What has changed and why does it matter to the lives of students and teachers?
Refund Policy
Contact the organizer to request a refund.
Eventbrite's fee is nonrefundable.
About this event
50% off for sustaining members and FREE for student members
Right now in Manitoba, we hear a lot about how our schools will be managed but little about the buildings our kids will be learning in.
The school building is an important site of environmental exposures for children. Research suggests significant health and learning benefits for students attending "green schools": schools that are built to last and fill classrooms with natural light and freshly-circulated air. Speaker Donna Vakalis will bring together findings from multiple areas of research (e.g., about indoor air, indoor environment and outdoor school grounds) to outline evidence for the benefits and possible pitfalls to avoid.
In an era of COVID ventilation is a key factor. Matthew Froese who will review the ventilation recommendations for schools from ASHRAE for operation during the pandemic, and how those recommendations relate to established best practices for school ventilation. He'll also share some brief lessons learned in commissioning green schools in Manitoba and how our climate impacts on appropriate local solutions.
In 2017, Amber Trails Community School in Winnipeg was awarded the Greenest School in Canada competition hosted by CaGBC. Under the Green Building Policy enacted by the province in 2007, 11 high performance sustainable schools were constructed in Manitoba. These schools use an average of 50-70% less energy per year compared to conventional designs. A preliminary report suggests that just four of these new-generation green schools save 484 tonnes of carbon per year and significantly reduce operating costs at the same time.
Lindsay Oster will provide an overview of Prairie Architects Inc.'s contribution to the landscape of sustainable schools in Manitoba, with specific focus on design features and performance metrics. Key projects such as the award-winning, LEED Platinum Certified Amber Trails Community School, as well as more recently designed and constructed school buildings will be discussed.
Amber Trails principal Lorelei Bunkowsky's will share how she became involved in sustainable schools, how she encouraged participation by students, staff and parents and the resulting user experiences. Lorelei will also touch on some of the lasting benefits that she witnessed in the school environment.
Join to look at Amber Trails School as a case study for Green Schools and learn more about the benefits building green for both students and teachers.
For a bit more background on where things are now, take a look at SBM's op-ed on the topic.
Amber Trails Community School
This award-winning school is located in one of Winnipeg's newest and expanding neighbourhoods in north Winnipeg at 1575 Templeton Avenue. Amber Trails Community School was designated LEED Platinum on December 7, 2016, making it the second school in Canada to achieve it.
Built with provincial funding through the Public Schools Finance Board and guided by the principles of the Seven Oaks School Division to reduce overall operating costs, the school has achieved an overall energy use reduction of 68% compared to a model building, and over 60% water reduction (10% over the estimated savings). The school originally targeted LEED Gold, but the addition of geothermal heating, in-floor heating, and efficient lighting fixtures further the energy needs of the school and it was able to achieve a higher certification.
Find out more about Amber Trails School.
50% off for sustaining members and FREE for student members
SPEAKERS
Lindsay is an architect and principal of Prairie Architects Inc., a Winnipeg-based firm specializing in sustainable architecture for many institutional, commercial, residential, adaptive re-use and community-based projects. Prairie Architects Inc. has received numerous awards for sustainable, heritage preservation and accessibility excellence, with more recent accolades for the firm's LEED Platinum CI certified office as well as the LEED Platinum certified Building Blocks on Balmoral – a childcare facility for Canada Life (formerly Great-West Life) and the first standalone daycare to receive this prestigious designation. Lindsay is a LEED AP and a Certified Passive House Designer (CPHD). Lindsay regularly participates as a guest studio critic at the University of Manitoba in the Department of Architecture and has given guest lectures for the faculties of Architecture, Engineering and Environment, Earth, and Resources. Lindsay is a past-president of the Manitoba Association of Architects – a position which has been held by only one other woman in the organization's 115-year history.
Lorelei Bunkowsky
Lorelei Bunkowsky has been a teacher and principal for 30 years in Manitoba. Her teaching experience spans across rural and urban school divisions in K-8 settings. Lorelei has been a school principal for 16 years in Seven Oaks School Division and had the privilege of opening the LEED platinum school, Amber Trails Community School in Seven Oaks School Division. She currently serves at Elwick Community School as principal. Lorelei also plays in a family band and loves skiing, scuba diving and cycling for fun.
Donna was trained as an architect before getting her PhD in engineering. She focuses on the intersection of green building measures–indoor environmental quality–and occupant outcomes, with special attention to vulnerable populations (like young students). She has worked on transforming large swaths of the Canadian building stock while consulting with the Canadian cooperative Sustainability Solutions Group. She currently holds an NSERC Post-Doctoral Fellowship to pursue her research interests with the Building Decision Research Group at the University of British Columbia.
As the Technical Leader in Commissioning at Integrated Designs Inc., Matt brings a focus on simplicity, reliability, and efficiency to his work with building systems. Matt uses his ongoing experience in commissioning new facilities, conducting energy audits, and retro-commissioning existing buildings to inform new building design reviews. Considering himself a critical environmentalist and maintaining a healthy skepticism of 'green' claims in the building industry, Matt leads by example, aiming to live and work in a sustainable fashion.