Location
Cattail Crossing Golf & Winter Club
24427 Township Road 542
Sturgeon County, AB T8T 1L4
Canada
Refund policy
Contact the organizer to request a refund.
Eventbrite's fee is nonrefundable.
The Cattail Cup - 3 on 3 hockey. $4,000 Cash Prize Thank you to Treaty 8 for their contributions to this event.
About this event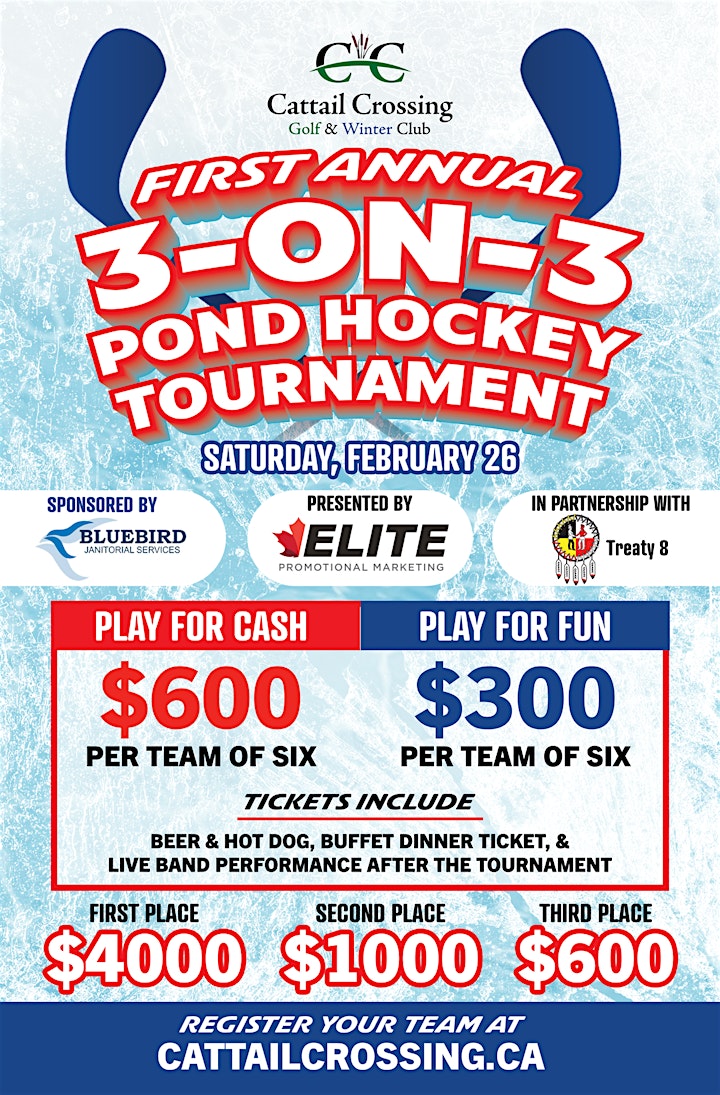 Ticket for $600 includes a hot dog, a drink ticket, and a buffet ticket, and a ticket to the live band afterwards for one team. This is the only ticket that qualifies your team for the $4,000 cash prize. (Up to 6 people)
Ticket for $300 includes a hot dog, a drink ticket, and a buffet ticket, and a ticket to the live band afterwards for one team. This ticket is not eligable for the cash prize. (Up to 6 people)
TOURNAMENT SUMMARY
All players will receive a copy of the Rules & Regulations in their Captains packages.
It is the responsibility of Captains to ensure that each player on their team READS and UNDERSTANDS the Rules.
ALL players must present a signed copy of these forms along with a copy of their photo ID at check-in. To speed up the registration process (on the first day of the event) we encourage Captains to get their players to fill out and submit these forms.
In the Championships we are looking for the teams to self manage their games and to assist the Pond Volunteer with ensuring good play and excellent sportsmanship.
ALL players must wear a helmet and hockey gloves. There will be no slapshots allowed and no offensive shots from the home side of half ice.
Tournament Captains are encouraged to register their teams on February 25th from 7 pm - 10 pm and become familiar with the ice.
TOURNAMENT FORMAT
Games consist of 2 15-minute halves with a five (5) minute break in between. An off-ice Volunteer will monitor each game
Games start and end at the sound of the siren/horn. Any teams late for games will be penalized 1 goal for each minute late.
After 5 minutes the late team will forfeit the game with a 10-0 score awarded to the opponent. There will be no rescheduled games – a forfeit is a forfeit
Teams are limited to 6 players with a max of 3 players on the ice at one time
All games are running-time and substitutions may be made "on the fly" There is no stoppage of play after a goal is scored or a penalty is awarded. If the puck goes out at the end, possession automatically goes to the defending team.
Teams will switch ends at the half.
ALL teams must present a roster with appropriate identification for each player at registration
All players must wear helmets. Protective equipment is optional but highly recommended.
PLAYER ELIGIBILITY
ALL players must meet the minimum age requirement of 16 years old for their division as of the FIRST day of tournament play – no exceptions
ALL players must present appropriate photo ID for age verification at registration along with a signed waiver and Rules & Regs form. Players will not be allowed to step on the ice without all three of these items handed in at the time of check-in. Please be sure to give yourself time to check-in before your first game is to be played. If caught on the ice without the above-signed forms handed in – your team risks a major penalty or ejection from the tournament.
Any underage player will be ejected from the tournament and the team will not be able to replace the player More than one underage player will result in the teams ejection from the tournament
Players can only play on one team. No substitutions throughout the tourney are allowed. The 4-6 players that are on your roster at check-in on Friday on the first day of tournament play must be the same players that play on your team throughout the tournament. Rosters can be adjusted right up until check-in.
ALL players must be recreational athletes. This means that no active professional, semi-professional, junior or university/college players are eligible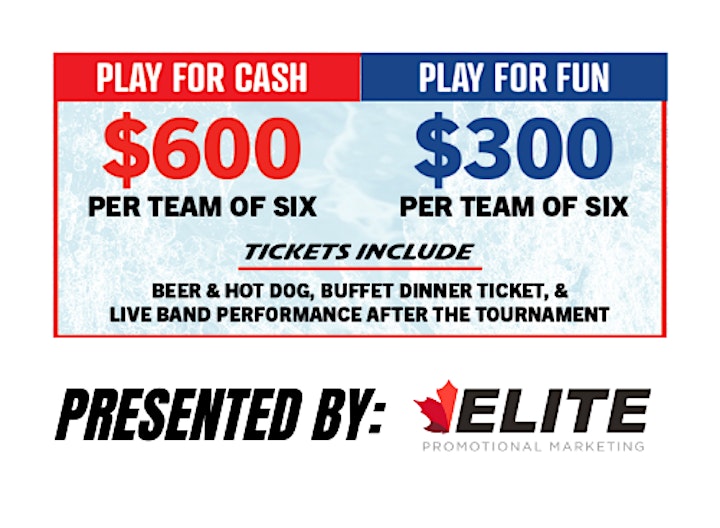 SCORECARDS
Captain of each team will review and SIGN the scorecards at the end of each game. In doing so he/she has accepted the game score and as a result that game is FINAL. If a discrepancy with the score is found, both Captains are to discuss it with the Volunteer and if need be you can ask to speak with the Head Volunteer Official.
PLAYER CONDUCT
ALL CALLS MADE BY THE VOLUNTEER ARE FINAL
SPIRIT: REMEMBER that this is Pond Hockey. Play in the true spirit of the game. PLEASE thank your Volunteer who gives their time to make this event possible.
Drinking is NOT permitted on the POND except in the designated areas. Any player visibly intoxicated will not be permitted to play at the discretion of the Volunteer.
RULES
SCORING: Score from the "attacking" side of half only. Shot must be taken at OR over the half way mark which is determined by your Volunteer. After each goal give opposing team ½ ice until puck OR player crosses half.
Remember there are NO goalies in Pond Hockey therefore there is NO goaltending. GOALTENDING may result in an automatic goal if the Volunteer deems that a goal was imminent. A minor penalty if a goal is not imminent.
GOALTENDING: The crease area is defined as an imaginary box extending out four feet from the outside corners of the goal. A Defensive player may NOT back into and against the net. NO player is allowed to lay down their body, stick, knee, glove or any other part of their equipment in front of the net. A defender may deflect the puck in the crease area, but the defender must do so while continuing to move through the crease area. A player may not patrol, "camp out" or remain stationary in the crease area and act as a goaltender.
NO SLAPSHOTS! Do not raise your stick or puck above the knee.
No physical contact allowed of any kind. Abusive language by a player towards another player or volunteer will not be accepted. Abusive language to any official will result in a player suspension.
FIGHTING is not allowed and will result in an immediate suspension from the tournament. The team will not be able to replace the suspended player. Intent to injure another player or volunteer will result in an immediate suspension.
ALL penalties result in a change of possession. Penalties are tracked by the Volunteer. At the end of regulation time, a penalty shot will be awarded for every minor penalty that has not been cancelled out by a penalty committed (i.e. differential in penalties committed vs. penalties sustained)
Referees will have the discretion to also award a "penalty shot" to the opposing team when a minor penalty is flagrant and/or a team is consistently playing in a reckless manner.
PENALTY SHOTS: Will be taken from center ice and must be attempted within 30 seconds of the penalty being called. Anyone on the opposing team can take the shot. The team that is awarded the penalty shot will also be given possession of the puck following the penalty shot attempt (regardless of the outcome of the shot).
Major penalties will result in an immediate goal awarded to the opposing team and could result in a player ejection. A player that is ejected will have his/her case reviewed by the Head Volunteer and/or the OC to determine if they may be allowed to return for the rest of the tournament
The team cannot replace an ejected and/or injured player with an alternate player. Once a team is registered a player may not switch teams, the roster is final.