| | |
| --- | --- |
| The Centre of Excellence for Executive Women Leadership Networking and Panel Series | |
Event Details
On the fourth Wednesday of every month high profile executive women leaders will network and participate in a panel for 2 hours. The goal of the series is to engage and inspire executive women leaders in a strength based, optimistic, results focused environment. The series is open to all executive women leaders and other talented women leaders who want to learn, grow and navigate their careers.
ON WEDNESDAY October 26, 2016

Our Panel Series with high profile women leaders returns to the Hamilton Club
Both entrepreneurs from the Lions Lair 
Stephanie McLarty: CEO and Founder of REfficient Inc. one of the 2012 winners
Nicole Mortimer: Founder of Laifa Baby, one of the 2016 winners 
The time is 3 PM to 5 PM, at The Hamilton Club. All participants will participate in the panel discussion enjoying Hors d'Oeuvres and refreshments with networking to follow. 
Attendance is limited so register now to avoid disappointment.

When & Where

The Hamilton Club
6 Main Street East
Hamilton, ON L8N 1E8
Canada

Organizer
Strategic Choice International, Centre for Executive Women Leadership | strategicchoice.ca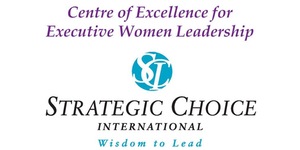 Why Women? 
Can we have it all? 
Women balance their lives often juggling multiple roles and business demands. 
Learning, growing and achieving a successful  life including change mastery is challenging. 
Marilyn is an expert in indvidual and organizational change with experience leading in stressful environments. She brings a unique connection, appreciation and experience to what it means to be an Authentic leader in 2017. 
Marilyn Neufeld is the founder of the Centre of Excellence for Excecutive Women Leadership and Business Leader at Strategic Choice.
We are proud to serve our clients since 1999 coaching leaders and leadership teams, helping them to achieve "way beyond what they initially thought possible." Based in Hamilton Ontario, Canada, our approach is strength based and results focused. Our clients think differently and take positive strategic actions as the authentic leaders they truly are.
The Centre for Executive Women Leadership (CEEWL) was formed for women leaders to learn, collaboarte and be inspired together. We identify trends, generate innovative ideas, skills and strategies which leaders can implement in their organizations.
Using best practice and leading edge research, leaders  will learn, share their wisdom, experience, and knowledge  resulting in the changes they want to see and the goals they want to achieve.
The Centre of Excellence for Executive Women Leadership Networking and Panel Series