The CIINDE Integrative Health Care Summit
The Canadian Institute of Integrative Nursing Development & Education presents the First Annual Integrative Healthcare Summit
About this Event
EARLY BIRD PRICING OF $49.95 ENDS MARCH 24 2021 AT 6:00PM AST!
Please note this event will be recorded and all sessions will be available for replay for all attendees until March 31, 2022.
The First Annual CIINDE Integrative Healthcare Summit
The theme of the summit this year is "let's move mountains", we have officially been in a state of emergency with this global pandemic for over a year. We are seeing huge changes in healthcare and how health is being impacted globally.
Health Care Professions are stepping up and embracing a new mindset when it comes to healthcare. This Summit will highlight and showcase the many talented healthcare professionals and leaders who have crossed our path this past year.
As we move into the year 2021, we are ready to be agents of change, we are ready to climb the mountain.
Join us for TWO days of wonderful speakers and sessions!
Special Guest: Aboriginal Medium Shawn Leonard, the star and host of the APTN TV show "SPIRIT TALKER", author of the book "The Language of Spirit", and the Founder of Spirit Talker Tribe, will be our special guest speaker on March 26th at 2:00PM AST, his session will be called "Speaking with Sprit".
Special Presentation by: The Canadian Holistic Nurses Association (CHNA) and Cordelia McFadyen of Inspired Living Nutrition who will be launching a Holistic Nutrition for Nurses LIVE program in the Spring of 2021 in collaboration with The CIINDE!
Session Topics:
Full details and list of speakers and their sessions can be found at the SUMMIT WEBSITE
 Living an embodied life: Cultivating Body-Centered Awareness in a World that Lives in its Head
 Exploring Nurse Coaching through a Canadian Lens
 Nurse Rolfing Practice
 The Path to Holistic Nursing Begins at the Beginning
 Bowen Pain Management in Independent Practice
 Cannabis for Holistic Health
 Indigenous Healing
 The Conscious Nurse Project: Holistic Self Care for Registered Nurses
 The Naked Truth About Holistic Nursing and Business: It's All About Your Relationship with Yourself
 Mindful Journey of Yoga & Intuitive Writing
 Practice Transformation: The Science Behind Lifestyle Medicine / Functional Medicine (A Physician's Perspective)
 Life Balance - The Paradox for Health Professionals ~ Shift from Self-Care & Doing to a Paradigm that is Transformative
 Transcending with Creative Art
Bonus Session:
 Introduction to Medical Thermography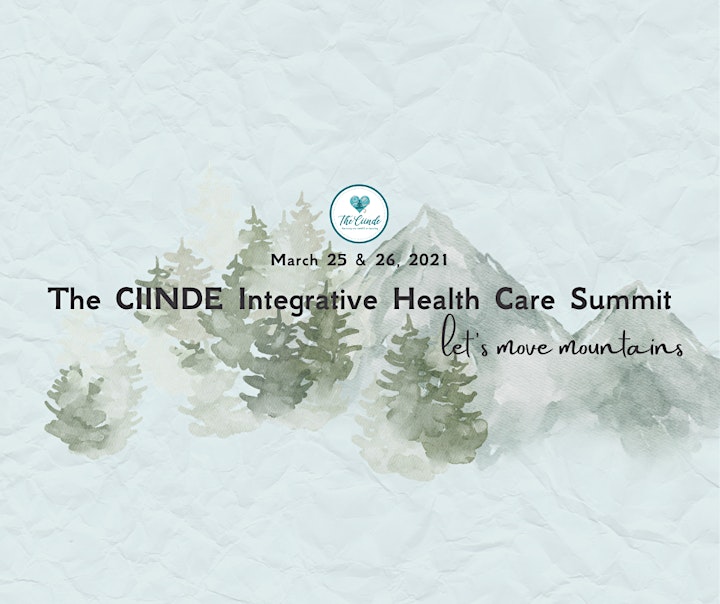 Date and Time
Location
Refund Policy