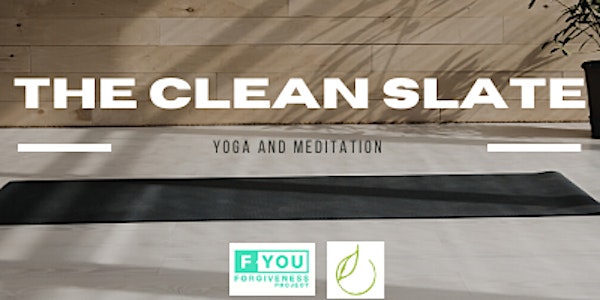 The Clean Slate Project (#FYOU10 Closing Event) w/ The New Leaf Foundation
A wind down to the week and a rest for our body and mind
Refund Policy
Contact the organizer to request a refund.
Eventbrite's fee is nonrefundable.
About this event
In this gentle movement yoga class we will create space to rest, let go of the week and enter into the space of inner forgiveness and healing.
Yoga class will be led by Faith Jones, a Wellness Professional and Yoga Instructor of New Leaf Foundation, an organization which works with youth in custody, schools and communities wellness initiatives.
The gentle yoga will be followed by a 15 minute meditation and mindfulness reflection by Snjezana Pruginic, a Wellness Professional and Community Justice Worker, and member of The Forgiveness Project.
.......
We are very excited to finish off our 10 year celebration week with this relaxing session in partnership with New Leaf Foundation.
All tickets go towards The Forgiveness Project fundraiser.
more info on class below:
CLASS DESCRIPTION
Experience a class of movement, mobility and self-massage. Her class will start with fun and playful functional movement followed by a relaxing restorative yoga practice incorporating self-massage and meditation. Explore different ways in which your body can move, while giving space for rest and relaxation.
About Faith Jones, Personal Trainer/ Yoga Instructor/ Thai Massage Practitioner
Faith believes in wellness for everybody. With over 15 years of experience in wellness spaces she has extensive training in movement and massage, and comprehensive knowledge of trauma-informed & anti-oppressive frameworks. All of her services are rooted in accessibility & inclusion. Providing a holistic and interconnected approach she is fueled by her curiosity to learn more about how the body functions and how we can move and train in a way to prevent injuries and live a life of functionality. Her goal is to provide safer spaces of self-inquiry, self-care and encouraging everyone to find their path to healing. She has worked with athletes as young as 3 years old, clients in their 90's, weekend warriors, clients healing from injuries, and everything in between. Faith offers private, group training, workshops & retreat services. Faith has been working with New Leaf for over 5 year and is the Communications Coordinator and a Senior Facilitator.
IG & Facebook: @fitnesswithfaith
About New Leaf Foundation, our partner in this session
New Leaf Foundation is an organization supporting the mental, emotional, physical and social wellbeing of youth in marginalized communities. They offer programming and positive resources that utilizes meditative, yoga and movement practices to support youth and their caregivers in fostering emotional regulation, resilience and leadership. Providing a web of long-term frontline programs in spaces that are least-served and often most stigmatized, such as priority schools, alternative education initiatives, low-income communities and youth justice settings. With over a decade of experience, they also offer leadership and training opportunities and are continuing to build on their programming.
IG: newleaffoundationto