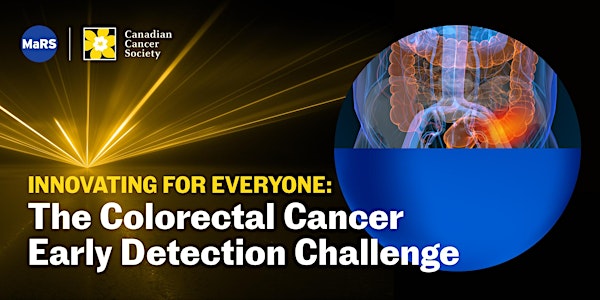 The Colorectal Cancer Early Detection Challenge: Info Webinars (English)
Attention innovators: this webinar is for you! We'll explain the Colorectal Cancer Early Detection Challenge and answer questions.
About this event
Learn about the Innovating for Everyone: The Colorectal Cancer Early Detection Challenge.
We will be offering two webinars in English that cover the same topics. Please sign up for one of the dates below.
ABOUT THE COLORECTAL CANCER EARLY DETECTION CHALLENGE
The Canadian Cancer Society estimates that more than 24,000 people in Canada will be diagnosed with colorectal cancer this year, and that 26 people will die from this disease every single day — making this one of the most common and deadliest cancers affecting people in our country.
Despite these statistics, colorectal cancer deaths are highly preventable — if caught early. However, access to colorectal cancer early detection programs is not the same for everyone. Underserved, racialized and marginalized communities face barriers and inequities in accessing these programs, putting them at a higher risk of a fatal colorectal cancer diagnosis.
But it doesn't have to be this way.
Solve with us!
MaRS and the Canadian Cancer Society are teaming up to address this problem.
The Colorectal Cancer Early Detection Challenge seeks innovations that will address barriers to screening and improve the early detection of colorectal cancer in underserved communities.
Calling on innovators from across the country to make colorectal cancer screening accessible to everyone.
Event contact email: challenges@marsdd.com
DATE AND TIME
Two dates available:
January 11, 2023 - 1:30-2:30 p.m.
February 1, 2023 - 1:30-2:30 p.m.
WHO SHOULD ATTEND?
Practitioners in the healthcare and cancer sectors
National, regional or community based non-profit organizations
Innovators in the private/public sector, including healthcare organizations
Researchers in post-secondary/academic institutions
People or groups with lived experience of cancer
Health system designers
IN PARTNERSHIP WITH
Canadian Cancer Society