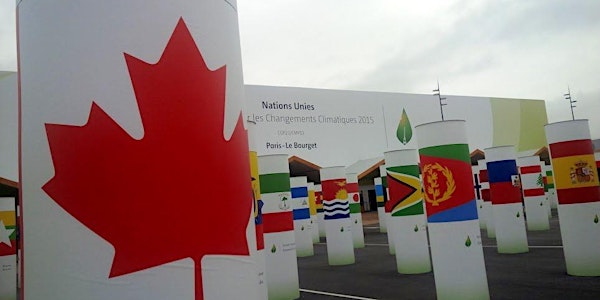 The COP21 climate summit: What happened in Paris, and what's next for Canada?
When and where
Location
St. Paul's Alumni Hall St. Paul's University College, 190 Westmount Rd N Waterloo, ON N2L 3G5 Canada
Description
Last fall, the global media spotlight was on the United Nations climate change summit (a.k.a. "COP21") when 195 countries came to an agreement to act on climate change.
Are you curious about what this might mean for our community, our country and the world?
Join us for a panel discussion on February 1st to hear from five speakers who travelled from Waterloo Region to participate in COP21 in Paris. You'll hear stories from Mayor Vrbanovic's meetings with fellow Mayors from around the world, learn about Laura's experience representing the small island state of the Republic of Kiribati, and gain a view into what a UN climate summit looks like through the eyes of a first-timer as well as someone who was at both COP1 and COP21!
Whether you are just starting to be curious about climate change or already well-versed and keen to discuss the details, this event will provide a space to engage with others. Your questions are an important part of the discussion! Submit any and all of your questions in advance by tweeting with the hashtag #UWCOP21. Make sure to follow @envwaterloo and @climatestudents to keep up to date on climate news and events.
Featured speakers:
Erik Davies, Manager of Strategic Initiatives and Special Projects, CIGI
Alexandra Graham, Graduate Student, School of Planning, UW
Laura Maxwell, Graduate Student, School of Environment, Enterprise and Development, UW
Ian Rowlands, Professor, School of Environment, Resources and Sustainability, UW
Berry Vrbanovic, Mayor, City of Kitchener
Moderator: Jean Andrey, Dean, Faculty of Environment, UW
* Light snacks and refreshments will be provided. Formal remarks will begin at 6:20 p.m.
Getting to the event venue:
The event will be held in Alumni Hall at the St. Paul's University College which is on the University of Waterloo campus. This map shows the exact location of the building marked as "STP": https://uwaterloo.ca/map/STP?basemap=D#map=17/43.4670/-80.5438
The campus is highly accessible via public transit. In particular, bus routes #200, #9 and #7D have stops along Ring Road on the west side of campus and from there it's less than a 5 minute walk up to St. Paul's. The GRT Trip Planner can help find your route: http://web.grt.ca/hastinfoweb/
If you require parking, please use the entranceway off of Westmount Road North to access paid parking lots at either St. Paul's or nearby Conrad Grebel University College. **These lots accept payment in COINS ONLY and the cost is $6.**