Description
CJF J-Talk
Journalism matters.
#CJFjtalk

The Coveted Journey:
From Journalist to Bestselling Author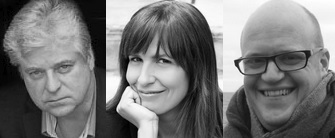 Although online ticket sales end at 3 p.m. today, tickets will be available at the door. You can also follow the J-Source liveblog or livestream.

It's no secret that many journalists have a book manuscript tucked away. Or a great idea for the Great Canadian Novel. But rare is the journalist who achieves big-time commercial success beyond the newsroom. Linwood Barclay, the former Toronto Star humour columnist turned author of suspense novels, and Lisa Gabriele, the former show runner at CBC's Dragons' Den who found success with an erotic novel first published under a pseudonym (now turned into a trilogy), talk about the journey from journalist to bestselling author in this discussion with The Globe and Mail's Books editor Jared Bland.


SPECIAL OFFER: A limited number of signed copies of Linwood Barclay's and Lisa Gabriele's latest books will be available at the event at 20 per cent off their Canadian cover prices.

A TAP ON THE WINDOW
Linwood Barclay
$18

It's been two months since private investigator Cal Weaver's teenage son, Scott, died in a tragic drug-related accident. He is mired in a grief that has clouded his judgment, because driving home one night, he makes a very big mistake. A young girl drenched in rain taps on his car window and asks for a ride as he sits at a stoplight. Even though he knows a fortysomething man picking up a teenage hitchhiker is a fool, he lets her in, because she knew his son, and may know something about the circumstances of his death. Soon, Cal senses something's not right with the girl, or the situation. But it's too late. He's already involved.

SECRET SHARED
A S.E.C.R.E.T. Novel
L. Marie Adeline
$15
The sequel to the erotic sensation S.E.C.R.E.T.

Still wounded from a recent heartbreak, Cassie Robichaud throws herself into service with S.E.C.R.E.T., the mysterious organization that changed her life last year by bringing her deepest sexual fantasies to life, one step at a time. Now, it's Cassie's turn to guide the group's newest candidate, Dauphine Mason, recruiting men to execute a new set of fantasies. While it gets Cassie's mind off Will, the man she truly loves, it also gives her the chance to help watch S.E.C.R.E.T. work its magic on someone new. At thirty-one, Dauphine is the proprietor of a New Orleans vintage clothing store—the kind of buttoned-up career woman who has no idea how attractive she really is. In order to reignite her sexual flame and reawaken her dormant heart, she must leave behind her bitter past.


ABOUT OUR SPEAKERS

LINWOOD BARCLAY is the author of twelve suspense novels, including his latest A Tap on the Window. Barclay wrote four comic thrillers and a memoir before turning to suspense novels. His first novel in that genre, No Time for Goodbye, has been translated into nearly forty languages, was the single bestselling novel in the UK in 2008. Since then, all of Linwood's novels have appeared on bestseller lists, and two of his books are currently in development in Hollywood. Warner Bros. is working to turn Trust Your Eyes into a movie, with Hangover director Todd Phillips at the helm, and NBC is developing Never Look Away into a series. He turned to writing books full-time in 2008, after retiring from the Toronto Star, where he worked for 27 years in a variety of editing positions and then as the newspaper's humour columnist. His first newspaper job was at the Peterborough Examiner. Linwood studied English Literature at Trent University. @linwood_barclay
LISA GABRIELE has worked at the CBC (on and off) as a producer and director, in radio and television, news and current affairs, for more than twenty years. She worked in Washington D.C. and New York City as a field producer. From 2003-2006 she wrote The Current with Anna Maria Tremonti. Most recently, for six seasons, she was the showrunner on the Gemini and Screen award-winning reality program, Dragons' Den. Her essays and articles have appeared in several anthologies and the New York Times Magazine, the Washington Post, Salon, Nerve, Glamour, Flare, Elle and Chatelaine. She was the original Dear Diary columnist for Vice Magazine. She's also the author of five novels, two under her real name, Tempting Faith DiNapoli and the Almost Archer Sisters, and the S.E.C.R.E.T. erotica trilogy written under her pseudonym, L. Marie Adeline. She has also ghostwritten books for both Kevin O'Leary and Jim Treliving. She is a graduate of Ryerson School of Journalism. @lisagabrieletv
ABOUT OUR MODERATOR
JARED BLAND is the books editor of The Globe and Mail. Prior to joining the paper, he worked at House of Anansi Press as a senior editor responsible for acquiring poetry and Canadian fiction. He was previously managing editor at The Walrus, where he started as an intern, and oversaw the magazine's fiction and poetry sections. He is originally from Springfield, Illinois. @jaredbland
Organizer of The Coveted Journey: From Journalist to Bestselling Author
Founded in 1990, The Canadian Journalism Foundation promotes, celebrates and facilitates excellence in journalism. The foundation runs a prestigious awards and fellowships program featuring an industry gala where news leaders, journalists and corporate Canada gather to celebrate outstanding journalistic achievement and the value of professional journalism. Through monthly J-Talks, a public speakers' series, the CJF facilitates dialogue among journalists, business people, academics and students about the role of the media in Canadian society and the ongoing challenges for media in the digital era. The foundation also fosters opportunities for journalism education, training and research. Please visit us at http://cjf-fjc.ca.