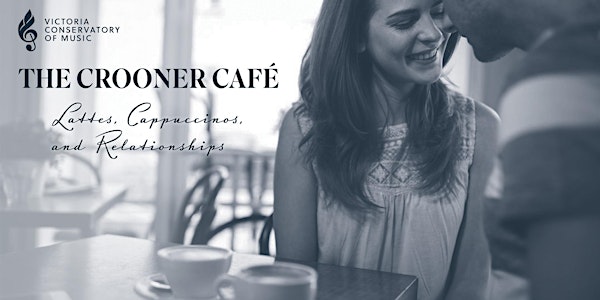 The Crooner Cafe: Lattes, Cappuccinos, and Relationships
Location
Metro Studio Theatre
1411 Quadra Street
Victoria, BC V8W 2L2
Canada
VCM's Opera Studio features advanced student singers performing scenes from a cross-genre mix of both Classical opera and Broadway musicals.
About this event
The Victoria Conservatory of Music (VCM) is pleased to present Opera Studio's 2022 production of "Musical Theatre Café: Lattes, Cappuccinos, and Relationships" in the VCM's Metro Theatre on Saturday March 26, 2022 at 7:30 pm (doors at 7:00 pm).  
This year's production encompasses a delightful menu of scenes from Classical Opera and Broadway Musicals, set in an alternative coffee house inspired environment for both performers and audience members, reflecting the unusual and almost alien world we at times find ourselves navigating through during the pandemic. 
The VCM's Opera Studio program is led this year by Kimberley- Ann Bartczak (conductor, pianist, and vocal coach) and directed by Alison Greene, and features 10 advanced singers who together offer this exciting cross-genre mix of scenes for our audience members to enjoy, seated in the newly reconfigured "cabaret-style" seating in Metro Theatre. This spacious setting means that there is limited seating available, however offers a comfortable setting as we return to in-person performances at the Victoria Conservatory of Music. 
The March 26 performance will feature scenes presented from works including Monteverdi's last opera Incoronazione di Poppea; Mozart's operas Così fan tutte and Le nozze di figaro, as well as from the musicals West Side Story, Wicked, Les Misérables, and Waitress. The program is about relationships and some way each scene will have a connection to life and around a coffee shop or diner.  It offers a timeless view into the universality of music and theatre, and how it so often is reflecting our own lives back at us.
"At a time where the world of singing has been so profoundly affected by the pandemic", says Stephen Green, Chief Artistic and Academic Officer of the Victoria Conservatory of Music, "I greatly admire the tenacity and dedication all of our students and faculty have shown, and especially our voice students, in finding a way forward through music that helps us all return to experiencing live in-person performances, which I am sure we have all greatly missed!" 
Proof of vaccination and Valid ID is required to access this event.