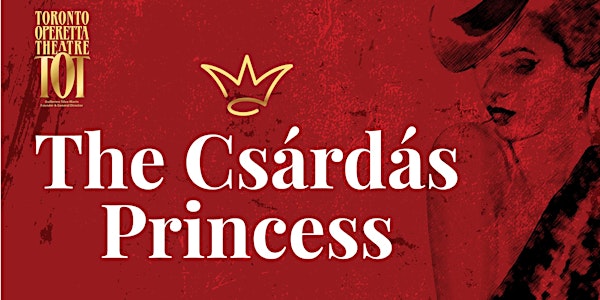 The Csardas Princess by Emmerich Kálmán
An online presentation of Kalman's masterpiece this summer! Watch this anytime from July 9th until August 8th.
Refund Policy
Contact the organizer to request a refund.
About this event
Canada's only professional operetta company, Toronto Operetta Theatre brings Kalman's masterpiece online!
Now Extended: The video is available to watch anytime after July 9th until August 8th.
Die Csárdásfürstin in German or A Csárdáskirálynő in Hungarian, The Csárdás Princess was translated into English as The Riviera Girl. This operetta in three acts by Hungarian composer Emmerich Kálmán (1882-1953) with the libretto by Leo Stein and Béla Jenbach premiered in Vienna at the Johann Strauss Theater on 17 November 1915, 100 years ago.
The operetta is widely acclaimed and well-loved in Hungary, Austria, Germany, all of Europe, and the USA. Numerous film versions and recordings have been made. The Csárdás Princess is arguably Kálmán's most successful work.
Robert Cooper, Conductor
Narmina Afandiyeva, Pianist
Guillermo Silva-Marin, Stage Director
Featuring Artists:
Lauren Margison as Sylvia Varescu
Caitlin Wood as Countess Stasi
Michael Barrett as Edwin
Ryan Downey as Boni
Sean Curran as Leopold Maria
Gregory Finney as Feri
Taylor Gibbs as American and Chorus
Lori Mak as Juliska and Chorus
Rosalind McArthur as Anhilte
Tan Vu as Chorus
A Special Bundle for operetta lovers!
You will receive an invitation to purchase The Gondoliers online ticket for a special price.
Upon completing your purchase of The Gondoliers ticket, you will receive a promo code in the order confirmation Email.