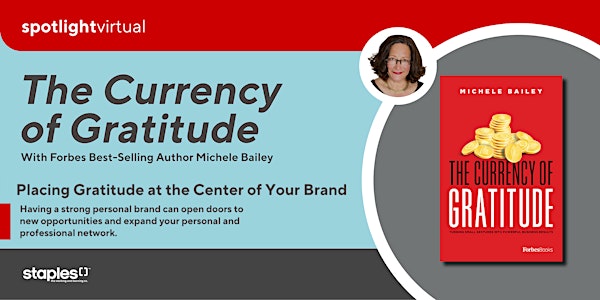 The Currency of Gratitude: Placing Gratitude at the Center of Your Brand
Sales Have Ended
Registrations are closed
Join us: https://us02web.zoom.us/meeting/register/tZcvduugpzsqHtL3K0kO5evG-iILASQMgBYW
Turning Small Gestures into Powerful Business Results.
About this event
You may have heard that gratitude is good for your health and well-being, but did you know it's good for your business?
Join Forbes Best-Selling Author, Michele Bailey, as she provides a straightforward guide to enabling business growth using gratitude as your currency. This series will be filled with stories about cultivating a business brand and culture centered on expressing thankfulness.
Michele will provide a unique approach to addressing people's need for meaningful acknowledgment and will offer listeners the opportunity to get clear about whom and what they're thankful for and how to transform their professional lives as a result.
⬇️ ⬇️ ⬇️ Learn more about future events below ⬇️ ⬇️ ⬇️
Placing Gratitude at the Center of Your Personal Brand
[January 27 at 11 am ET | 8 am PT]
It's time to reflect on your personal brand.
Having a strong personal brand can open doors to new opportunities and expand your personal and professional network.
By making Gratitude the center of your personal brand, you're standing out as your best self.
In this session, you will learn:
The importance of having a personal brand.
The connection between your personal brand and your personal and professional goals.
One thing you can do/ start today that will enhance your personal brand.
Why you should make gratitude a core principle and guiding practice of your own personal brand.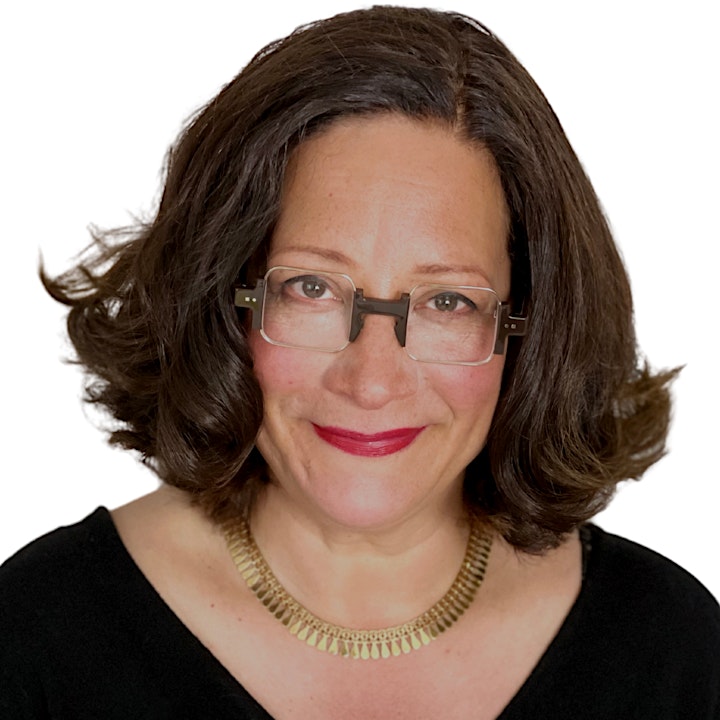 About Michele,
Michele Bailey is the founder of The Blazing Group, a brand and culture agency born of our strategy-first approach to business, a flair for sharing stories, and desire to enhance employee wellness while pursuing business goals. Michele's advertising agency, Blazing, is turning branding inside out with My Big Idea®, an employee mentoring and wellness program designed to propel individuals forward in their quest for personal and professional success. In short, the Blazing team has found the formula for creating awesome business cultures that drive exceptional marketing. Countless companies have discovered greater team cohesion and boosted their bottom-line results as a direct result of The Blazing Groups' proprietary process. Today though, Michele is encouraging leaders and their teams to take it one important step further; to make true gratitude integral to the way business is done. In April 2021, Forbes published Michele's book The Currency of Gratitude (an Amazon #1 best seller), which makes the business case for fostering a deep connection between a company's brand identity and its internal culture through a deliberate practice of gratitude. With openness, appreciation, and a pure desire for self-improvement, Michele's vision of gratitude-in-action motivates and inspires readers and listeners to center gratitude in their own lives through small gestures that have big impacts both personally and professionally.
Website: https://michelebailey.com/
Instagram: https://www.instagram.com/thisismybigidea/?hl=en
Facebook: https://www.facebook.com/MBIMyBigIdea
LinkedIn: https://www.linkedin.com/in/michele-bailey-a111b6a/
⭐ ⭐ ⭐ Future Events ⭐ ⭐ ⭐
Over the course of the series here are the topics we will cover.
✔️ Placing Gratitude at the Center of Your Personal Brand [January 27]
✔️ Gratitude and Winning Business [February 24]
✔️ Gratitude as a Means of Retaining Clients and Customers [March 24]
✔️ Gratitude and Self-Care [April 28]
✔️ Making Gratitude a Habit [throughout]