The Cybersecurity Battlefield - How to Mitigate Risks as a CFO- Hosted By T...
Description
The Cybersecurity Battlefield - How to Mitigate Risks as a CFO
Hosted by The Toronto CFO Leadership Council
Thursday, November 22, 2018.
7:30a.m. - 9:30 a.m.
NetSuite Office
5800 Explorer Dr., Mississauga ON, L4W5K9
Program Description
Sensitive data is everywhere, and in the complex and evolving climate of advanced threats, virtualization, cloud, regulatory requirements, and mobility, organizations need to take a pro-active risk centric approach to protecting and controlling their sensitive information and not just the network.
Cyber Security attacks have become commonplace; they accomplish varied objectives, such as disrupting computer information networks; gaining unauthorized access to systems; realizing economic incentives by accessing credit card information,personal information[1] ; and stealing critical intellectual property. These attacks are launched by individuals, organizations, and states. Politically-motivated attacks (cyber warfare) is used to disrupt, access, or conduct espionage. Cyber threats, cyber-attacks, cyber terrorism, and cyber warfare can have an adverse effect on brand & reputation, corporate profits, public confidence, stock markets, economic/service sectors, and other critical infrastructures.
So how can CFOs contend with these threats? Join us for The Cybersecurity Battlefield - How to Mitigate Risks as a CFO! Join us!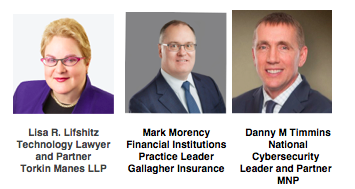 Learning Objectives
What are the current trending threat and how hackers are infiltrating

Top 10 areas of focus for CFO's to improve your security posture

Learn about Canada's new federal mandatory data/security breach notification requirements

How to allocate resources for incident response

How to shift risk through insurance

What are some new technologies to consider
Who Should Attend
CFO's and other senior finance executives who want to improve their leadership and communications skills to drive growth and new opportunities for their companies and careers.
Cost: Free for members! $50 .00 + $4.16 processing fee + HST for non-members
CFO Leadership Council members may attend this program for free. Non-member senior financial executives who are CFOs, Vice Presidents of Finance, Directors of Finance and Controllers (or the like) are welcome to attend this program at a one-time cost of $50 + processing fee + HST.
Please note that service providers or any executives who are not senior financial executives (CFOs, Vice Presidents of Finance, Controllers, Directors of Finance, etc.) will not be admitted attendance to this event. The CFO Leadership Council reserves the right to decline any registration.
Speaker Panel
Lisa R. Lifshitz
Technology Lawyer and Partner
Torkin Manes LLP


Lisa is a partner in Torkin Manes' Business Law Group and head of the Technology, Privacy & Data Management Practice Group. Lisa has particular expertise in preparing and negotiating technology agreements, including Internet-related, m-commerce and e-commerce agreements, cloud computing agreements (SaaS, PaaS, IasS), cloud retail agreements, cloud storage agreements, app development agreements, hosting agreements, mobile payment agreements, reseller, distribution, outsourcing, system acquisition, maintenance and supportagreements, master services agreements and consulting and services agreements.
Lisa has authored numerous articles for such publications as Business Law Today, Internet and E-Commerce Law in Canada, e-Commerce Law Report and the BNA International World Data Protection Report and has spoken on technology/privacy law topics for the ABA, the Canadian Technology Association (CanTech), LExpert/Thomson Reuters, the OBA, the Law Society of Upper Canada, Insight. Lisa currently sits on the Councils of the ABA's Business Law Section (BLS) and Science and Technology Section and is the Co-Chair of the Robotics and Artificial Intelligence Subcommittee, Cyberspace Law Committee, BLS. She was also a member of the ABA's Cybersecurity Legal Task Force and a co-author of its Vendor Contracting Project: Cybersecurity Checklist (2017). Lisa is also currently a liaison to the ABA Standing Committee on Technology and Information Systems (SCOTIS). Lisa is a past President of CanTech, Canada's national technology law organization and past Chair of the BLS Technology Committee. She currently serves on the SciTech Lawyer Editorial Board as an Assistant Editor and was a member of the BLS Business Law Today Editorial Board.
Mark Morency
Financial Institutions Practice Leader
Gallagher Canada
Mark is the Financial Institutions Practice Leader for Gallagher Canada and joined Gallagher in January 2018 after a 25 year career at Canada's largest financial institutions. Mark was one of the original founders of a Banking Industry Group on Operational Risk, which included the major global banks. From 2008 to 2012, Mark was the chairperson of the credit insurance advisory committee to the Department of Foreign Affairs and International Trade, Canada. Prior to joining Gallagher, Mark was the Head, Corporate Insurance Risk Management for RBC, Canada's largest Bank and was responsible for the insurance of RBC and all subsidiaries globally.

Danny Timmins
National Cybersecurity Leader and Partner
MNP
Danny has been a certified CISSP for over 10 years and was a co-founder of NCI Secured Intelligence before merging with MNP. As CEO/President of NCI for 16 years, Danny was mandated with driving the company forward through his leadership and vision. Danny has been in the Information Technology business for over 23 years.

Respected within the CyberSecurity community, Danny travels across North America to attend, and often speak, at various industry events to share his knowledge and collaborate as to the direction of CyberSecurity in the marketplace. Danny also sits on the National CATA Cyber Security Council working to further CyberSecurity with Canada.

Danny's desire to lead and share goes beyond business to the community where he lives and works. With over 28 years as a volunteer, always bringing strong work ethic and enthusiasm both to the business and the community.

More Information
Click here to learn more about CFO Leadership Council.
Click here to become a member.
For more information about this program or The CFO Leadership Council, please contact Stuart Pasternak at Stuart@cfolc.com.
Cancellation Policy

If you would like to cancel your ticket or request a refund, please contact Kim Naish (Kim@cfolc.com). Refunds are available up to 24 hours prior to the program.
---
About our Speakers