The Data Visionaries Series: A Sustainable and Inclusive Pandemic Recovery
Sales Have Ended
Registrations are closed
Thank you for registering. You will be able to access the Zoom link on the day of the event. Keep an eye on your email.
Sales Have Ended
Registrations are closed
Thank you for registering. You will be able to access the Zoom link on the day of the event. Keep an eye on your email.
On Wednesday, February 24, the Data Visionaries Series presents: A Sustainable and Inclusive Pandemic Recovery.
About this Event
In Canada, the COVID-19 pandemic has disproportionately affected women, lower-income households, BIPOC, young adults, and those living with disabilities and mental illness. As government policy-makers move ahead with a post-pandemic economic recovery plan, it is imperative these groups aren't glossed over.
This February, the Data Visionaries will explore how data informed decisions can help BC's economic recovery address well-being and inequality. From food security to healthcare to the tech sector, how will new innovations and data create equitable solutions and opportunities that benefit all Canadians?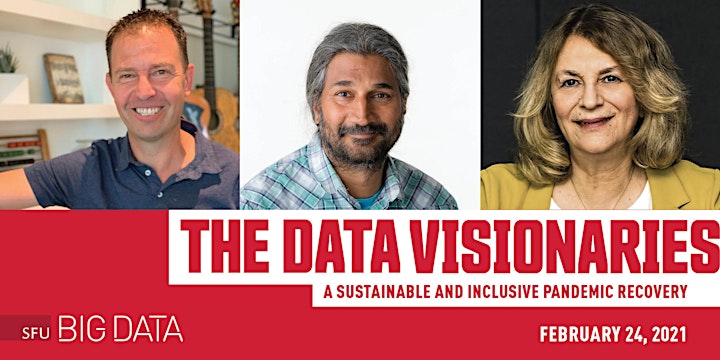 Speakers:
Jeff Booth, Entrepreneur, Technology Leader, Author, and Strategic Advisor.
Krishna Pendakur, professor of economics at Simon Fraser University.
Gerri Sinclair, B.C.'s Innovation Commissioner, Ministry of Jobs, Economic Recovery and Innovation.
Moderator:
Fred Popowich, Scientific Director, SFU's Big Data Initiative
ABOUT THE SPEAKERS:
Jeff Booth is a visionary leader who has lived at the forefront of technology change for 20 years. In January 2020, Jeff released his first book titled "The Price of Tomorrow – Why Deflation is Key to an Abundant Future". In it, Jeff offers his provocative thesis about the current state of our economies and what must happen to enable a brighter future. Jeff has been featured in Forbes, TechCrunch, Inc.com, The Globe and Mail, BNN, Fast Company, Entrepreneur, Bloomberg, TIME, and The Wall Street Journal. In 2015, he was named BC Technology Industry Association's Person of the Year, and in 2016 Goldman Sachs named him among its 100 Most Intriguing Entrepreneurs. He is a Founding Partner of OtioLabs, Co-Founder of addyinvest.com and NocNoc, and serves on the boards of Terramera, Cubic Farms, LlamaZOO, Synthiam and the Richmond Hospital Foundation as well as numerous advisory boards. He has been a Young Presidents Organization member since 2004 and contributes time as a Founding Fellow on the Creative Destruction Lab.
Krishna Pendakur has been on the faculty of the Economics Department at Simon Fraser University since 1994. He has focused his research on improving various aspects of the measurement of inequality, poverty and discrimination. Specifically, he has worked on: the estimation of poverty and inequality, both within and across households, in Canada and in the developing world; the measurement of immigrant, visible minority and indigenous disparity in Canadian labour markets; the measurement of consumer welfare, including the cost of living, the cost of children and the costs and benefits of CO2 pricing. This work has resulted in many contributions in the best journals in the field, including the American Economic Review and the Journal of Political Economy.
Gerri Sinclair was appointed as B.C.'s Innovation Commissioner in July 2020. She has a breadth of experience in senior leadership positions in the investment capital, digital media and information technology fields. She is also an Associate with the Creative Destruction Lab, a non-profit organization that delivers an objectives-based program to scale up seed-stage science- and technology-based companies. Sinclair is the former Managing Director at Kensington Capital in Vancouver, leading the $100M B.C. Technology Fund. She was the founder of SFU's ExCITE Media lab, a Visiting Scientist at IBM Research, the founder/CEO of NCompass (acquired by Microsoft), a past President of the B.C. Premier's Technology Council and Chair of Canada's National Telecom Policy Panel. Sinclair was the Founding Director of the Centre for Digital Media's Master of Digital Media program in Vancouver and has served as Innovation Strategy Advisor at Vancity and Telefonica in Barcelona. She has served on many government and corporate boards, including the Toronto Montreal Stock Exchange, the Vancouver Airport Authority, Telus Corporation, BC Telecom and Ballard Power, as well as Canada's Information Highway Advisory Council and the National Broadband Taskforce. Sinclair is the recipient of numerous awards as a leading woman in technology, including the prestigious Canadian Public Policy Forum Testimonial Award. She was named a member of "Vancouver Power 50", a BC Business "Woman of Influence" and among the Top 150 Women in Canada. She is the 2018 recipient of the BC Technology Association's Bill Thompson Lifetime Achievement Award and the 2020 Business in Vancouver Women in Business Lifetime Achievement Award.
ABOUT THE MODERATOR:
Fred Popowich is the scientific director of SFU's Big Data Initiative, which is a university-wide initiative that empowers people to unlock data for research, education and community impact. His work connects industry and communities with SFU partners and experts to address challenges and opportunities around data. He was the 2017 recipient of the Distinguished Service Award from the Canadian Artificial Intelligence Association (CAIAC), recognizing his outstanding service to the artificial intelligence (AI) community in Canada. He regularly talks about the role of AI in society and has published an Op-Ed in Business in Vancouver entitled, "The importance of the 'human factor' in relation to smart-city data".
Presented by: