Description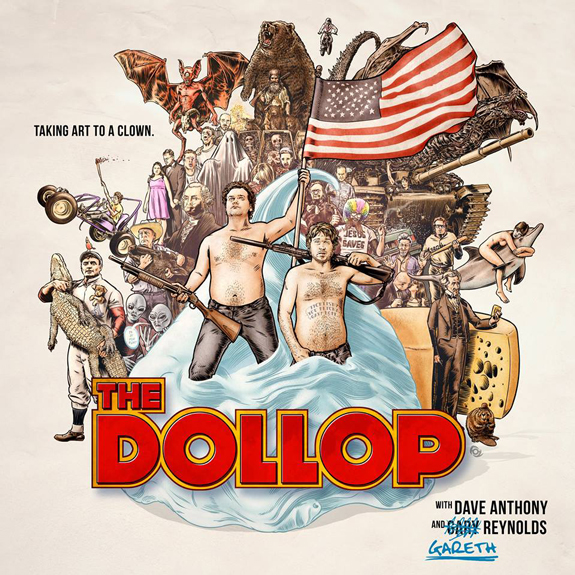 The Dollop Invades Canada, a live comedy event and podcast at the Fox Cabaret featuring Dave Anthony (Maron), Gareth Reynolds (MTV's Failosophy) and Graham Clark + Dave Shumka (Stop Podcasting Yourself).
About The Dollop
The Dollop is a weekly podcast hosted by Dave Anthony and Gareth Reynolds. Each week one topic from American history is discussed at length. In this very special VANCOUVER EDITION, Dave and Gareth with take on Canadian history as they skewer a hilarious historical moment in the city's past. This event will feature special guests Graham Clark and Dave Shumka of Stop Podcasting Yourself.
About Dave Anthony
I'm an American stand-up comedian, writer, actor, and podcaster. I've lived and worked in San Francisco, New York City, and currently reside near Los Angeles with my wife, Heather, and our son, Finn. I have a podcast called The Dollop, which I co-host with comedian Gareth Reynolds. I have a second podcast called Walking The Room, which is now deceased but lives on the internet forever in 200 episodes. I'm a regular actor and writer on Maron on IFC. I've also acted in many commercials and other television shows, includingArrested Development, The Office, and Men of a Certain Age. I've performed stand up comedy on the Jimmy Kimmel Show, The Late Late Show, Comedy Central and a few other things that don't need to be mentioned because this is getting long. Currently I'm writing and will be seen on the third season of Maron.
About Gareth Reynolds
Gareth Reynolds was raised in Milwaukee, Wisconsin by two people who hate each other. After learning little in college, he moved to Los Angeles where he dressed up like super heroes for children's birthday parties. You have seen him on The Travel Channel, Comedy Central, NBC, Harold and Kumar 3, and in MTV's 'Failosophy' that he created. He currently (2014) co-hosts the Naughty Show Podcast, as well as The Dollop podcast, which he does with fellow comedian Dave Anthony. Reynolds also writes, acts, and performs stand-up comedy.
Presented by The Sunday Service
The Sunday Service is Ryan Beil, Caitlin Howden, Kevin Lee, Aaron Read, Taz VanRassel, and our musical director, Emmett Hall. With over 20 Canadian Comedy Award Nominations, a CCA Best improve Troupe Award in 2012, and international recognition, The Sunday Service present to audiences across North America a fast paced and singular take on traditional long form.
"Vancouver has a top-notch comedy scene that doesn't get the attention it deserves, so it's great to see the always-entertaining Sunday Service getting national recognition." – Gregor Robertson, Mayor of Vancouver. (who proclaimed Nov. 18, 2011 Sunday Service Day)
http://www.thesundayservice.ca/


---
Ticket + Show Info
Date: Dec 12th | 2015
Time: 8pm - 10:3pm
Location: The Cabaret at The Fox

$12 — Early Presale Ticket
$18 — General Admission
$25— Door