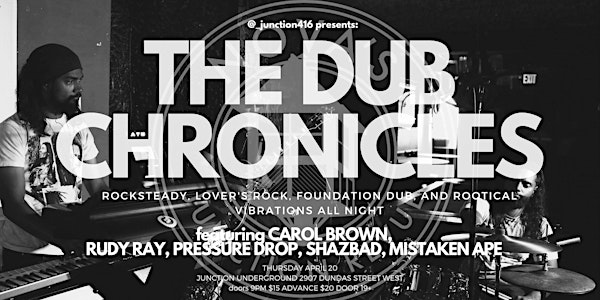 The Dub Chronicles featuring Carol Brown & Guests
@_junction416 presents: The Dub Chronicles featuring Carol Brown, Rudy Ray, Pressure Drop, Shazbad, & Mistaken Ape.
Date and time
April 20 · 8pm - April 21 · 2am EDT
Location
JUNCTION UNDERGROUND 2907 Dundas Street West Toronto, ON M6P 1Z1 Canada
Refund Policy
Contact the organizer to request a refund.
Eventbrite's fee is nonrefundable.
About this event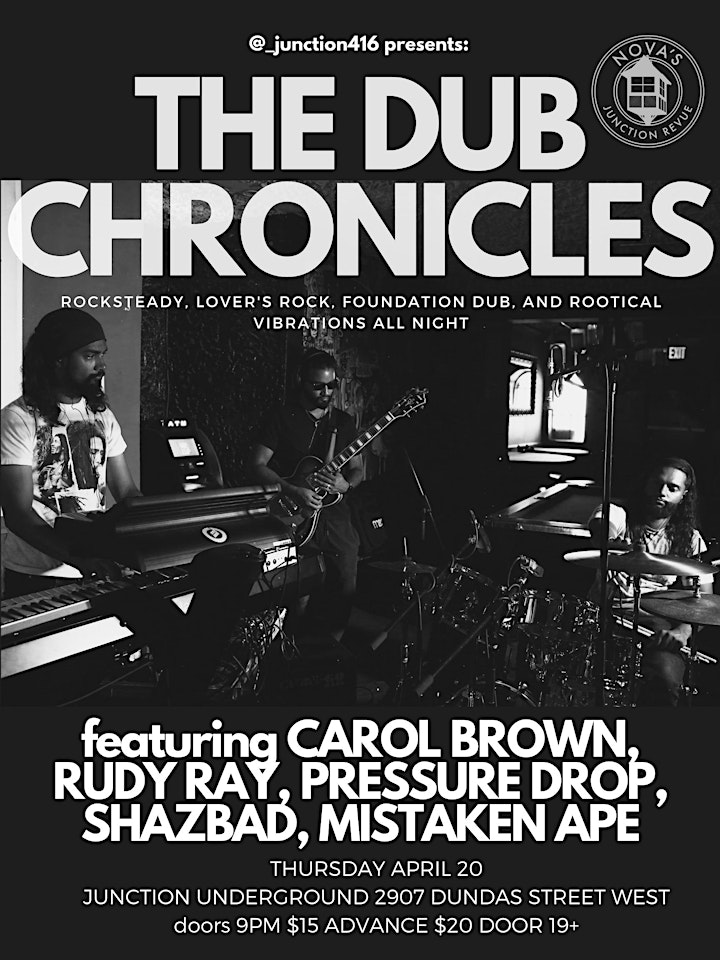 The Dub Chronicles are three brothers/musicians from the Toronto area that are heavily inspired by the golden era of reggae in the 70s/80s. Modern/vintage roots reggae sound; rooted in dub and blended with sparse flourishes of bebop jazz.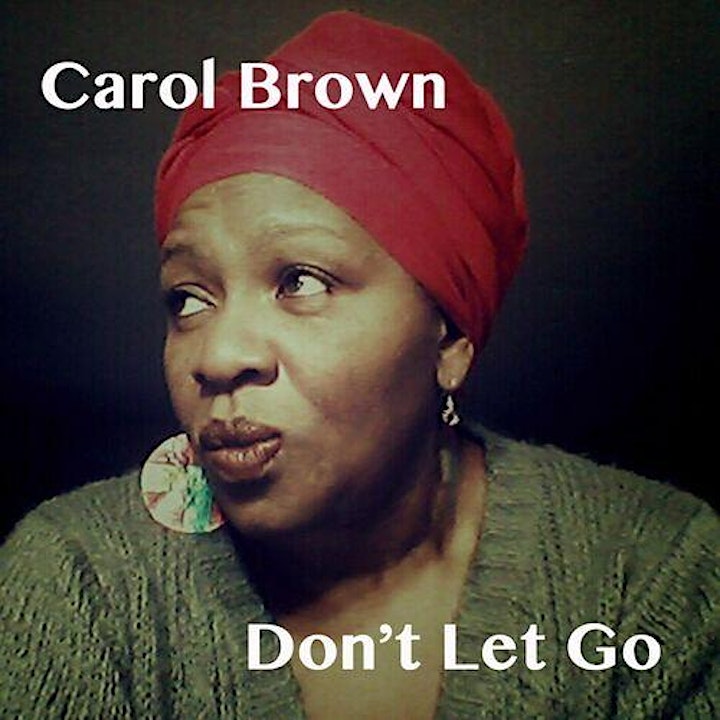 CAROL BROWN
Carol Brown, Jamaican Canadian Reggae singer musical journey began as the
other half of The Loving Sisters 'duo in the late sixties captivating audiences
in local shows and events and winning talent shows since the age of 14 in her
hometown of Port Antonio, Jamaica. That year Carol became resident female
singer with the Tornadoes band along with Junior Mervin.
In 1972 Carol migrated to Canada where she continued developing her career
performing as a solo artist. 1974 she reunited with her hometown Band in
Jamaica who then changed their name to The Young Experience with Junior
Mervin where she regained her status as resident female singer. The Band
toured across the Island and to places like Guantanamo Bay Cuba featured in
night clubs, hotel lounges as well as private and community events gaining
popularity and building a solid fan base. During this time Carol recorded
several singles covering songs like "Touch me Baby" and "The End" produced
and played by The Young Experience Band.
In the mid 1970s to the early 1980s Carol Brown performed on Canadian
shows opening and singing with several popular artists' including Yellow
Man, Leroy Sibbles, Sugar Minott, Johnny Osborn, Leroy Gibbon to Half Pint.
Throughout Montreal and Toronto to New York and England Carol
accompanied artist such as Alton Ellis, John Holt, Tinga Stewart, Hortense
Ellis, Nana McLean, Lord Tanamo, Ken Boothe and Beres Hammond. She
recorded and worked with producers such as Pete Weston from Micron
Records, Leroy Sibbles, Jackie Mittoo, Joe Gibbs, Rhythm Gits among other
labels.
Carol's singles like "Touch me baby, I Won't Hurt Your Feeling and Feel So
Good reached the British Reggae charts. Her accolades include awards as Top
Female Performer and Top Female Reggae Singer at Canada Reggae Awards
in nineteen eighties and nineties.
Carol Brown's gift of music continues to carry her sound from generation to
generation. 2017 to 2019 she performed with Iauwata band sharing the stage
with Akebeka as well as live performances at Nathan Phillip Square in
Toronto and Scarborough Civic Centre alongside Stanger Cole, Noel Ellis and
The Kingston All Stars band from Jamaica to the drum beats of Sly Dunbar
and other great musicians. Carol's song "Only Jah Knows" is on the Kingston
All Stars' latest released compilation album titled Rise Up, making her the
only female artist featured on the 2018 reggae compilation.
The musical career of Carol Brown has flourished over the years as she
continuously performs at yearly reggae festivals and events. Carol Brown
most recently was dubbed as one of 2019 Titans of Toronto Reggae –A night
to remember, serenading her reggae originals to a sold-out Opera House.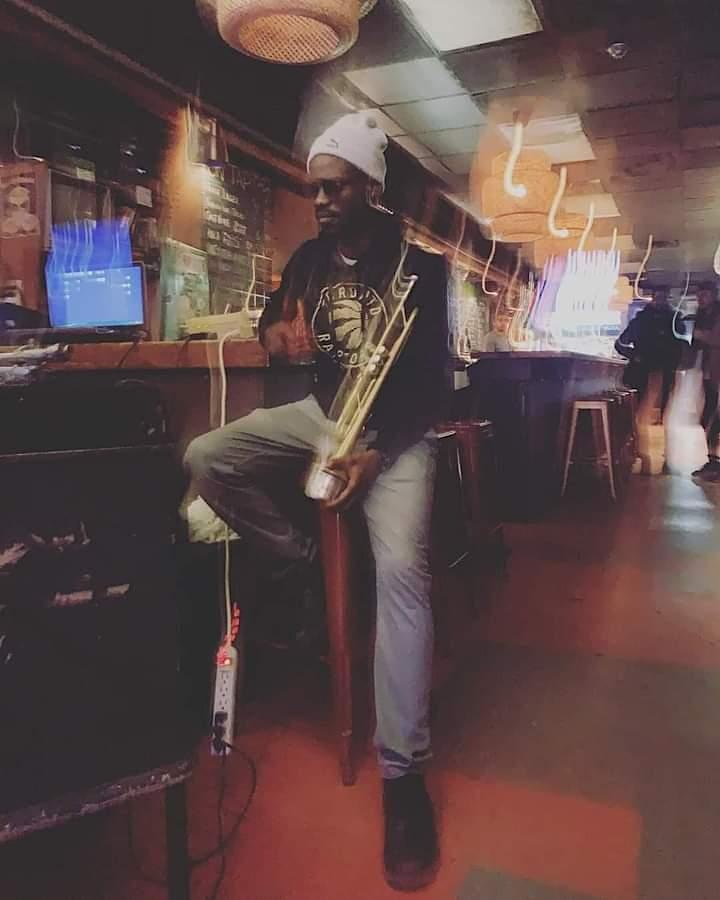 RUDY RAY
Rudy Ray Kwaku is a Ghanaian - Canadian actor and trumpeter based in Toronto. Famed for his involvement with the Wu Tang Clan, winning the 2020 Juno award for best rap album recording with TOBi and Guillermo del Toro's movie Nightmare Alley, CBC articles identified the Ghanaian royal as a rising thinker and cultural icon. With a growing list of cameos and appearances on Netflix and Amazon Prime Video focusing on black culture, Rudy Ray advocates peace and poetry. Rudy Ray and Polly Vee are the book band "The latecomers" for Charlie Petch's 2021 Relit Award Winner "Why I was Late". This year in theater, Rudy Ray joined Ahmed Moneka in "Spaciousness", a recent play that shed light on the contributions of black soldiers in the war of 1812 and the construction of Fort York. Rudy Ray graces modeling, music, theater and film, providing an energy sincere with a sound like none you ever heard.